---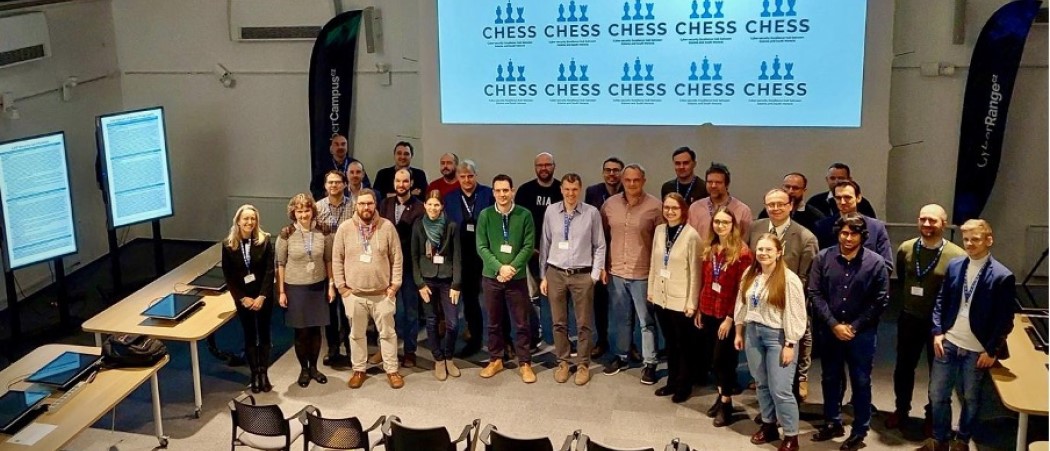 Photo: TalTech website.
Selected out of 102 applications (with a success rate of 9,8%), the European Union funded Cyber-security Excellence Hub in Estonia and South Moravia (shortened CHESS) aims to bridge the research-innovation gaps by connecting fundamental researchers with economic and societal exploitation.
In this EU-funded project Estonia, who is among the most advanced digital societies globally, with an outstanding e-government infrastructure will closely collaborate with South Moravia, which is a major Czech ICT powerhouse in industry and education, with a strong focus on cyber-security.
On January 26-27, the kick-off meeting at Masaryk University in Brno, South Moravia brought the CHESS community together in-person for the first time. The meeting served as a venue to get familiar with the organisational and administrative rules, discuss and reach an understanding of project goals, deliverables, and activities and agree on communication, dissemination and exploitation tasks. "CHESS intends to leverage local and regional resources to support the development and sustainability of innovation ecosystems in the areas of cyber-security. We have universities, large and small companies, but also governmental information security agencies on board," explains Ladislav Čoček, the CHESS project manager at Masaryk University.
The CHESS project will develop a joint cross-border cyber-security research and innovation strategy focusing on six challenge areas: Internet of secure things, Security certification, Verification of trustworthy software, Security preservation in blockchain, Post-quantum cryptography, and Human-centric aspects of cyber-security. "The strategy development will be aided by the implementation of pilot projects that will reinforce the cross-regional collaboration, engage regional innovation ecosystems and build evidence for future projects", tells Prof. Vashek Matyas, Masaryk University.
Training and knowledge transfer will remove gaps in skills and expertise in the regions. Dedicated task forces will ensure the sustainability of CHESS by integration with regional, national, and European Union-level strategies and funding programmes. "To exploit the project outputs, especially the pilot project results, CHESS will link researchers and innovators with entrepreneurship training and business consultancy services available in Estonia and South Moravia", says Prof. Raimundas Matulevičius, Professor of Information Security, University of Tartu.
In the end, CHESS will have a positive effect on participating institutions, increasing their visibility, attractiveness, and potential to generate innovative and usable research results. But on top of that, CHESS will create a unique network of interactions beyond its consortium, connecting strengths of South Moravia (certification, human-centric research) and Estonia (blockchain, post quantum cryptography, e-government) to facilitate secure transition to full-scale digital societies.
The CHESS consortium consists of nine partners and three associated partners:
Masaryk University (Czechia)
University of Tartu (Estonia)
Brno University of Technology (Czechia)
Tallinn University of Technology (Estonia)
Cybernetica AS (Estonia)
Red Hat (Czechia)
Guardtime (Estonia)
Estonian Information System Authority (Estonia)
CyberSecurity Hub (Czechia)
National Cyber and Information Security Agency, associated partner (Czechia)
South Moravian Innovation Centre, associated partner (Czechia)
Estonian Information Security Association, associated partner (Estonia)
This article was first published on 27 February by TalTech.