Significant milestone provides an opportunity to celebrate key achievements, demonstrate our increasing impact on the healthcare landscape in Europe and how we are evolving as a growing network of the brightest minds in healthcare today.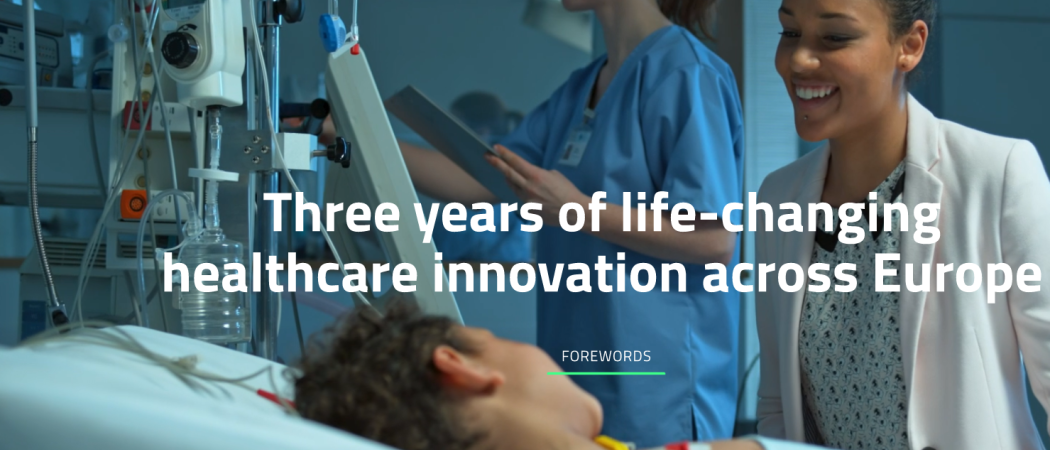 A new report has launched providing an overview of EIT Health's first three years of operation, from our earliest beginnings through to the impressive consortium of the world's leading players in healthcare that we see today. In one combined overview, consolidating our main achievements between 2016 and 2018, it offers an insight into how EIT Health has seen significant growth, and most importantly, is really solidifying our role as the innovation ecosystem in Europe, impacting on the lives of patients and citizens today. Headline figures show impressive results: €90 million in investment attracted by start-ups, 400 start-ups supported, 21 000 professionals and graduates trained and 35 solutions brought to market.

Going beyond the numbers, the report details individual stories behind EIT Health's successful drive to promote healthcare innovation, and provides a snapshot view of how European citizens benefit.
"Three years of life-changing healthcare innovation across Europe", published 20 September 2019, utilises a fully digitised platform to not only look at some of our results, but also  explain what EIT Health does, how it does it, the impact on society and what the organisation is attempting to accomplish in the coming years.
Introduced with forewords by EIT Health's Supervisory Board Chairman Alexander von Gabain and CEO Jan-Philipp Beck, the report is divided into four sections:
Our Achievements: An overview of accomplishments since EIT Health began activities in 2016 and a year-by-year breakdown of what the three "pillars", or programmes, achieved.
Our Mission: A description of EIT Health's goals, the challenges that the organisation addresses, the six Focus Areas of EIT Health activities and a Vision Statement by EIT Health CEO Jan-Philipp Beck.
Real Stories: Stories of successful start-ups and initiatives from each year by our three "pillars" or programmes.
Who Are We?: Descriptions of EIT Health's structure, partnership, management, funding, areas of activity and citizen engagement.
"Our vision is that by 2022, improvements in the European healthcare systems will facilitate citizens' equal and fast access to high quality and affordable care across Europe, thus leading to improved health outcomes," EIT Health CEO Jan-Philipp Beck explains in the report. "EIT Health will be recognised as the leading European Health Innovation Network catalysing this development."
As well as the digital version of the report, which will be viewable on the EIT Health website, a printed version of a revised organisational brochure is also in development, and will incorporate many of the results and case studies seen in the three-year report.
A publicly available annual report outlining our achievements, successes and outcomes of the work we have done in the preceding year will be a new addition to our communications materials on an ongoing basis.
EIT Health brings together the brightest minds from the worlds of business, research and education to answer some of the biggest health challenges facing our society today and, ultimately, to collaborate with the aim to help European citizens live healthier, longer lives.
The report can be viewed here.
This communication was first published by EIT Health on 20 September.