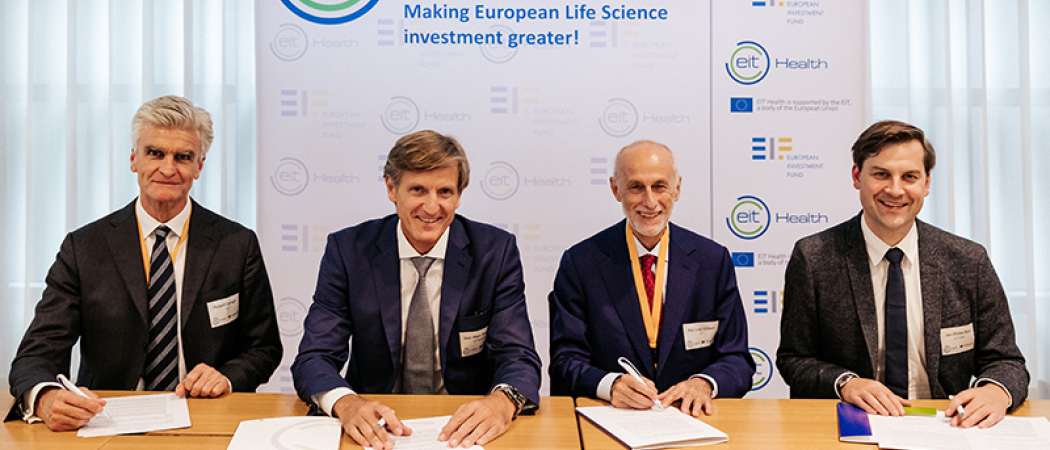 EIT Health and the European Investment Fund (EIF) have signed a Memorandum of Understanding to attract additional funding to the health and life science sector across Europe by cooperating to establish a Venture Centre of Excellence (VCoE).
Signed 13 September 2019 at the EIT Health Industry Partners' Meeting in Amsterdam, Netherlands, the Memorandum of Understanding unites a powerful pairing: The EIF brings potential investors, through its extensive network of venture capital funds and their portfolio companies, while EIT Health brings potential investments, through its network of best-in-class health research institutions and pharma or med-tech enterprises – and their deal flow of start-ups.
The new cooperation will enable EIF and EIT Health to develop the Venture Centre of Excellence (VCoE) – the first collaborative framework on a pan-European scale aimed at fostering relations between corporates from the pharma/med-tech sectors and managers of European life science venture capital funds. It is expected to increase the availability of venture capital to the industry and enhance networking, exchange of market knowledge, strategic collaborations and the sharing of investment opportunities amongst the different industry players.
"At EIT Health we have created a fantastic eco-system that connects over 150 top players from across Europe representing excellence in health innovation," said EIT Health CEO Jan-Philipp Beck. "We are set up to deliver new innovations and contribute to the re-imagining of European healthcare systems for its long-term sustainability. Connecting to the EIF, the largest investor in European life science venture capital and the sector's most active limited partner with €2 billion in commitments, close to 100% market coverage and an annual volume of around €300 million is a tremendous opportunity to mobilise the investment needed to scale."
Pier Luigi Gilibert, Chief Executive of the European Investment Fund, added: "Europe is at the forefront of life sciences innovation in many domains but is faced with more limited availability of financing and a fragmented life science ecosystem. I am excited to be entering into a partnership with an institution like EIT Health, with a vast partner network in Europe including the top tier research institutions, universities, pharma and med-tech companies as well as payers. The cooperation agreement signed today will allow both EIF and EIT Heath to help Europe's start-ups and corporates in the healthcare and life science sector to collaborate better and identify together new opportunities for growth."
About the EIF
The European Investment Fund (EIF) is part of the European Investment Bank group. Its central mission is to support Europe's micro, small and medium-sized businesses (SMEs) by helping them to access finance. EIF designs and develops venture and growth capital, guarantees and microfinance instruments that specifically target this market segment. In this role, EIF fosters EU objectives in support of innovation, research and development, entrepreneurship, growth, and employment. For more information visit: https://www.eif.org/
This communication was first published 16 September 2019 by EIT Health.