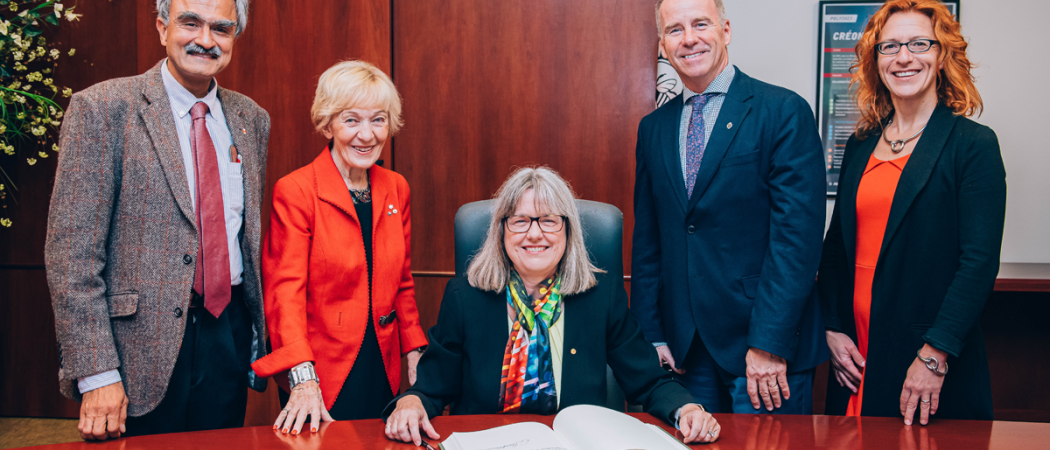 University of Waterloo physics professor Donna Strickland, who was awarded the Nobel Prize in Physics for 2018 for transposing the chirped-pulse amplification technique onto ultrashort lasers, visited our engineering university on Wednesday, November 6, 2019. Here is the photo report on this historic moment.
Dr. Strickland was invited to Polytechnique by her friend Dr. Raman Kashyap, a professor in the Department of Engineering Physics and the Department of Electrical Engineering, with the involvement of the student chapter of OSA-SPIE and the support of the Association des étudiants des cycles supérieurs de Polytechnique (Polytechnique graduate student association).
Dr. Strickland was welcomed that morning by Michèle Thibodeau-DeGuire, Principal, Chair of the Board, and the first woman to graduate in civil engineering from Polytechnique; Dr. François Bertrand, Senior Vice-President, Vice-President of the Academic and Research Directorate, and professor of chemical engineering; Dr. Annie Ross, Associate Director of the Academic and Research Directorate, Co-Chair of the Committee on Equity, Diversity and Inclusion in Research (ÉDI) and professor of mechanical engineering; as well as Dr. Kashyap. In their presence, Dr. Strickland signed Polytechnique Montréal's guestbook.
Dr. Strickland then toured the Fabulas laser technology laboratory in the Poly-Grames Research Centre, where Dr. Kashyap presented his work on femtosecond laser writing of Bragg gratings in optical fibres, the laser cooling of solids (glass, among other things) and the development of new tunable and photosensitive polymer materials for photonics.
After the tour, Dr. Strickland gave a lecture titled "Generating High-Intensity, Ultrashort Optical Pulses" to a full house at the Amphithéâtre Bernard-Lamarre. For one hour, she spoke about the evolution of researchers' work in the field of physics which led to the development of the laser.
Dr. Strickland then explained her own research work, carried out with French physicist Dr. Gérard Mourou, which made it possible to transpose the chirped-pulse amplification (CPA) technique onto ultrashort lasers. This approach, which amplifies ultrashort laser pulses to petawatt intensity levels, is used today in practical applications such as eye surgery and micro-machining.
Dr. Strickland's and Dr. Mourou's research, carried out in the 1980s, earned the researchers a shared Nobel Prize in Physics in 2018.
After the lecture, Dr. Strickland toured the Laboratory of Optical Diagnoses and Imagery (LODI), where Dr. Caroline Boudoux, a professor of engineering physics, presented developments aiming to improve medical imaging by endoscopy, particularly with regard to the interaction between photons and organs, as well as new optical fibres that can conduct light into the human body.
In the afternoon, Dr. Strickland toured the Laser Processing and Plasmonics Laboratory, where Dr. Michel Meunier, professor and interim director of the Department of Engineering Physics, presented his work on nanosurgery on living cells using ultrafast lasers for applications in gene therapy and ophthalmology.
Dr. Strickland then met with Dr. Stéphane Kéna-Cohen, adjunct professor in engineering physics and holder of the Canada Research Chair in Hybrid and Molecular Photonics, who presented his work on the study of semiconductor materials using ultrafast lasers.
Next, Dr. Strickland spoke with Dr. Denis Seletskiy, assistant professor in engineering physics, who presented a femtosecond laser technology developed in the ultrafast and quantum photonics laboratory for research and applications of light-matter coupling in the time domain.
Dr. Strickland also met with bachelor's students in engineering physics who will be writing an article for publication in Spectra, an annual magazine from the Department of Engineering Physics.
To conclude the day, Dr. Strickland had a conversation with several professors and a conversation with Polytechnique Montréal students.
Sincere thanks to Dr. Strickland for the wonderful moments she spent with the members of our community!
Polytechnique Montréal would like to thank Dr. Kashyap, postdoctoral researcher Victor Lambin Iezzi, research visibility support co-ordinator Hélène Carlettini, doctoral student Antisar Hlil, the members of the OSA-SPIE student chapter and all those who were involved in preparing for and hosting Dr. Strickland's visit to our engineering university. Thanks also to photographer Caroline Perron for the superb photos!
This communication was first published on 22 November 2019 by Polytechnique Montréal.