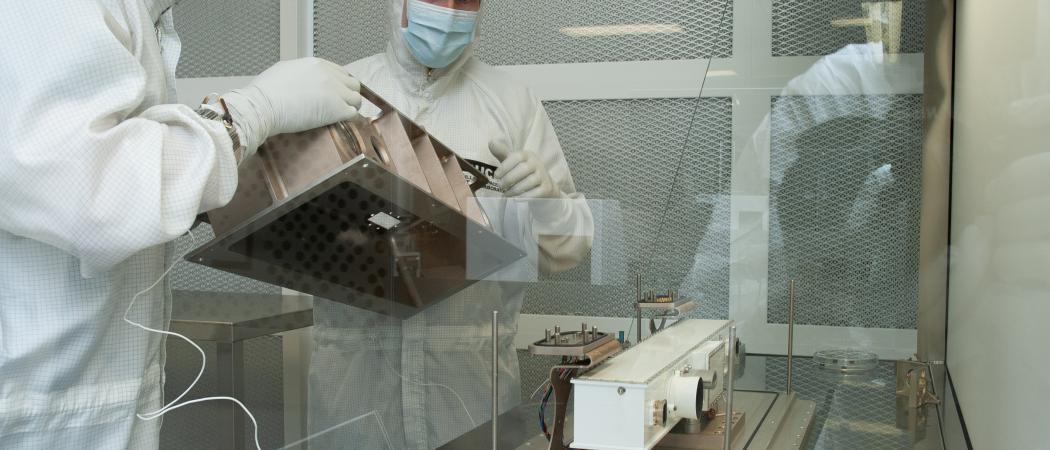 "PanCam is one of the key instruments on the Rosalind Franklin rover, and we will use it every day on Mars to decide where to drive to next and, importantly, where to drill," said Professor Andrew Coates (UCL MSSL), PanCam's Principal Investigator.
"It's been fantastic project for UCL to lead the design and build for, and today's milestone is significant – it is the culmination of 16 years of development effort."
The rover, being built at Airbus UK in Stevenage, will be the first to drill up to 2m under the Martian surface to look for signs of life. Previous rovers have only been able to drill a few cm.
The surface of Mars is really inhospitable for life now, with a thin carbon dioxide atmosphere, and a harsh ultraviolet and radiation environment. But 3.8 billion years ago, Mars was habitable, with water on the surface, a magnetic field and volcanism, at the same time that life was developing on Earth.
"Our best chance of finding life on Mars in the next few years will be by drilling under the surface, which Rosalind Franklin is equipped to do," added Professor Coates.
Mary Carter, PanCam's project manager at UCL MSSL saids: "The flight model will be delivered to Airbus UK in Stevenage, where it will be put onto the rover and aligned with other instruments. Then, the rover will be moved to Airbus in Toulouse for environmental testing of the rover and cross-calibration of PanCam with the rover navigation cameras, before being shipped to Baikonur, Kazakhstan, for launch next summer on a Russian Proton rocket."
The team are now assembling the flight spare model of PanCam should anything happen to the flight model.
PanCam includes a stereo pair of wide-angle cameras (WACs) and a high resolution camera (HRC). Each WAC has an 11-position filter wheel specially designed to study water-rich minerals on Mars as well as atmospheric water and dust, and to provide colour stereo images. The colour HRC will provide detailed images of particular rocks, adding rock texture to the stereo images.
"It's a testament to our excellent engineering team that everything has been integrated and tested successfully," said Tom Hunt, PanCam system engineer. The MSSL PanCam project team were supported by many members of MSSL's engineering and facilities departments who helped to create and test the instrument.
"It has been a huge effort by the international team to develop, test and calibrate PanCam and we are proud to be able to deliver the flight model," said Professor Coates.
The optical bench which houses PanCam, the filter wheels, the PanCam interface unit and DC-DC converter electronics, were all built at UCL MSSL.
The WACs were provided at Thales-Alenia in Zurich, Switzerland. The HRC is from DLR Institute of Planetary Research, Berlin and OHB Space Systems in Munich, Germany.
The 'small items', consisting of a calibration target, fiducial markers and a Rover Inspection Mirror were produced by Aberystwyth University, who also led the PanCam calibration team. Geometric calibration for 3D vision was performed by Joanneum Research from Austria.
PanCam also has a large international Science Team which will be operating PanCam and collating and analysing the data PanCam sends back to Earth once it reaches Mars in March 2021.
PanCam is funded by the UK Space Agency (lead funding agency), DLR Agency, Swiss Space Office (via ESA Prodex) and the Austrian agency.
Links