Experts ranked market potential of research projects in biotechnology– with exclusive CEO interviews and reports in a colorful online booklet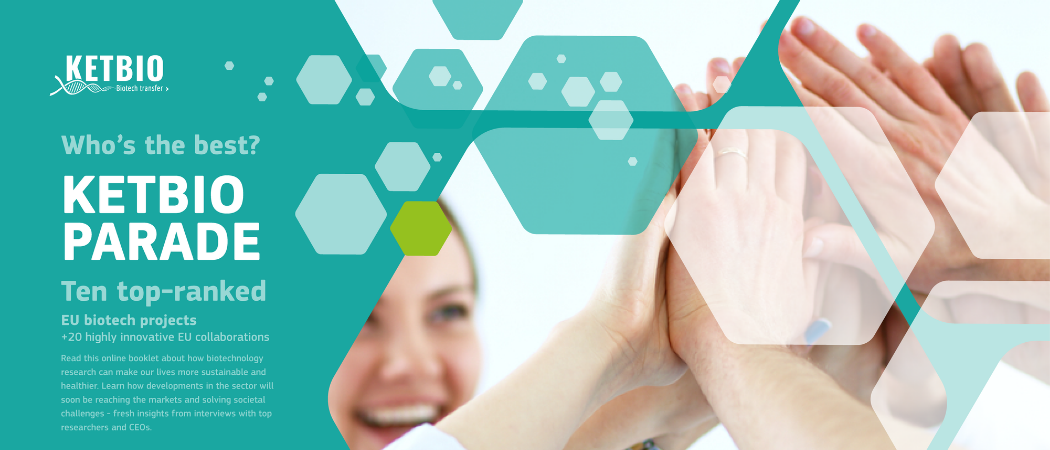 A group of high-level industry experts, mandated by the KETBIO biotech transfer EU initiative, has assessed EU funded biotech projects as top-level. An online publication is featuring their stories under the title: "Biotech commercialisation - KETBIO PARADE"
The interactive online publication draws the big picture of a varied EU biotechnology research landscape at the brink of innovative breakthroughs and commercial launches. The developments featured in the KETBIO PARADE range from biorefining and enzymatic biocatalysis to synthetic biology for plastic recycling, health and medical applications, fully compostable and smart food packs, alternative construction materials, and novel solutions for waste and wastewater treatment.  
300 EU funded R &I projects (HORIZON 2020) have been screened. Out of them 30 have been selected to be very likely biomarket movers or innovations that may soon take on the hurdles of commercialisation. The selection criteria ranged from technology readiness, potential impacts, market attractiveness, commercialisation steps, entrance barriers, commitment, and resources. To be included in the list of the EU TOP TEN, the initiatives had to score in the ranking system at least 10.5 out of 15.
The TOP TEN stand out because of their unique novel approaches to products or processes in the key enabling biotechnology. These innovations may be industry drivers while, at the same time, providing novel sustainable solutions. Twenty other highly innovative biotech EU developments in the booklet have convinced the evaluators of their ability to meet strong end-user needs or respond to pressing environmental or health challenges.
KETBIO PARADE: The list of the EU TOP TEN of EU BIOTECH  
flexJET: Sustainable Aviation Fuels from cooking oils used for the kerosene refining www.flexjetproject.eu
IMETland: Decentralised wetland systems based on microbial electric chemistry technology www.imetland.eu
INMARE: Discovery of new enzymes and bioactive compounds in the deep sea that fit industrial purposes with filed patents and drugs discovered  www.inmare-h2020.eu
FRESH: Launch of a  fully biodegradable wood fiber-based ready-meal packaging system; an alternative to black plastic ready-meal trays  www.projectfresh-h2020.com
P4SB: Microbial biotransformation of plastic waste into value-added materials for a circular plastic recycling system www.p4sb.eu
SUSBIND: Identifying alternatives to formaldehyde-based binders in European wood panel and furniture industries www.susbind.eu
H2AD: Microbial fuel cell (MFC) combining biotech and electronics to treat wastewater with fast anaerobic digestion (AD) system  http://h2ad.org.uk
EmPowerPutida: Cell factories demonstrating the synthetic biology potential for industrial applications www.empowerputida.eu
ReTAPP: Biorefinery value chain to re-use lignin-based feedstock for bioplastic with less eco-footprints  www.metgen.com/retapp/
MePlat: Cold plasma technology for a constant biomolecule layer on contact lenses  to avoid contamination www.mediplasma.it/enSee
The KETBIO PARADE  can be downloaded: www.ketbio.eu/KETBIO_Parade  
Join ketbio: www.ketbio.eu  I  Follow us on twitter: @ketbio_biotech

Contact:
Kathrin Rübberdt I Project Coordination I Dechema I mail: [email protected]
Sylvia Schreiber I Communication I Pracsis I mail: [email protected]