G7 science ministers pledge to launch 'Global AI Partnership', in a step to develop a global approach to handling the new technology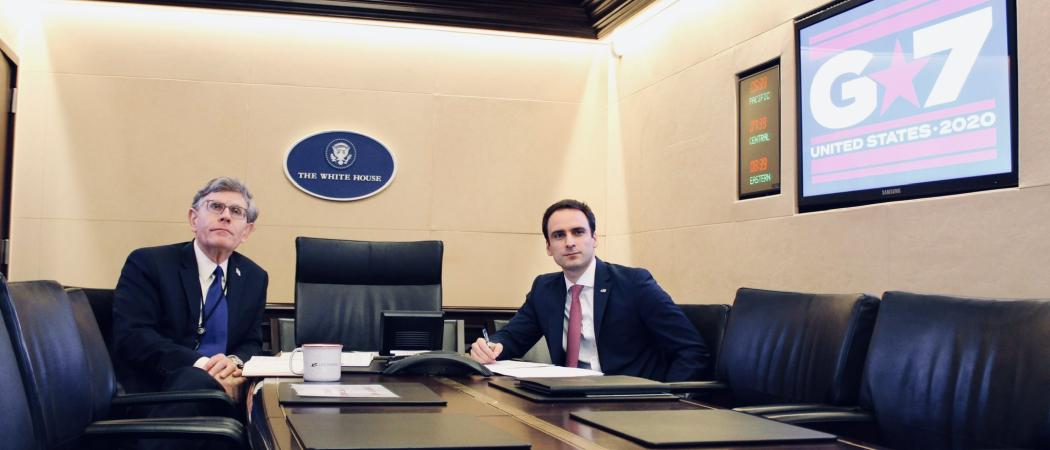 The Trump Administration has dropped its opposition to joining an international panel for setting ethical guidelines for the use of artificial intelligence (AI), nearly two years after France and Canada announced plans to form the global group.
Science and technology ministers from the world's seven wealthiest democracies, the G7, met 28 May over videoconference and promised to work together to launch the so-called Global Partnership on AI.
The Trump Administration was initially hesitant to join the group, but now says it wants to help guide AI to serve democratic interests, not authoritarian ones.
The White House's chief technology officer, Michael Kratsios, tweeted: "The pandemic has made clear why AI development aligned with privacy, freedom, and civil liberties is such an imperative. It is critical that America stand alongside those who share and promote our values."
Most immediately, the AI group will commit to developing and using the technology to fight the pandemic—including efforts to speed up drug discovery, improve disease diagnosis, and aid telehealth services. The launch of working groups, consisting of experts from the private sector, academia and non-profit organisations, is expected in the coming weeks.
Canada's Justin Trudeau and France's Emmanuel Macron announced plans for this new international body back in 2018 to study and steer the effects of AI. The idea from both leaders was to model it on the UN's Intergovernmental Panel on Climate Change, which helped establish consensus on the climate crisis and recommends possible responses. In pushing for such an expert group for AI, the two leaders were responding to mounting concerns that AI, while potentially beneficial, could also lead to dystopian scenarios of automated privacy invasion, discrimination or even warfare.
The move to create this standing forum for AI has taken some time "to build up steam," explained Sarah Box, a counsellor at the Organisation for Economic Cooperation and Development, a separate group of 36 advanced economies.
The OECD, which will provide the secretariat of the new international group, has established a network of AI experts to advise members on policy, and it has produced a set of AI principles endorsed by more than 40 countries.
"It takes time to nurture something like this. AI is such a busy space, and countries needed to reach a certain comfort level with the concept," said Box.
The US, though concerned early on that the group would hamper AI development by setting rigid standards or regulation, is increasingly wary of seeing a world shaped by China's view of technology.
"Great news [on US joining] even if a bit surprising on the basis of earlier discussions," said Rémi Quirion, chief scientist of the Province of Quebec, which will host one of the GPAI research centres. "But the extremely rapid developments of AI in China convinced the US government that it was better to partner than play on its own."
Kratsios warned that AI "is being twisted by authoritarian regimes to violate rights," in a Wall Street Journal op-ed earlier this week. "The Chinese Communist Party is reportedly using AI to uncover and punish those who criticize the regime's pandemic response and to institute a type of coronavirus social-credit score—assigning people colour codes to determine who is free to go out and who will be forced into quarantine," Kratsios wrote.
The Trump administration sees the international group as a way of mitigating Chinese influence in the technology. Kratsios spoke of unease at attempts by Chinese technology companies to shape international standards around facial recognition and surveillance at the UN's International Telecommunication Union.
The US has a commanding lead in AI but Chinese technology is catching up fast, and the country's overall investments in research and development could surpass those of the US within 10 years.
Relations between the two world superpowers have never been lower. Accusations have been flying in the US that the Chinese government delayed in letting the world know about the COVID-19, alongside claims that the virus leaked out of a Chinese lab. A Chinese government spokesman, meanwhile, has suggested the US military brought the coronavirus to China. Playing referee, the World Health Organisation says the evidence suggests COVID-19 originated in animals.
AI working groups
A statement from the G7 ministers – representing Canada, France, Germany, Italy, Japan, the UK and the US – also promised to make government data on COVID-19 accessible to the public "in machine-readable formats, to the greatest extent possible".
As well as AI to fight COVID-19, the partnership will tackle responsible AI, innovation and commercialisation, data governance and the future of work.
The working groups, in turn, would be overseen by a series of three committees: a ruling council that includes government ministers, a steering committee, and a "multi-stakeholders experts' group plenary" that includes public and private experts.
Coordination will come mainly from researchers based in Montreal and Paris. "We're finalising a list of experts for the various work groups," said Bertrand Braunschweig, interim director of the group's Paris base. Braunschweig is also a director of France's National Institute for Research in Computer Science and Automation, or INRIA.
The whole GPAI organisation would meet annually – and the Canadians have offered to host an international conference in December or early 2021.