The pandemic has 'fast-tracked conversations' about online learning and R&D, says University of Cape Town vice-chancellor. But despite a few positive forces unleashed by the virus, South Africa is facing many negatives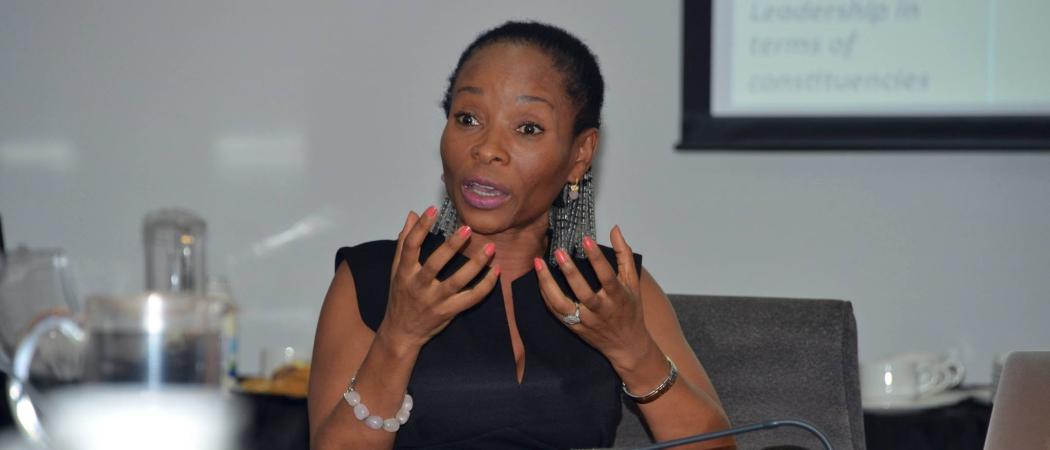 The University of Cape Town's vice-chancellor, Mamokgethi Phakeng, is gamely searching for a silver lining from the economic and social carnage of COVID-19.
"The crisis can be positive as well as negative. We haven't been able to continue as planned but it has certainly been productive and forced us to think outside the box," Phakeng said.
"The opportunity of COVID-19 is for the academics who have been wanting [to,] to get online. They've been saying wait, I want to make my [work] perfect first. Now we don't have a choice but to get on with it. It has fast-tracked conversations around online learning and research we'd been having already that were slow," Phakeng told Science|Business.
South Africa went into an extreme lockdown in March, with people prohibited from going to work, exercising outdoors or walking their dogs. These restrictions are now beginning to ease slightly.
The country has managed a vigorous and so far relatively successful response to the virus, drawing on the health infrastructure and strategies put together in response to the HIV/AIDS pandemic.
Phakeng says the experience of remotely running the university, which scores first in Africa in the major world university rankings, has been a qualified success.
"We're amazed. This moment has freed people and forced them to release any work that they've been protecting. It's been productive in that sense."
The pandemic has also ignited medical research. "This might be the disruption we needed, to question what we need to teach our students," Phakeng said. "There's a lot of projects that have started because of this. It bodes well for dealing with future pandemics."
The university's research administration office has been "just as busy" as it is during normal times. "Actually it might even be busier than ever; we are seeing more contracts coming through. Our researchers have all gone into gear," said Phakeng
COVID-related research at the university includes a study into how susceptible South Africans are to the virus, including those living with HIV and tuberculosis. Researchers are also investigating diagnostics and potential immunity tests, as well as exploring vaccine candidates.
The university has set up an emergency fund, with money for travel expenses of students who needed to return home; disinfecting buildings; sourcing laptops and arranging their delivery to students; providing personal protective equipment to essential staff members who need to remain on campus; and purchasing data for students who are able to study online at home.
Phakeng, a professor of mathematics, is committing 20 per cent of her salary to the fund for three-months. She is making the most of her time at home, posting videos on Twitter – under the ID "FabAcademic" – of her cooking, workouts and dance sessions.
Exposed inequality
Despite the few positive forces unleashed by the virus, there are plenty of negative aspects. Not everyone's new reality looks the same, with COVID-19 exposing many of the country's problems. "Inequality and poverty have become much more pronounced," Phakeng said.
To ease the transition to learning from home, the university is giving students laptops and the use of up to 30 gigabytes of pre-paid data per month. "Even that is not enough – we've made plans to send printed material and flash drives."
"Poverty is about way more than access to computers though. It's about where people live; the conditions they live in; how big their house is. Many of our black students come from poor backgrounds. Just finding a space to work in their houses can be difficult. It's not conducive for work," said Phakeng.
The crisis will force countries to rethink everything, including broadband provision. "We all need to be in well-networked areas," she said. The need to close universities and schools will bring about a big advance in remote learning technology and techniques, which in time could deliver better education to more people.
Enrolment to the university's online courses has increased by roughly 35,000 since the beginning of March. A course that helps people brush up on their medical statistics has seen a dramatic surge in participants, with around 10,000 people signing up.
Following the pandemic, more students may choose to remain in Africa rather than travel to Europe, the US or elsewhere for their education.
"It might reduce travel altogether. Many students from the continent go to countries in the west – we might see new models pop up, where a UK university for instance offers remote degrees to students in Ghana that they couldn't get before. For sure, it will force everyone to think differently about student mobility," Phakeng said.
Campus return
Decisions on how to reopen and run the university after the first coronavirus wave depend on political, economic and health pressures.
"We are planning to have a phased return and will open residences to vulnerable students to begin with. We will do that before we open up for teaching and learning," said Phakeng.
"Students from low economic backgrounds are eager to come back. Then there's the students who are comfortable at home, who might consider it more difficult to return," she said.
"We might see a division between socio-economic classes; but I say that hesitantly. If your parents are going through a divorce, then regardless of your class, you probably can't study at home right now. There's students who are from difficult backgrounds in other ways."
Reopening labs is straightforward, she said. "It's a much easier problem to solve than how to bring students back to the faculty of arts, where they will have to come up with new, safe ways to continue drama or dance."
But certain research opportunities could disappear. "Field work is going to be hard," said Phakeng.  
Recruitment of researchers and students will suffer in the short-term. "We have opened online applications for researchers and students in March; I haven't checked how it's going yet. Probably not great. Our study abroad programme is going to be disrupted; we might have to rethink it," she said.
"I can't imagine how easy it'll be to travel now. Then again, if South Africa is seen as a [relatively] safer destination, maybe there will be demand. Depending on how things pan out, we might be the place to come to."