Israeli Horizon 2020 partner Voiceitt brings speech recognition tech to people with speech disabilities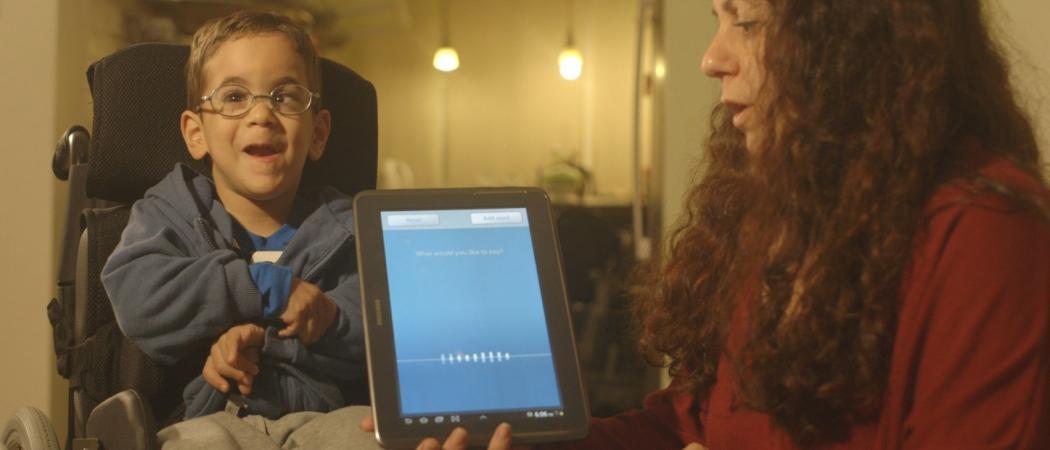 Speech is one of the most defining qualities of human beings. But for the 80 million adults and children in Europe living with speech impairments, according to figures from the Council of the European Union, even basic communication can be a challenge.
Extensive European Commission studies have shown that such impairments can have major negative emotional and social impacts and can also get in the way of parents', teachers', and medical practitioners' ability to provide effective care.
Helping the speech-impaired find their voices
But Israeli research, backed by the EU's Horizon 2020 programme, is helping Europe's speech-impaired find their voice.
"Mainstream speech recognition is developed with only 'normal' speech in mind," says Danny Weissberg, CEO of Israeli startup Voiceitt. "But there are millions who struggle with impaired speech and the current solutions for them often fall short."
Speech recognition, even for standard speech, remains a challenge. Moreover, due to the wide range of causes and manifestations of motor speech disorders, creating a general "out of the box" solution seemed next to impossible. That's why Voiceitt is instead opting to build a speech recognition software that can adapt to each person's own distinct voice.
Using insights gleaned from research trials, Voiceitt establishes a baseline speech model for gaining a general understanding of everyday speech. This is then supplemented with user-generated data to help the system learn each speaker's unique vocal and semantic qualities. The resulting custom algorithm can then run in real-time to automatically interpret what a user says and "scrub" audio of any interference that might get in the way of their being understood. "For a goal this ambitious, we needed more than just financial backing, but also institutional clout and additional support," says CEO Weissberg. "Voiceitt received all of this and more through the Horizon 2020 grant."
Amplifying EU access to solutions for the speech-impaired
Voiceitt's research is supported by €1.4 million in funding from the EU's Horizon 2020 SME Instrument programme, which attracts global innovators through open competitive calls for proposals.
The company was chosen for Horizon 2020 funding in light of the EU's prioritisation of greater accessibility for the disabled, and Voiceitt's many prior successes—ranging from strong trials in Israel's Hadassah Hospital to winning an international medical competition in Dusseldorf, Germany.
Sara Smolley, VP of Partnerships at Voiceitt, says the impact of the EU grant on the company's strategy has been enormous: "Without the Horizon funding, we wouldn't have been able to explore some of these smaller markets. But having this opportunity to access these various geographies brings numerous advantages. Europe has a kaleidoscope of languages and dialects; and because we are at core a data-driven AI company, having access to all those different use-cases is invaluable."
"Another upside of Europe is their progressive programmes for funding assistive care. This further primes these markets to invest in a solution like Voiceitt," she adds.
Voiceitt has enjoyed a number of collaborations as part of the Horizon 2020 project. These pilot programmes range from collaborating with Bambino Gesu, the largest sub-specialty children's hospital and research centre in Europe – based in the heart of Vatican City – to partnering with Universitat Autonoma de Barcelona, a prestigious university in Catalonia, Spain, and the Karten Network in the UK.
Association with the Horizon 2020 name has also had a halo effect, helping spur interest from major industry partners including P&G Europe and the Plug and Play's Insurtech accelerator program in Munich, the SoundTech Hub program in Denmark for audio technology innovation, among others.
Beyond the partnership programmes enabled by Horizon 2020, Voiceitt has also garnered accolades from leading companies, such as Verizon, Philips and IBM. And though the technology is still in development, it has already received awards, including Microsoft's AI for Good grand prize and the Connecticut Innovations VentureClash grand prize. Additionally, the company has been named an EIT Digital Accelerator Prize Finalist. Backed by nearly $14 million in total funding, Voiceitt's prominent investors include Amazon and Microsoft.
Israeli innovation amplifying EU progress
The Horizon 2020 programme has allowed the European Union to tap into the combined brainpower of 1,400 leading Israeli researchers. On top of that, Israel is set to contribute €1.3 billion to Horizon 2020 by the end of 2020, which the EU is allocating according to Europe's needs and priorities.
Past EIC Accelerator grantees have benefitted from adjacent frameworks, such as the EU Disability Strategy 2010-2020, which offers additional incentives to promote accessible technologies. Innovative Israeli companies, which might have struggled to gain commercial traction without the help of such funding, now have an incubation and proving ground in Europe. These start-ups are developing innovative solutions for the management and treatment of a wide variety of mental and physical disabilities. Israeli Horizon 2020 participants are also bringing value to the EU in other sectors including autonomous driving, fuel alternatives, food security, space travel, cybersecurity, and more.
The hope is that uniting EU resources, reputation and expertise with Israeli inventiveness, technical innovations and lateral thinking will bring resounding benefits to the European Community. With programmes, such as Horizon 2020, matching Israeli innovators with European funding, researchers, marketing channels and regulators, the frequency and volume of accessibility innovation changing lives in Europe should continue to grow.