Web-based clinic in the Netherlands improves outcomes while saving time and money. Doctors and patients have teamed up to build a teen-friendly app and, as the system is adopted more widely, healthcare providers will be paid for online care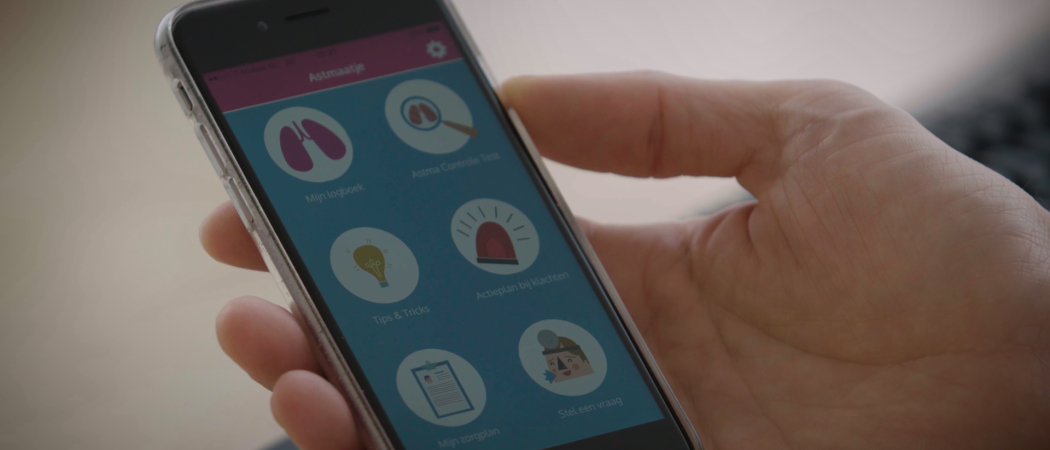 Children with asthma have seen their routine outpatient visits reduced from every four months to every eight months by a new eHealth system at the Amalia Children's Hospital in the Netherlands that replaces half of face-to-face clinic visits with monthly virtual appointments.
The virtual asthma clinic allows for online monitoring by doctors and provides a 24-hour interactive chat service. Patients or their parents can log in securely and provide information about symptoms, which is tracked by their asthma team.
In a 16-month randomised controlled trial of 210 children, doctors at eight Dutch hospitals compared a group of patients receiving the usual care with a group testing the virtual system. They looked at the number of symptom-free days, asthma control, unscheduled hospital visits, medication use and several routine clinical lung tests.
Children using the virtual clinic had more symptom-free days and improved asthma control. For the other outcome measures, there were no differences.
The team have published a paper on the cost-effectiveness of the virtual clinic, reporting significant cost savings. On average, hospitals using the system recorded savings of €352 per patient over the 16 months of the clinical study.
Taking care of your own disease
Chronic conditions such as asthma are well-suited to self-management which could help to improve outcomes while empowering patients to take a more proactive role in their health.
"The ability of patients to take care of their own disease and to recognise exacerbation in a timely fashion brings benefit for the patient, for healthcare providers, for insurance companies and for society as a whole," said Jolt Roukema, a paediatric lung specialist at Radboud University Medical Centre, the academic centre linked to the Amalia Children's Hospital. 
eHealth systems also offer scope for improved services through web-based education modules, easy access to personal treatment plans, and direct communication with health professionals.
The introduction of the virtual clinic enabled participating hospitals to reorganise asthma care. Face-to-face contacts have been partly replaced by more frequent monitoring outside the hospital. Some work traditionally carried out by the treating paediatrician is now frequently delivered by asthma nurses. "This has clear advantages for the patient and the asthma team, and also helps to control healthcare costs," Roukema said.
Expanding service
Fourteen hospitals are using the virtual clinic and there are plans for further expansion with the support of VGZ, a large health insurance company. Positive feedback from patients and hospitals has helped researchers secure a grant from the Netherlands organisation for Health Research and Development (ZonMw) to research barriers to widespread implementation of the eHealth tool.
In addition, the web-based system has been adapted as a smartphone app through a collaboration with Longfonds, a national patient organisation dedicated to lung health. The app, Astmaatje, is designed by and for people with asthma between the ages of 12 and 17. It has a CE quality mark for medical apps and is available for Apple and Android devices.
Working with patients to create the app, the patient group and app developers said teenagers frequently complained about a lack of control over their asthma.
"One of the wishes of the young people was to be able to send messages directly via their smartphone or tablet if their condition worsens, and to receive a quick response from a doctor or nurse," said Michael Rutgers, director of Longfonds. "They want to see an overview of their medication along with tips and tricks on how to reduce symptoms. These features are built into the app."
The app links to the web-based virtual asthma clinic, allowing caregivers to monitor young people remotely. It is hoped this will expand the reach of the virtual clinic and increase uptake among adolescents.
The virtual asthma clinic is attracting attention from outside the Netherlands and from specialists beyond the field of paediatric asthma care.
"We are in contact with colleagues abroad who are interested in using the [system] and adopting the concept and website," says Roukema. "The concept … may even be translated to other chronic diseases such as juvenile arthritis, inflammatory bowel disease and chronic obstructive pulmonary disorder."
Journal Reference: Online asthma management in children can (partly) substitute routine outpatient visits and is cost-effective http://ow.ly/oabk30f7Sre
The project won the award for cost effectiveness at the 2017 Value-based Healthcare Awards: http://vbhcprize.com/a-virtual-asthma-clinic-for-children/