Employees are lukewarm on new locations and a slow-down in work rate will mean less income. In the best case scenario Europe's drugs regulator will take 2-3 years to get back to speed after leaving London.
The European Medicines Agency (EMA) stirred up the growing political fight over its future post-Brexit base by publishing a league table of where staff would be prepared to relocate when it is forced to leave London.
Even the favourite – Amsterdam – would attract only 81 per cent of the agency's 890 employees, while just 6 per cent say they would move to Sofia, at the bottom of the ratings.
Whatever the new location, EMA anticipates staff losses will reduce its operating capacity and could result in a major deficit in its budget.
In a shot across the Commission's bows, which has been trying to de-politicise the issue, EMA executives last week warned the agency's management board of dire consequences if the wrong site is chosen. The board's members include Xavier Prats Monné, director-general for health at DG Santé, Carlo Pettinelli, director of DG Grow, Tonio Borg, MEP and former health commissioner, and the heads of Europe's national regulatory agencies
If operations are delayed or have to stop because of "massive" staff losses, the agency could experience a "dramatic drop" in fee income. This, in turn would result in lower payments to national regulators for the work they carry out in reviewing applications for new drug approvals.
The financial consequences will be compounded by the cost of replacing staff. "Such a shortfall would need to be made up from the [EU's] budget," the management board was told.
The EMA is already suffering from sterling's loss of value against the euro since the referendum vote to leave the EU in June 2016. This forced it to adjust the 2017 budget and cut back on non-core activities. It is now revising budgets for 2018 and 2019.
The EMA's decision to publish a ranked list of staff preferences for its new home is an unusually political step. The agency has issued a warning that it risks "permanent damage to the system" if forced to move to any of the bottom eight of 19 candidate cities, where fewer than 30 per cent of employees would be prepared to relocate. "This would mean the agency is no longer able to function," EMA said.
The Commission told would-be hosts to base their bids on criteria including the office building, a relocation plan, quality of transport links, education facilities for 600 or so children, healthcare provision and jobs for partners.
While the Commission's assessment merely tabulates the respective bids, the EMA has ranked each aspect of every bid and let it be known what percentage of employees are prepared to move to each city.
For business continuity to be maintained, EMA says it needs to retain at least 65 percent of its staff. On that basis only five cities – Copenhagen 65 per cent, Milan 69 per cent, Vienna 73 per cent, Barcelona 79 per cent and Amsterdam on 81 per cent – make the cut.
However, the political crisis in Spain over Catalonia's push for independence must surely rule out Barcelona.
Exposing fault lines
By publishing staff preferences, EMA has effectively ruled out some bids that score well on the objective criteria. Bratislava for example, gets good marks on all criteria apart from its dependence on neighbouring Austria for air transport links, but only 14 per cent of EMA staff would be prepared to relocate there.
Inducing employees to move from Europe's most cosmopolitan and liberal city to locations in eastern Europe has exposed other fault lines, with EMA's lesbian, gay, bisexual and transgender (LGBT) staff group expressing concerns that rights which are legally guaranteed in the UK are not recognized in all the member states bidding to host the EMA.
In an open letter to Guido Rasi, executive director of EMA, Donald Tusk, president of the European Council, Jean-Claude Juncker, president of the European Commission and Antonio Tajani, president of the European Parliament, the LGBT group pointed out Bulgaria, Poland, Slovakia and Romania do not recognise same-sex marriages or civil partnerships.
"As a consequence, LGBT staff members face a real risk of being deprived of a set of fundamental rights associated with marriage or registered partnerships," the letter said.
While the Commission's published assessment of host bids makes no reference to LGBT rights, EMA's comments single out member states where same-sex partnerships are not recognised, saying their governments need to say how this will be addressed.
Rush to recruit temps
Rasi told the European Parliament as long ago as last November that uncertainty about the impending move had led six staff members to resign and candidates for vacant posts to withdraw their applications.
The agency is now taking steps to plug gaps in the staff roster, issuing a £31.8 million open tender for employment agencies to find it temporary staff. EMA is searching for temps ranging from scientific staff with medical and pharmacy degrees, to systems analysts and secretaries.
Currently, EMA uses temporary workers on three – six month contracts who are recruited by seven employment agencies in London. The tender is looking for up to 30 agencies across Europe to recruit on the widest geographical basis.
Another gap to fill
Apart from resignations amongst its 890 staff, EMA has another huge hole to fill as it faces the loss of UK scientific expertise on its committees. Currently, the UK Medicines and Healthcare products Agency (MHRA) carries out about 20 per cent of the workload involved in regulating drugs.
The UK government has said it wants to maintain this contribution. But with Brexit negotiations still stuck on the opening issues of the Irish border, reciprocal rights for citizens and the divorce bill, EMA is working on the worst case scenario of no further MHRA involvement.
It has asked national drugs regulators in the EU-27 to expand their capacity and capability to deal with the workload and is currently conducting a mapping exercise to understand their plans.
Compounding the resource problems, preparing for relocation is sucking up staff time. Since May, EMA has been scaling back less essential activities with the aim of freeing up 43 staff to focus on preparations for the move.
That has included suspending development of a new European medicines portal and a project to benchmark national drug regulators, cutting back participation in external conferences and reducing the number of meetings and workshops it organises in house.
The agency says such activities can be put on hold for a while but longer term it could start to seriously undermine the quality of its work.
The relocation beauty parade: where EMA staff would move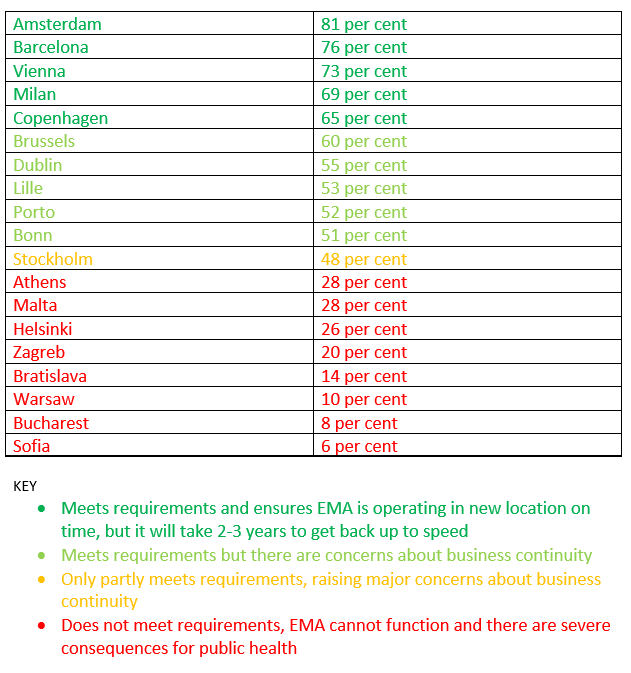 The EU-27 will discuss the options on 17 October. This will be followed by a vote at the European Council meeting on November 20th.