As Austria's EU Presidency approaches, health official Clemens Auer says it's time to stop the pilots and let digital health fly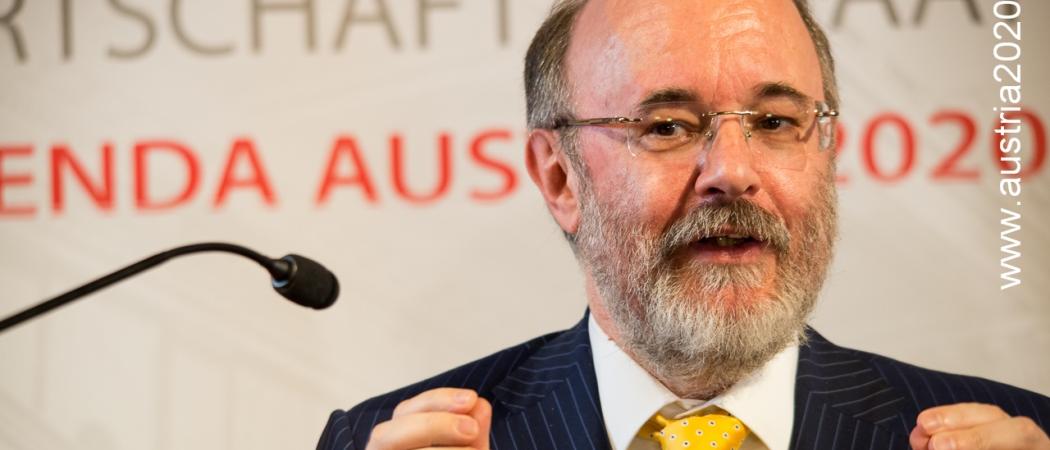 VIENNA - Austria's director general for health, Clemens Auer, is calling on the European Commission to put up seed funding for the creation of a dedicated pan-European infrastructure for digital health - and unlock the potential of digitisation for Europe's hard-pressed healthcare systems.
Auer wants to see health ministers making a case for the Commission to catalyse construction of an interoperable digital infrastructure to which all European healthcare providers will have access, as part of the 2021 - 2027 EU budget plans, the Multiannual Financial Framework or MFF.
"We don't need another theoretical discussion on the importance of digitisation. The Estonians did a wonderful job of that, and many others before," Auer said.
Auer is not making a bid for a certain amount of funding for digital health, but rather to ensure it is used to greatest effect. "I'm not concerned that MFF won't include some funds for this. My concern is that we don't spend it wisely, that we spend it in a fragmented way, that we do again 70 studies and pilots, instead of investing into real infrastructure," he said during an interview at a Science|Business conference in Vienna 25 May on digital health policy.
Austria will step into the Presidency of the EU on 1 July, just after the Commission publishes its official proposal and budget breakdown for Horizon Europe, and as the serious haggling begins over the multiannual financial framework.
The Presidency will not repeat the many previous discussions on digital health, Auer said. Rather, "We will totally make sure that we have sufficient funding for a new generation of digital services."
With Austria holding the ring as MFF negotiations between member states, the Commission and the European Parliament gather momentum, this an opportune time to press the case for digital health, Auer believes. "It is important that the minsters of health raise their voice [to say] that they need [sufficient] funding to accomplish the full potential of digitalisation," he said. "That is what our presidency will be about" in the health domain.
The Presidency's research agenda
Of course, digital health is only one of several issues the Austrians plan to raise later this year. In a related field, Barbara Weitgruber, director general for education, science and research, provided Science|Business a summary of the Presidency's research agenda:
"The key priorities are the negotiations on Horizon Europe, the next framework program on research and innovation; Council conclusions on the European Research Area and support for sectoral policies such as High Performance Computing, the European Open Science Cloud and Defense Research."
She added that for the cloud project, she aims for its "governance structure" to be launched by year-end. And on the Horizon Europe budget, she said the Austrian government's aim is to be "an honest broker" among the member states and advance agreement as far as possible this year. On another issue, Brexit, she said that "negotiations on future relations with the UK will only start after March 2019." She also spoke, alongside Auer, at the Science|Business event.
In the health field, Auer said he does not have a figure for how much a pan-European digital health infrastructure might cost, but agrees it will not come cheap. The Austrian government has spent €100 million over ten years developing its national ELGA technical infrastructure and portal through which every citizen is able to access their health records, for example. On top of this, hospitals in Austria have made investments in linking to and using the system.
Thankless task
Building a European digital infrastructure is not only a case of securing EU funds to get the project up and running, but also of persuading national governments it would be appropriate for the Commission to have this level of involvement in health, which is more or less the total preserve of member states.
Auer's experience  in the thick of the thankless task of working on the technical and semantic interoperability of ehealth networks for the past ten years lends credibility to his contention that it is time to axe the pilots and get on with scaling up.
He also has significant influence as current president of the European Health Forum Gastein, one of the most prominent pan-European health organisations.
In addition, Auer presents an inspiring view of how appropriate use of digital services can constrain costs whilst maintaining quality, by supporting patients with chronic diseases to manage their conditions, modernising diagnosis and treatment, and boosting the operational efficiency of primary care facilities and hospitals.
The aim is to help member states extract greater value from the significant percentage of GDP that goes into healthcare.
Amongst other problems, Auer sees pervasive digital health infrastructure as a means to deal with the "fundamental crisis" in primary care afflicting healthcare systems in countries including Austria, France and Germany.
"It's not black and white: general practitioners do a good job. But if you look at how they provide services, you very quickly get irritated because the structure is totally insufficient," said Auer.
As one example, there is no consistent way of delivering a discharge document from a hospital to a GP in a way that it can be integrated easily into the digital infrastructure in his or her office. "It doesn't happen because the actual exchange mechanism doesn't work," Auer said.
In secondary care, hospitals too have a problem because information systems developed and installed 15 to 20 years ago are inward-looking and unable to communicate with the outside world.
"We need a new generation of digital services to deal with all these problems," said Auer.
"Now is the time to nail it down: has the Commission a concrete plan, an efficient plan, to do so? And do we member states force the Commission in that direction for the sake of optimisation of digitisation?" he said.