Science Europe calls for the European Commission's recovery package in Horizon Europe to be extended beyond 2024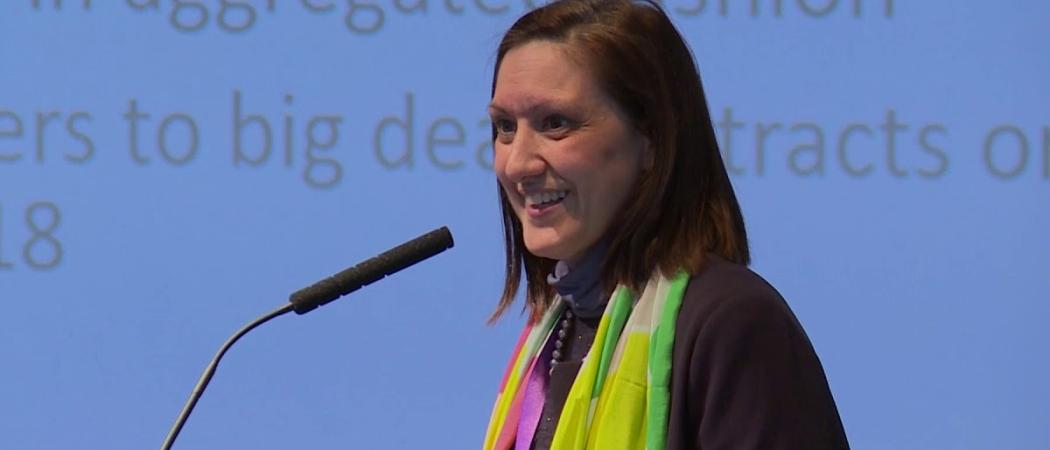 The European Commission's plan to put an extra €13.5 billion into Horizon Europe to help research recover from the pandemic won't be enough to make up all the lost ground, according to Lidia Borrell-Damián, secretary general of Science Europe, a body representing national research funding agencies and research performing organisations.
In a budget proposal released in May, the commission called for a €750 billion recovery fund to prop up the first four years of the EU's 2021-2027 multiannual budget. Horizon Europe is slated to get €13.5 billion out of it, but the money needs to be allocated in the first years of the programme, to research and innovation projects that are ready for commercialisation, for a quick market uptake.
"Recovery will require more years," Borrell-Damián told Science|Business. "I don't think it will be enough between 2021 and 2024."
During crises politicians are pressed to come up with short-term answers to deliver a quick recovery. But the coronavirus pandemic is no ordinary crisis. It has strained the world's best healthcare systems, disrupted global supply chains, forced universities and research institutes to move their work online, and brought international travel to a halt. The world is on the verge of a major economic recession.
From a health perspective, recovery from the coronavirus pandemic will require much more than finding a vaccine and effective treatments. Patients who have recovered from the disease could continue to suffer from side effects which are yet to be studied. In addition, entire populations were forced to isolate at home at a significant psychological cost which, again, is not fully understood.
According to Borrell-Damián, if Europe wants to recover from this crisis and build the resilience needed to face crises of comparable magnitude in the future, the commission should adapt its budget proposal to include provisions for a long-term recovery.
"If we want to be strong in resilience and capacity to react to unpredictable crises, we can't do that by just investing in the short term," said Borrell-Damián. "That is a recipe for failure."
All science is important
Science Europe is one of the many organisations calling for a €120 billion budget for Horizon Europe. In a statement published last week, the association said the EU should provide substantial funding for its entire seven-year duration. It should also cover all parts of the research programme, including the researcher-driven projects funded through the European Research Council and Marie Skłodowska-Curie Actions, which seem to have been excluded from the recovery fund.
Research organisations argue instruments that are not directly targeted by the recovery fund could see their funding cut, which would "seriously damage" the Excellent Science Pillar of Horizon Europe.
Borrell-Damián is not against the recovery fund financing projects at higher technology readiness levels, but says, "the fundamental part of innovation [should] also [be] properly supported."
At the same time, there should not be an artificial division between fundamental and applied scientific research. "The risk is that by polarising investment on innovation and fundamental research, we damage the middle part: the collaborative research, the meeting place between science and industry to prepare innovations," Borrell-Damián said.
Science Europe's assessment is that the EU's capacity to anticipate and respond to the crisis was impaired by a "lack of sufficient in-depth knowledge in areas such as health and socioeconomics." The entire spectrum of research, fundamental and applied, is crucial to understand and address such a challenge, it says.  
The coronavirus crisis is "a very good opportunity for the social sciences and humanities to come forward with proposals on how COVID-19 is affecting society and the economy," said Borrell-Damián.
Hopes for a swift budget deal
Borrell-Damián hopes that when EU leaders meet in Brussels on 17 July they will be able to reach an agreement on the multiannual EU budget and avoid delays in research funding. "I can only hope that [leaders] will open their minds," she said.
The stumbling block seems to be a demand by a group of frugal member states for the EU to avoid funding the pandemic recovery plan by creating a common debt. They also disagree with the money being dispensed as grants rather than loans.
But crises require bold compromises. "The member states with leaders who are more pro-European should come up with good arguments to persuade others that Europe's recovery would be faster if we do it together," said Borrell-Damián. "These are very serious problems that go beyond individual member states."