EU officials are contemplating switching the formula for funding large-scale, multidisciplinary projects, replacing broad-brush flagships with targeted missions. Why spend €1B on brain research, if you could invest the money in a cure for Alzheimer's? asks Research Commissioner Carlos Moedas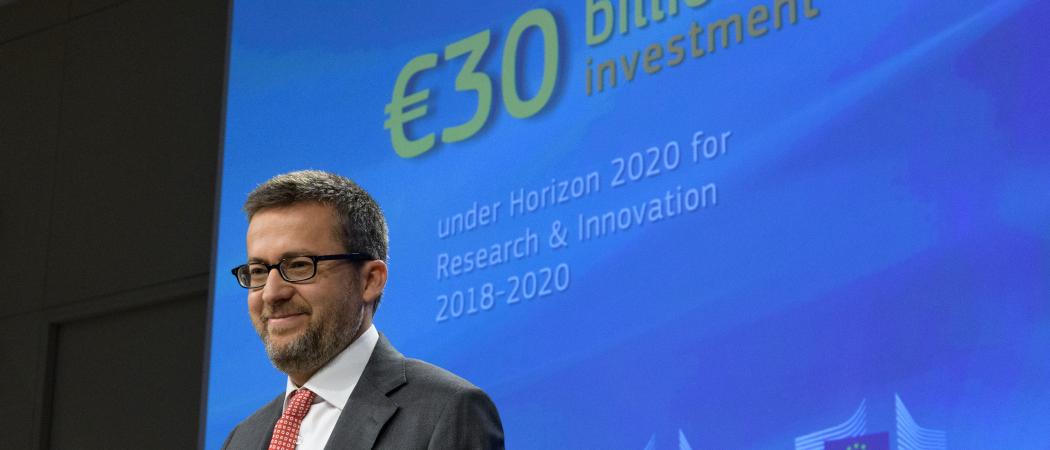 European Commission officials appear split on the best way to fund big research mega-projects in the future, with some calling for a switch away from large-scale "flagships" towards "missions".
In 2013, the EU launched two flagships with billion-dollar price tags. The graphene flagship, which is focusing on developing commercial applications of the remarkably strong and light material, and the human brain project, which aims to develop a computer model of all the processes in the brain.
Last year the Commission announced a third €1-billion flagship in quantum research.
Now, the Commission's research directorate has put something new on the menu, in the form of targeted missions, which the EU Research Commissioner Carlos Moedas would like to make a centrepiece of Framework Programme Nine, starting in 2021. 
"It is very important to reflect on the experience of the flagships," said Keith Sequeira, a member of Moedas' cabinet, speaking the Future and Emerging Technologies (FET) meeting in Brussels on Monday, where progress of the flagships to date was weighed up.
Sequeira said missions could represent a new path to breakthroughs, which rather than promoting development of new fields, sets specific objectives. The inspiration comes from the speech by president John F. Kennedy in 1961, when he promised to send a man to the moon and return him safely, a goal that was achieved eight years later.
While EU flagships plough money into emerging fields that promise significant economic returns, missions, on the other hand, tackle major societal challenges, such as curing a disease.
"The mission concept has received a lot of support," Sequeira said. "Missions would reach beyond the community of people who already know EU research."
For now, the mission idea is preliminary, and could eventually be implemented in parallel to the flagships. 
There were signs at the meeting that some in the Commission believe in the value of large scale multidisciplinary projects to advance new areas of science. They envision the flagships continuing as they are well into the next research programme – both current flagships are due to run until 2023 – and perhaps beyond.
"In my mind, there is no doubt that the flagship projects will continue to play a key role, and for many years to come," said Andrus Ansip, vice president of the Commission.
"The flagship concept has proven itself," agreed Carl Buhr, deputy head of cabinet for Digital Economy and Society. "It was heretical at the time to come up with a ten-year approach, one that ran across programme timelines. But I think it's a good thing. If you start the next programme from a blank slate, it can go in all directions. I think it is important to have a certain continuity."
This debate is playing itself out at a time when scientists are preparing for the cliffhanger of politics and economics that is the EU common budget negotiation. With a deadline looming next May for a proposal of the 2021-2027 budget, and a decision on the make-up of the research programme promised to follow in June, billions of research euros are at stake, and scientists are sharpening their pitch for why their favourite EU research should get funding in future.
Missions v flagships
Moedas is a proponent of missions, which he says will inspire the public. "If you tell people you're putting one billion euros into the brain, people don't understand that. If you tell them you're looking to cure Alzheimer's, they understand that," he told the Web Summit in Lisbon earlier this week.
There are several mission-like goals graphene researchers could pursue, if the EU decides to switch to this new approach, said Jari Kinaret, director of the graphene flagship. "It may be the goal of having smartphone batteries that last longer, better solar panels, or cheaper flights [because of lower cost technologies]," Kinaret said.
However, framing research projects as missions may make industry more reluctant to invest, the Commission heard.
"Companies don't tend to forward plan for 10 years down the line: we might not exist then," said Jaya Balloo, chief information security officer with Dutch telecommunications company KPN. "We need clear milestones; bite-sized blocks of innovation."
The notion of missions prompted howls from some member states.
The proposal is short on practical detail, said Alain Beretz, director general of France's ministry for higher education and research. "A mission is not an instrument," said Beretz.
Meanwhile, research officials in other member countries, notably Germany, are sceptical about the Commission getting the power to pick the missions.
A long journey
Whether Brussels should be concentrating large funding on a handful of flagships, or can even afford to in the future, with the UK as one of its largest contributors leaving, is a contentious issue.
"It's often said that the reason why we don't build cathedrals any longer is that they take too long to build. The flagships are a similarly huge span that really haven't been done before," said Dermot Diamond, professor of chemical sciences at Dublin City University.
Proponents say the giant projects can bring greater efficiencies. Konstantin Novoselov, who shared a Nobel Prize with Andre Geim in 2010 for the discovery of graphene, says that the money from the flagship "opened up new directions that we couldn't foresee."
Researchers involved in the projects certainly do not foresee them ending, with plans mapped out for decades to come.
"Graphene is a journey of 20-40 years," said Andrea Ferrari, director of the Cambridge Graphene Centre and chair of the graphene flagship. "It doesn't take one or two years; we are not talking about a college dropout writing a bit of code and making billions of euros. New materials take a lot of time and investment – it took 50 years to have a transistor in smartphones, for example."
Ferrari credits the flagship, which involves over 150 academic and industrial research groups in 23 countries, with providing "big leverage" with potential investors. "It's good for Europe to lead for once," he said.
Brain damage
The human brain project has attracted probably more controversy than any project ever funded by Brussels.
The trouble started in July 2014, when the Commission received a letter signed by more than 800 neuroscientists, expressing grave concern about the human brain project's scientific scope and governance and decrying the limited role carved out for cognitive neurosciences. A massive overhaul followed.
Besides the scientific controversy of relying solely on ICT tools for brain research, neuroscientists worried that the human brain project would drain all the EU and member state funds on neuroscience research.
The project still sharply divides scientists. "I think much has changed to the better and it is now in a much better situation," said Lars Muckli, professor of visual and cognitive neurosciences at Glasgow University, who receives funding from the project. "Many hundreds of papers have been published by the consortium, but it will be the infrastructure and the multi-disciplinary, multi-scale multi-method approach that is inspirational and visionary."
By contrast, Mathew Diamond of Italy's International School of Advanced Studies, one of the signatories on the original letter, says he has not been won over. "The project is now worse than ever," he said, citing a continuing lack of focus on clinical neuroscience.
Others are reserving judgment. Alexandre Pouget, a computational neuroscientist at the University of Geneva, who is not involved in the HBP and who also signed the public letter criticising the project in 2014, suggests the EU needs to do a serious evaluation on the project.
"The European Research Council uses a variety of measures to quantify [its] impact. By these measures, [its] impact per euro is comparable to the best US-based foundations like Howard Hughes Medical Institute," said Pouget. "Can the same be said of the human brain project? I don't know but that's what taxpayers need to know."
Others say it is too early to attempt to grade its achievements. "It's dismaying to read that the flagships have proven their value," said Diamond. "They haven't proven their value, they have just started. We have to continue with them into FP9 and beyond. We should not lose our nerve here."
Even if the EU decides not to extend the human brain project beyond 2023, there is hope that it will find a life after death. The scientific directorate of the project has submitted an application to make the project an independent legal entity capable of gathering funds on its own.
Reform ideas
If the Commission chooses to maintain the flagships, it will face mounting demands to reform them.
An obvious issue to confront is the possible loss of the UK, which has some of Europe's strongest research communities in graphene, quantum and neuroscience.
An alternative way forward for large-scale EU projects could be to dilute the power of the research powerhouses like France, Germany and the Netherlands, and set up something similar to CERN, said Freeke Heijman-ten Paske, an adviser on quantum technologies to the Netherland's ministry of economic affairs.
"CERN is a great example of where we can go with this. Everyone can pay in to get equal access into the project," said Heijman-ten Paske. "At the core of the project should be a few centres, not just one."
Ferrari said his project is as open as possible. "I hear people say we are closed. We started with nine partners, then we were 78, then we became 150. Then we lost 30 and regained another 30. So it seems quite flexible to me," he said.
Another option for the Commission, which for some would represent a humbling rollback of aspirations, involves scrapping the supersize project structure altogether and introducing a smaller group of focus areas.
"There's a case to be made for 'mini-flagships', worth around €100 million," said Diamond.