Hermann Hauser, chief adviser for new EU tech talent-spotter, lays out the elements for making it a success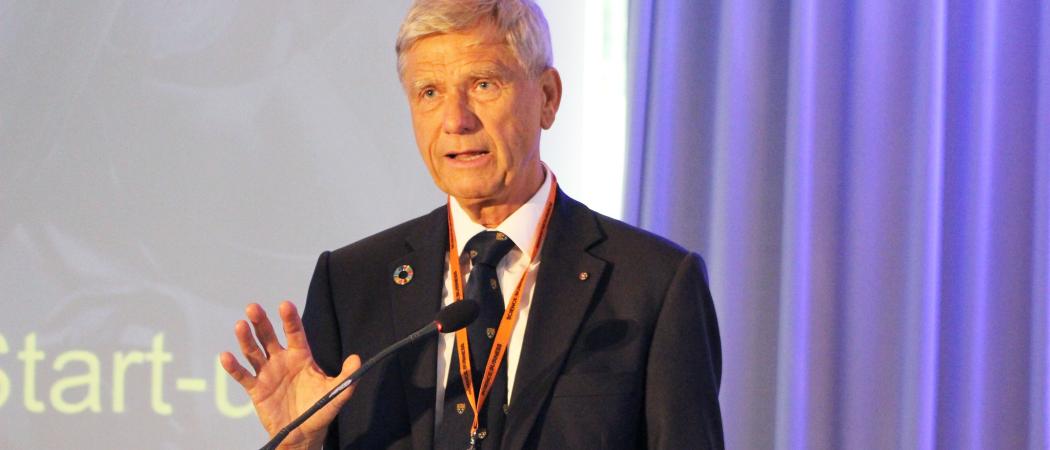 Every major city in Europe now has clusters of start-up accelerators and incubators, typically full of budding entrepreneurs, whiteboards and beanbag chairs. The European Commission wants in on the action.
With its new European Innovation Council, the EU executive is stepping up its ambitions to become a big player in the world of start-ups.
The main architect of the programme is Carlos Moedas, the EU Research Commissioner bent on injecting new dynamism into the EU scene. With €10 billion to spend from the Horizon Europe research programme, the funder aims to help founders do what's seemingly impossible: scale-up in Europe.
The programme is meant to have a "pathfinder" component for truly new ideas, and an "accelerator" for more road-tested ones. It will offer fast and simple grants, loans, and may take equity in some projects. There will also be mentorship, introductions to other companies and investment figures, events, and funding opportunities with the European Investment Fund, the dominant engine of VC in Europe.
Moedas has brought in one of Europe's main tech gurus to lead the effort. "We have one, and only one, criteria: excellence. This is what made the European Research Council so desirable for universities," says Hermann Hauser, Cambridge's best-known venture capitalist and chair of the EIC advisory group.
Hauser, speaking at a Science|Business conference last week, credits the ERC, which gives researchers unprecedented levels of funding and freedom to pursue a basic research project of their choice, while creating prestige around EU-funded research – and wants to replicate this with the EIC.
"Let's roll back to the time before the ERC when there were quite a few snooty universities which said that getting a grant from Brussels is for the lesser universities. Now, it's the other way round. We want to establish the same attitude with the EIC."
A pilot, pieced together by combining three existing innovation competitions – the SME Instrument, Fast Track to Innovation and part of the Future and Emerging Technologies initiative – is already underway with €2.5 billion to spend. Examples of projects already backed include a 3D printer for food; a new treatment for breast cancer; a virtual reality and augmented reality headset; and cardboard packaging that extends the shelf life of vegetables by 40 per cent.
But for the EIC to become a true tech star, it needs big names associated to it. "Choosing the right opinion leaders that can promote EIC as a measure of quality will be one of the biggest challenges," Hauser said. So far, it's doing alright. Alongside Hauser in the advisory panel are two prominent web entrepreneurs, Taavat Hinrikus of TransferWise and Paddy Cosgrave of Web Summit; Ingmar Hoerr, co-founder of one of Europe's few billion-euro biotech companies, CureVac, is there too, along with a Dutch prince, Constantijn Van Oranje-Nassau.
But filling the evaluation panels with quality names will be harder. The Commission feels it can pick out more promising projects if it first vets applicants. During the EIC pilot, companies have pitched their ideas to a jury of business angels, entrepreneurs, venture capitalists and experts from larger companies, innovation hubs and accelerators.
It's not always easy to lure these people to Brussels, as Commission officials know too well. Corporates are generally harder to beckon onto evaluation panels than researchers; the reimbursement rates don't always cut it.
The way the ERC resolved this issue, Hauser said, was to recruit a few top scientists "to get on the phone and talk other academics into joining. With the EIC, It will be our job to pick up to the phone, talk to people in the top clusters, and convince them to be a part of the evaluation."
The EIC will also aim for the lightest application procedure of any EU research grant programme. "The question of administrative burden wasn't lost on us. We need to do two things: simplify and unify. Only time will tell if we're successful."
'Life is tough'
Moving to the UK as a young man, the Austrian-born Hauser first became known as co-founder of the pioneering Acorn Computers, which in the 1980s was the biggest European competitor to a then-young Apple Computer. The firm failed, but he went on to co-found ARM Holdings, a Cambridge-based firm that designs microchips used in 90 per cent of the world's smartphones. Hauser also co-founded one of Britain's biggest VC funds, Amadeus Capital Partners.
He has little doubt that, as has been the experience with the ERC, some member states will struggle to win funding from the EIC. "Life is tough," said Hauser. "If you're number 11 in a list of 10, that's just tough luck. If you want to build excellence, it's going to be in the top clusters, and that's also just tough luck. The alternative is to fail.
"We could spread bread on the water and put money everywhere. But we're trying to make a success of it, so we'll go wherever the best are," he said.
The EIC won't be able to transform EU industry on its own; the continent needs more financial infrastructure, more VC flows. "The European gene pool is risk-averse, and it's particularly hard with public money to go for high-risk solution, even if the risk always has to be multiplied with size of success."
Equity investments made by the Council will be "a total minnow in the market," Hauser said. 
The money, power and influence of tech companies in the US and China is hard to match. Here, the "big plays" are happening, said Hauser. "We have some of the best quantum researchers in the world. But the minute it became clear that quantum computers could be built – around five years ago – Microsoft, Google and IBM each put down €100 million. European groups haven't had the benefit of that €100 million. Europe hasn't been able to play at that level," he said.
It's the same story with artificial intelligence. Great researchers, but where is the big money?
"We've got to be more concentrated," Hauser said. The prospects for digital health are a little brighter. "The data problem is much better on the health side. It is controlled by member states, not American companies," he said.
Technology is transforming everything: the European car industry may be heading for its own "Kodak moment", Hauser said. "Now it is clear that the car industry in the future will be a service industry, not a manufacturing one. This is one of the strongest industries in Europe. Are we going to miss the market? These are big plays and we need to be bold to support them," he said.
The EIC will do its bit, and Hauser hopes any success can build on itself: "We can be the minnow that creates the first nucleation of market players."
Editor's note: Hermann Hauser is a shareholder of Science|Business