Draft plans for the next EU research programme include lots of hot-button issues – from terrorism to healthcare inequality – that could attract broader political support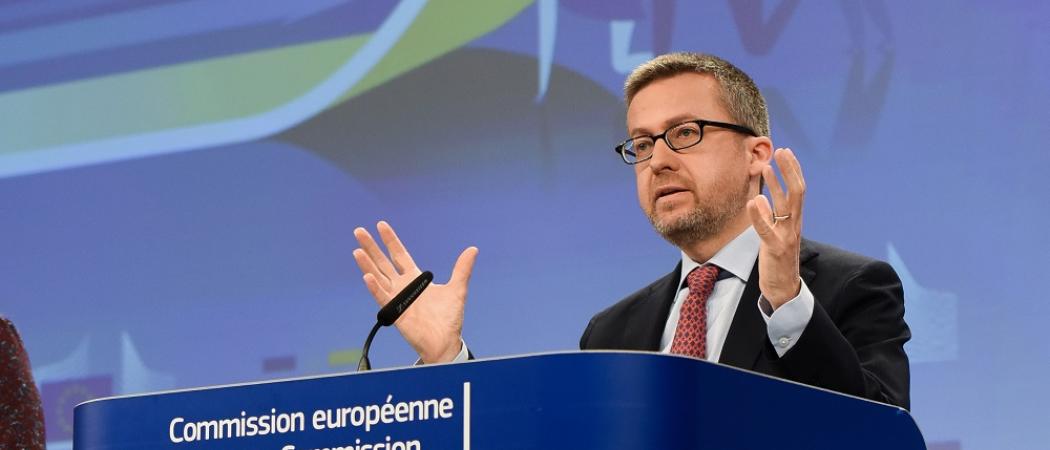 The Juncker Commission came into office in 2014 with a vow to be more "political" than past Commissions. It apparently aims to leave office next year with a research programme that fits that description.
Draft legislation and supporting documents describing the next Framework Programme, obtained by Science|Business, show the Commission striving throughout its planning to find research topics that will connect directly with top-of-mind political issues in the European economy and society. It proposes work to improve the strength of European democracies, bolster security, make healthcare delivery more fair across rich and poor, and help European scientists and tech companies connect better with potential partners internationally.
"A holistic approach to innovation ensures that challenges can be tackled while also giving rise to new competitive businesses and industries," the document vows. It says the next programme – called Horizon Europe in the drafts – will "operate close to the end-users and the market."
Commission officials decline to discuss this or prior drafts that have been circulating in Brussels for weeks – but, while saying in February that their planning was about 80 per cent done, caution that changes may still take place. The final proposal is due to be made public June 7, setting off a one to three-year process of debate with member states and the European Parliament.
Herewith, a quick rundown of some of the main programme activities on the drawing board.
Health. The goals for health innovation would include helping Europe's national healthcare systems work better, rather than focusing on individual technologies. The report notes that, while average life expectancy in the EU has increased by 12 years since the EU's founding, Europe now faces a bewildering range of problems: supporting its ever-more costly health services, fighting antimicrobial resistance at the same time public worries rise about vaccines, managing a rise in the non-communicable diseases of modern urban life, and making the delivery of health care more fair across society. The report's emphasis on these broad political and social challenges appears to signal a shift from past EU health research, which had a strong emphasis on specific research fields such as personalised medicine, rare diseases or basic pharma-research tools.
So, the plan proposes broad lines of research on health "throughout the life course" from cradle to grave. It also looks at "environmental and social determinants of health" through, for instance, developing new technologies to assess pollutants and climate effects,  and studying occupation and social factors that affect health. It would continue work on infectious and non-communicable diseases, as well as new medical technologies. But perhaps most interesting is its planned work on health systems: new models for health care, comparative analysis of reforms across Europe, analysing health inequalities, and a new "platform to store, exchange and analyse information" across the EU and the world.
Security. One of the earliest debates on FP9 involved whether to include military technologies for the first time. In the end, it appears that the Commission is planning to keep Framework civilian – but with a bigger emphasis than in the past on improving citizens' security online and in their homes.
The draft plans include creating a central, European "cybersecurity research and competence centre as a hub with world class knowledge and technology capabilities." It plans to fund technologies for police, border forces and customs officers, improve the inter-operability of the equipment they use, and study crime and radicalisation. It will support disaster-relief workers and their technology. It will try to counteract the receding "trust in the political institutions of democracy" by funding more research on populism, social media misinformation, and social inequalities. It will also try to improve economic policy by creating a "knowledge base for advice on investments and policies," and studying European tax and benefit systems "with a view to reversing inequalities and addressing the negative impacts of technology, demographics and diversity."
Industrial and digital technologies. The draft plan reshuffles the way industrial and digital technologies are handled inside the Framework Programme – linking them together in an effort to boost jobs and the economy. It notes that industry provides one out of five EU jobs, two thirds of private sector R&D investment and 80 per cent of EU exports. "A new wave of innovation is arriving involving a merging of physical and digital technologies."
Some of the highlights include a new "EU innovation ecosystem of technology infrastructures" to speed uptake of innovations by industry, especially small companies.  The search for new materials – nano, bio, plastic, and "smart" – will continue, as will support for "key enabling technologies" for industry such as robotics, bio-manufacturing and Big Data (with the addition of artificial intelligence, as recommended recently by a Commission advisory group.) In AI, the Commission envisions "easily accessible open Artificial Intelligence platforms (including software algorithms and data) that provide companies with support and advice on how to integrate Artificial Intelligence into their products, services and processes."
It also doesn't shy away from industrial policy. It talks of ensuring the "non-dependence and sustainability of the supply chain" in space systems to "secure EU leadership in satellites and launchers" and several other fields. As expected, it continues a push for stronger European capacity in high-performance computing.
Climate, energy and transport. "Smarter" systems seems to be a watchword in much of the Commission plans for this cluster of related sectors. It is extending driverless vehicle research to rail systems, and aiming for "next generation" digital traffic management systems on roads. It aims to permit "electrification of all transport modes", and better city mobility systems and planning. It will continue work on smart electricity grids to better handle renewable energies and energy efficiency, and it is slating several research lines to support the Paris Agreement on climate change.
Food, farms and ocean. The "digital ocean" is among several catchy slogans now appearing in the research programme: using digital technologies, such as new "Blue Cloud" services to study, harvest and preserve ocean resources. In farming, in conjunction with the EU's huge farm-subsidy programme, the research planners envision helping farmers adapt to climate change, find alternatives to pesticides and antibiotics, and develop new ways of farming – such as combining land and water production, and city agriculture. It envisions research into "personal nutrition especially for vulnerable groups", consumer diet and lifestyle, and encouraging a "sharing economy for food production and consumption."
European Innovation Council – One of the genuinely new features of the new programme, the European Innovation Council would come in two complementary parts, namely the 'Pathfinder for Advanced Research', for the early stages of technology development, and the 'Accelerator' for innovation and ready-for-market ideas. The draft mentions funding options, but also "advisory services providing coaching, mentoring and pairing with peers, industrial partners and investors". For risky investments, such as deep tech, the EIC would offer grants, but as risks fall, "equity and loan financing is expected to increase". Submitted proposals evaluated as excellent but not selected for funding would be awarded a Seal of Excellence (this mark of quality could help unlock funding elsewhere). The backend of the Council, meanwhile, would look a bit like the ERC's, with an agency focused on administration and a board focused on investment direction.
A new 'UN for Innovation'? – According to the draft, the Commission would also form an 'EIC Forum' of public innovation agencies, "with the aim to promote coordination and dialogue" and "align research agendas".
European Research Area – Progress towards the European Research Area would be "revitalised", according to the draft. The broad policy goal, which some experts say has stuttered in recent years, aims to increase researcher collaboration and mobility within Europe through reforms. The Commission, for its part, would target a "persistent divide in research and innovation performance" (but "without jeopardising the overall principle of excellence" held by the programme). This would involve boosting the budget for funding competitions such as teaming, twinning and ERA Chairs. More emphasis would also be given to "accelerate the transition towards open science", through "monitoring, analysing and supporting the development and uptake of [related] policies and practices at the level of member states".
More targeted venture capital – A recently announced fund of funds programme "will be strengthened and deepened, in particular through the launch of thematic or specialised funds of funds", for areas such as deep tech, the draft says.
European Research Council and MSCA. The ERC, the EU's basic-science funder, would be given an extra push to attract top researchers from around the world, and raise the bar for scientific quality overall in Europe.
The agency, founded in 2007, is already one of the most popular parts of Framework, and is slated by 2020 to be spending nearly €2 billion a year on blue-sky research grants.  In doing so, the Commission report says, the ERC has "had a substantial direct impact" and has narrowed the gap between US and EU scientific output; the EU produces more scientific papers, but the US has more papers highly cited by other scientists – a measure of quality. Still, it says, the EU "is essentially a 'mass producer' of knowledge with, relative to its size, comparatively few centres of excellence that standout at the world level and with large areas of average and poor performance."
Under the next Framework Programme, the report says, the ERC "shall target a measureable improvement in the EU's share of the world's top 1% most highly cited publications." It will also "aim at a substantial increase in the number of excellent researchers from outside Europe which it funds."
A related programme, the Marie Skłowdowska Curie Actions, would also get a further international push. MSCA provides grants for researchers of all career stages to work in other labs and countries, and with its sister programme, Erasmus+, is among the EU's most popular activities; MSCA is due to spend €890 million this year on the grants. The report highlights the need for more researcher training, noting the EU will need at least 500,000 new researchers if it aims to hit its objective of raising Europe's overall R&D spending to 3 per cent of GDP by 2027, from just over 2 per cent today.
Research Infrastructure. New computing and "cloud" services appear to be at the core of the Commission's latest thinking on how to bolster Europe's public labs. For years, the Commission has steadily expanded support for new research infrastructure – from a laser facility in Eastern Europe to a massive linguistic database spanning most European languages. Now, the report says, more effort will be made to interconnect all these facilities online, with open access to their scientific data and "integrating their services when necessary so as to harmonise access conditions, (and) improve and enlarge service provision." To do this, the European Open Science Cloud project, first started in 2016, will be emphasised. Also foreseen is "the creation of (new) world-class research infrastructures for computing science" to pursue such computer paradigms as neuromorphic, quantum computing and spintronics. These technologies will be needed, not just for science, but also to support R&D in industry.