University heads disagree with Romanian MEP's proposal that geographic evaluation criteria in the EU 2021 – 2027 research programme could fix EU's research innovation divide. Excellence is what counts, they say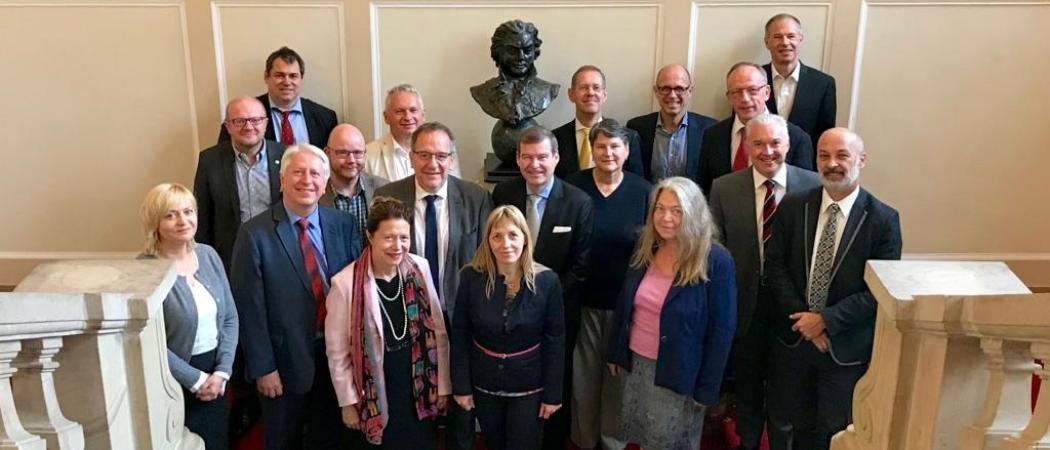 A group of seven universities in central Europe have hit out against an amendment to the Horizon Europe proposal that aims to bridge the west to east innovation gap through regional quotas, urging the European Parliament to keep excellence as the main funding allocation criterion.
The amendment, submitted Romanian MEP Dan Nica, one of the lead draftsmen of Horizon Europe, calls for the research programme to ensure "the effective reduction of the R&D and innovation divide by 50 percent within the Union and promote broad geographical coverage in collaborative projects."
According a report by Nica published in July, Horizon Europe should "ensure European geographical balance" of funded projects, evaluation panels and expert groups.
At a meeting of CE7, a group of seven research-intensive universities in Central Europe, their rectors rejected the idea of mandatory regional quotas, calling on MEPs to keep excellence as the most important criteria for awarding Horizon Europe research grants.
"Rectors defended the whole idea of excellence," said Kurt Deketelaere, secretary general of the League of European Research Universities (LERU), the organisation steering the CE7 group.
"These quotas would be the result of political decisions which are not merit-based in terms of scientific quality," Marcin Palys, rector of the University of Warsaw told Science|Business.
That opinion is shared by the rest of the universities in the CE7 group, including Eötvös Loránd University in Budapest, Charles University in Prague, and the Universities of Belgrade, Ljubljana, Tartu, and Zagreb.
Nica told Science|Business that while excellence should still be the main evaluation criteria, "promoting broad geographical coverage" in Horizon Europe would make Europe more competitive and enable countries with less developed research and innovation systems to catch up.
"[Horizon Europe] alone cannot solve the problem but should address this growing brain drain and innovation gap," said Nica.  Not doing so would accentuate negative trends that are damaging EU's competitiveness, he believes. 
Governments vs. researchers
The seven universities in these central and eastern countries do not completely share the opinions of their government agencies, which have voiced concerns over the research and innovation gap and called on the EU to address it.
But universities do not want to abandon the excellence criteria and vow to work harder to address the divide.
Hungary has called for increased participation of research organisations and SMEs from countries with weaker research and development performance in Horizon Europe, while the Romanian government argued that bridging the research and the innovation gap is one the greatest challenges facing Horizon Europe.
Meanwhile, the Polish Science Contact Agency in Brussels (PolSCA) lobbied for the introduction of geographical distribution as an extra, "auxiliary" selection criterion for cooperative research projects. If two competing projects get the same score from European Commission grant evaluators, the funding should go to the project that introduces a partner from one of the EU 13 countries, PolSCA says.
"There is a difference in the rhetoric at political level and what sincere academics are asking," noted Deketelaere.
Nica's proposed amendments reflect some of the ideas pushed by governments in central and eastern Europe. However, geographical quotas "would undermine the goals of Horizon Europe," Deketelaere said. The solution is for member states to invest more at the national level, including in richer countries like Finland, where research budgets have been cut.
Fair rules instead of handouts
According to Palys, the research and innovation divide could be addressed through means other than setting geographical criteria. "The rules for awarding the projects should not be in an implicit way discriminating against countries in newer and poorer member states," said Palys.
For example, in certain projects, the rules for Horizon 2020 required cooperation with large multinational companies. "There are not enough companies like this in central Europe," Palys noted.
In addition, universities would like to see further simplification of administration in Horizon Europe. The rules as they stand are too complicated for universities that cannot afford in-house grant offices to offer professional administrative support to their researchers. "The whole process for applying for the grants is very costly," said Palys.
Horizon Europe should also incentivise researchers from western Europe to join teams in the EU's newer member states, to reverse brain drain and boost "brain circulation" instead. The new research programme should encourage researchers to "rotate between universities," said Deketelaere.