Mark Ferguson, newly installed as chief adviser to the EU's new technology commercialisation body, talks to Science|Business about plans to drive a massive reform of innovation funding in Brussels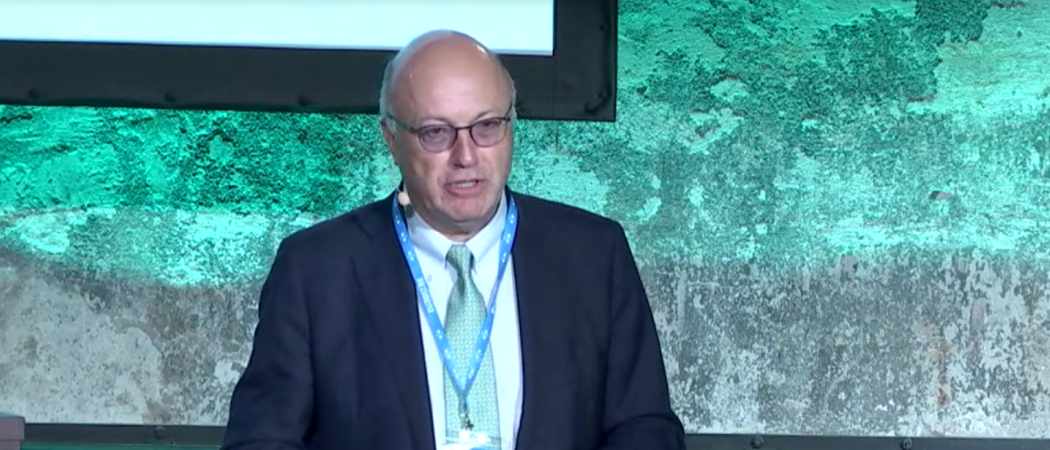 The EU's new technology funding body, the European Innovation Council (EIC), is supposed to be a place where people can pitch wild ideas and win funding to pursue them.
Helping make this vision reality is the head of Science Foundation Ireland and chief science adviser to the Irish government, Mark Ferguson, who last month was picked to head a 22-strong board of research and technology experts overseeing EIC's rollout.
"I'll encourage the board to be as entrepreneurial as the community we serve," Ferguson said. "Our research is good. Our innovation potential needs to be developed. Look at artificial intelligence. In research Europe is leading, but on companies created we're way down the list," Ferguson told Science|Business. 
EIC is intended to emerge as a fully-fledged body in 2021, armed with €10 billion from the EU's Horizon Europe programme. It will bring together experienced investors, entrepreneurs and academics to act as programme managers, assessing projects looking for EU backing.
In theory these programme managers will have broad autonomy to support bold and scientifically interesting projects, with either grants or equity investment.
The general thrust will be to get the European Commission thinking more like an investment firm, with the main architect of EIC, EU research commissioner Carlos Moedas, bent on injecting new dynamism into the EU technology commercialisation scene. For Ferguson this means that, "We have to be able to reconcile ourselves with the fact that judgement needs to be on the funding portfolio, rather than individual projects. Some projects that come before the EIC will work, some won't. We need to be brave here."
Ferguson and the board will meet up to six times a year to advise on EIC's overall strategy and the hiring of programme managers. Hermann Hauser, one of Europe's best-known venture capitalists, is vice chair of the group, having previously advised on the council's pilot phase.  
The board's job is to help create a "world-leading agency," introducing the commission to best practices from around the world, Ferguson said.
"The trick is to look at the best in class: there's DARPA [Defense Advanced Research Projects Agency] in the US, there's also Israel. They're the benchmarks. We need to be cognisant of what the best people in the world are doing."
And EIC should not stop there, but needs to consider, "Is there something we could do on top of all this, that people in other parts of the world will think is a great idea?" said Ferguson.
The aim should be to replicate the winning formula of the European Research Council, which gives researchers unprecedented levels of funding and freedom to pursue a basic research project of their choice. EIC "has the potential to do for innovation what the ERC did for research," Ferguson said.
Ferguson has both academic and entrepreneurial experience to contribute to EIC, having founded Renovo plc around his own research into wound healing, carried out at Manchester University. Following its formation in 2000, the company went on to an oversubscribed stock market listing in April 2006, raising £50 million, and sealed a big name partner to help commercialise its products.
But Renovo crashed in 2011 when the lead product failed in phase III clinical development. After winding down the company, Ferguson took on the role of Ireland's chief science adviser.
Spotting talent-spotters
EIC will have a "pathfinder" component for new ideas, and an "accelerator" for more road-tested ones. It will offer fast and simple grants, loans, and may take equity in some projects, with the aim of pulling in venture capital. "If you could leverage [seed funding] three to five fold, that would be really good," said Ferguson.
One key to success lies in recruiting some of Europe's best talent spotters. The right staff will be critical, Ferguson says. "People with a civil service mindset won't be the people we're looking at. One of the things I'll be suggesting is to have the set up like the ERC, which got the very best scientists around Europe to serve and be a part of it from the beginning. We need to get the very best business people," he said.
But it's not always easy to convince top people to go to Brussels, and it is difficult to attract people from the private sector onto EU research evaluation panels.
"I think the EIC can be a new career trajectory. As a junior person, why would I want to work at the EIC instead of a VC? We will tell them they will have control over reasonable sums of money and will be able to benefit from some of the best due diligence in the world. They will have a very good deal pipeline with promising stuff coming through the European Research Council, and via the new research missions," Ferguson said.
There's a risk however that the EU's typically hefty grant paperwork will deter entrepreneurs. To prevent people from getting stuck in a bureaucratic maw, EIC will aim for the lightest application procedure of any EU research grant programme, Ferguson pledged. "I don't underestimate the process. There will be inertia and bureaucracy to overcome. But I believe it can happen, because it has happened in other places, like Israel."
"We can also do things more efficiently and quicker. We can do stage-gate funding, for example. We could invest in tranches, providing a project hits particular milestones. It's a very different mindset, which also means withdrawing funding if the project isn't producing," he said.
While there is big interest in EIC, it is a bone of contention for some who argue it will repeat mistakes of the past, investing in already thriving fields with no real need for public funding.
Others point to the tension between fostering a freewheeling investment culture that sets the unquantifiable creativity of visionaries against the basic need of a public body to justify its spending.
Some MEPs have voiced concerns the money will be sucked up by bigger companies, rather than smaller companies needing grants. Officials from some central and eastern European countries, meanwhile, have expressed fears that the talent spotter will overlook them entirely.
Then there's the unanswered question of which countries will get access to the EIC. The UK, which is scheduled to leave the EU, Switzerland and Israel all want in, but the commission has yet to formalise the details.
Ferguson did not want to comment on this, but said, "There's no question that having the likes of UK or Switzerland in EU programmes is a good thing, although it would not be appropriate for non-EU countries to be more advantaged than members."