News analysis: Brexit planning, budget battles and the role of multinational companies are among the key issues that will dominate Brussels agendas over the next year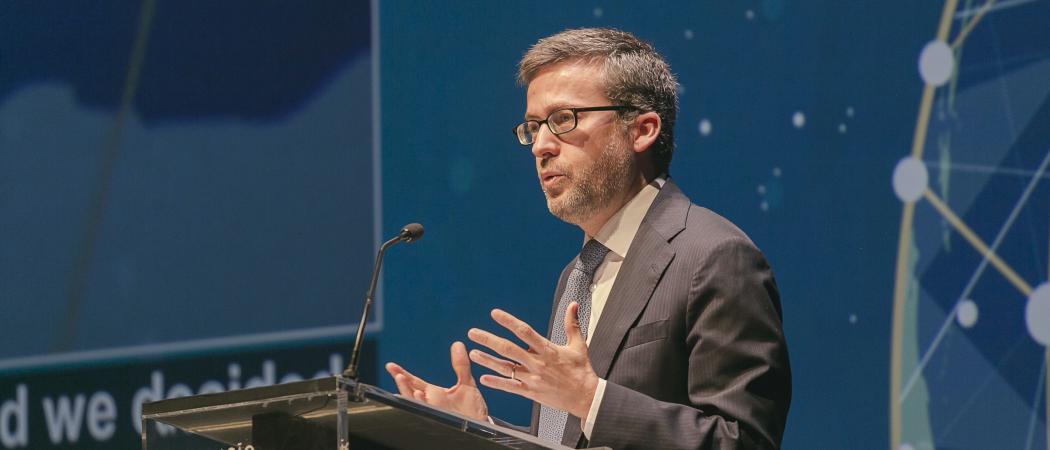 BRUSSELS – How much will Europe spend on science and technology in the 2020s? Will industry play? What will the UK pay, and for what? These are among five key questions for the future of Europe's massive research and innovation programmes that Science|Business expects to start to be answered in 2018.
From January 8, when all are back to work in Brussels, planning for the next, long-term budget of the European Union gets serious – and within it, the fate of the eight per cent devoted hitherto to research and innovation. At present, the EU spends more than €10 billion a year on medical research, climate studies, industrial technology, start-up companies and other fields.
Research fans want more funding in the next budget cycle, starting in 2021. Competing interests - in agriculture, regional development, defence - want more for themselves. But the existing 28 EU member states have been reluctant to allow any further increases in overall Commission spending beyond the current one per cent of EU gross domestic product. And the money squeeze will get worse when the UK leaves the EU, taking its £10 billion-plus net budget contribution with it.
Here, for the hundreds of thousands of researchers and entrepreneurs relying on the EU programmes, is our summary of the key budget questions to watch in the year ahead.
Question 1: What about the Brits?
Since the start of EU science and technology programmes in the early 1980s, the UK has been, with Germany, the loudest voice in shaping EU research programmes. Its core national policies are now embedded in EU programmes: distributing money in open grant competitions to those judged scientifically or technically best by expert panels, promoting public-private technology collaborations while separately funding pure scientific research, and earmarking funds for individuals and small companies as well as big consortia and job-creating multinationals. Not surprisingly, the UK has done well in these programmes. As of last July, the UK government says, it had more participants – 7,360 – in the EU's Horizon 2020 programme than any other EU country. It ran a close second to Germany in receiving the most money.
But now "it has become clear the UK will leave" the EU, says Robert-Jan Smits, director-general for research and innovation, in an interview with Science|Business. However, in a policy paper published last September, the UK government reiterated its intention post-Brexit to have a "more ambitious and close partnership" with EU research programmes than any other non-EU member. Defining what that means is a task for EU and UK negotiators in 2018.
In parallel however, the Brussels budget planning has to grind on. It will do so without assuming any UK financial contribution, in the same way, Smits says, as he does not base budget plans on the contributions of Switzerland, Norway or any of the other EU neighbours that participate in the research programmes. He adds that, though he can't imagine the next, or ninth, Framework Programme (FP9) happening without those countries, their involvement is finalised later, in bilateral discussions, rather than built into the FP9 proposal and its budget structure from the start.
A tricky question, however, is what role the UK will play this coming year in the normal budget process. It is still, for now, an EU member with representatives on all the key planning committees. According to some, one possibility is a distinction between "policy-shaping" and "policy-making." In the former, the UK would be free to voice opinions. In the latter, where the talking stops and the decisions are made, only the continuing 27 EU members would have a vote.
Question 2: How much money?
With the UK leaving, the overall EU research budget will be smaller, right? Maybe, or maybe not.
The key to this is in the next year of negotiations among the 27 member-states about the seven year EU budget cycle, the Multiannual Financial Framework. EU Budget Commissioner Gunther Oettinger has been arguing for an increase in overall EU spending – to meet member state calls for more spending on defence, migration, cybersecurity, innovation, and other needs. Oettinger is expected to elaborate this point on January 8 at a Commission conference in Brussels. Following this, on January 10 the Commissioners will meet for their first "orientation debate" on the topic, aiming to present their budget plan by the May 30 deadline.
So the size of the overall budget pie – bigger or smaller – is in debate. But so, too, is how the pie will be divided. While some parts of the budget may grow or shrink, another possibility is that the line between the budget categories gets blurred, or, in Brussels speak, that there is greater "synergy" among research, agriculture, regional and international development, and other budget areas.
For instance in agriculture, the single biggest EU expense, Commissioner Phil Hogan has spoken of the need for more "precision agriculture", alternatives to antibiotics as growth promoters in farm animals, carbon neutral farming and other innovations that have already helped the dairy sector in his native Ireland.
Smits says he has proposed to Hogan's group that there should be greater synergy between the Framework Programme and the Common Agriculture Policy. Specifically, FP9 could increase its support for early stage agri-food research beyond the current €3.7 billion allocation, and CAP could increase its support for later stage projects that involve implementing new technologies on farms.
The politics are intense and difficult. Inside the Commission, each Directorate-General has its own lobby groups defending the status quo. Then, the member-states have different interests. Among east European states, impatience is rising over the poor returns they get from EU research programmes, due to their less-developed science and technology bases. Finally, if this cannot be resolved by next winter, the whole issue will be delayed by the political calendar of 2019, with European elections in June and a new Commission taking office in November.
Question 3. What is the mission?
In the thickets of Framework Programme 9 planning, one of the newest issues to be resolved is the role of "missions".  It was suggested last July by a high level expert group that such high-profile, high-ambition goals, modelled on the US Apollo mission to the moon, would stimulate public enthusiasm for research. So far, the concept has been exploratory. Ideas that have been floated include extending average cancer survival rates, eliminating plastic waste and producing zero-carbon steel. The uncertainty has stirred opposition from some research organisations that fear a diversion of funds into quixotic or ill-defined projects.
But it appears the missions will not be as big as some initially expected - and still fear. Smits says that in current FP9 planning, the programme would begin with just a handful of missions and the flexibility to add more as needs evolve over the 2020s. The missions would collectively, in the first instance take up about 20 to 25 per cent of the "societal challenges" section of FP9 – in short, less than 10 per cent of the programme overall. They would be organised, operationally, through the existing "instruments" of the Framework Programme, rather than by creating dedicated new structures or programmes. In this regard, they could build on thematic "Focus Areas" planned for the final three years of Horizon 2020.
Next steps: the economist Marianna Mazzucato will present a short list of possible missions to the Commission in late January, with suggestions on how to "co-design" them with the member states. A public consultation of six to eight weeks will follow, before any decisions are made.
Question 4: How will multinational companies play?
The very first EU Framework R&D programme began in the early 1980s with a focus on collaborative public-private technology projects involving big companies, to boost industrial IT competitiveness. Founders included Philips, Ericsson, Bull, Siemens and other EU tech giants. Now, nearly a third of the EU funding goes to companies, large and small, in all sectors, often operating in a bewildering array of JTIs, JUs, PPPs and other Brussels acronyms.
Some, such as the Innovative Medicines Initiative, have been accused of being too driven by industry agendas. A European Parliament report last year questioned more generally whether too much public money is now going to private interests. Smits, however, says he is a keen supporter of public private partnerships and would like to see them continue in future.
At the same time, new ideas for industrial participation have been circulating in Brussels. The most prominent is from Research Commissioner Carlos Moedas, who in 2015 proposed the creation of a European Innovation Council (EIC). It aim would be to speed up the growth of world class EU tech companies or "disruptive innovators", to develop new "mixed" debt/equity support programmes, and to reorganise and simplify existing EU programmes for large and small companies. An advisory group is due to report to Moedas on its recommendations for the EIC on January 9 and a pilot programme is to start in 2018.
But French President Emmanuel Macron muddied the political waters in September by proposing an "Agence pour l'innovation de rupture" – an intergovernmental, rather than EU, organisation modelled on the Pentagon's successful Defense Advanced Research Projects Agency. While he welcomes the French proposal, Smits thinks the work should stay inside the normal EU structures. "If we want a relance of the European Project, will building a purely French-German bilateral programme be the right way to go?" he says.
How this will all be resolved is, as former US Defense Secretary Donald Rumsfeld might have put it, a "known unknown." Certainly, nobody seriously expects the role of Brussels in industrial technology to be curtailed; the whole programme is funded, after all, out of a section of the EU budget labelled "competitiveness."  
Question 5. What about the rest of the world?
A unique feature of the EU's research programmes is their openness to international collaboration. Several EU neighbours participate as "associated countries," either contributing to the common budget or receiving EU development aid to do so. A string of high profile EU projects deliberately target foreign partners – for instance, a big project with African countries to develop new medicines, and another to improve food and water supplies in the southern Mediterranean. But there is a problem: due to changes in the way Horizon 2020 operates (including an end to EU subsidies for Brazil, Russia, India and China to participate) the number and scale of international participants has dropped to 2.2 per cent so far in Horizon 2020, compared to about 5 per cent in the prior Framework Programme 7.
Brexit could, unintentionally, force through a new way of handling international collaboration. Already, Macron aides have suggested that UK institutions might participate in his proposed innovation agency and a new set of university networks. The US government, in an unexpected move, has submitted views to the Commission on FP9. And Chinese companies and institutions have been pushing to join more projects.  Moedas has set making Framework more "open to the world' one of his top priorities, so there could be several big changes ahead.