In parliament meeting, Maryia Gabriel calls for swift agreement on next EU budget as she informs MEPs of the final steps towards launching Horizon Europe in January 2021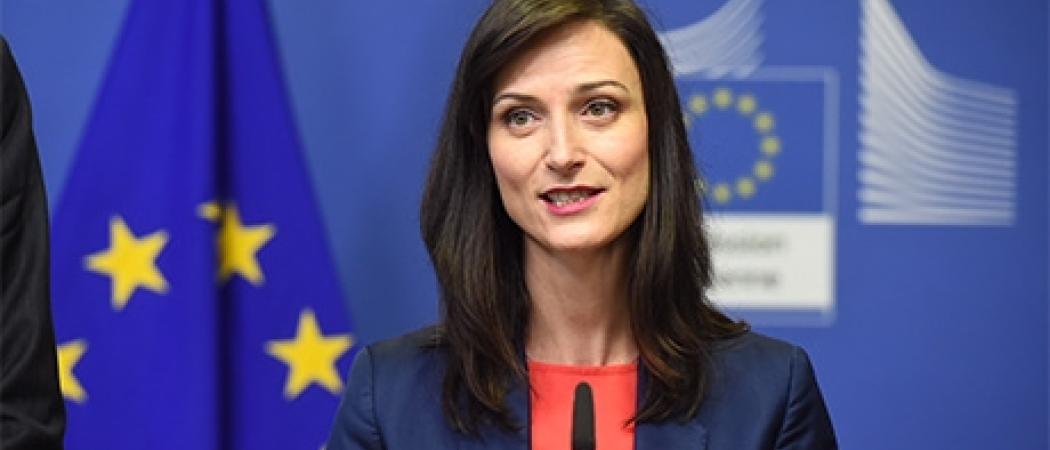 After months of focusing on the coronavirus pandemic, the commission has come back in full swing to finalise details of Horizon Europe.
In a meeting in the European Parliament's industry and research committee (ITRE) Maryia Gabriel told MEPs the commission is "making advances" on new rules for how Horizon Europe will work in synergy with other EU funding streams.
"Research and innovation need to be integrated and mainstreamed across other EU programmes," Gabriel told MEPs on Tuesday.
The commission is also finalising details on a number of other outstanding issues in Horizon Europe, such as rules for foreign participation and which research partnerships with industry will be funded, as member states get set for six months of intense negotiations over the multiannual EU budget after Germany takes over the EU presidency at the start of July.
"These are issues that are on the table and I'm working on them with my team," Gabriel said.
However, Gabriel warned that progress will be difficult if EU member states cannot reach an agreement on the budget. A summit of heads of state will take place on Friday, but expectations for a deal are low and the president of the EU Council Charles Michel is bracing for some difficult summits ahead.
One of the two Horizon Europe rapporteurs, German MEP Christian Ehler, said a budget deal is needed by September or October if the commission and the parliament are to make any progress on synergies and international cooperation in Horizon Europe. "We are running out of time," he said.
Focus on synergies
Gabriel said her team is working with cohesion and reforms commissioner Elisa Ferreira to make sure that the European Regional and Development Fund (ERDF), European Social Fund (ESF) and the Cohesion Fund can boost research capacities in emerging regions but also finance research projects that will inevitably fall below the high bar needed for success in Horizon Europe.
Previous schemes, like the 'seal of excellence' have failed to move money from structural funds – that includes ERDF and ESF – towards projects that came just under the funding thresholds of the commission in Horizon 2020, the current research programme.
According to Paul Webb, the commission's head of unit for budget and long-term budget synergies, the budget proposal put forward in May allows member states to allocate up to 5 per cent of their EU structural funds to national research proposals which will be evaluated and managed as part of Horizon Europe.
Member states will be able to transfer money from structural funds, which are usually spent on basic infrastructure, to Horizon Europe and use it on research projects that would not otherwise get EU funding because of the strong competition.
In addition, Gabriel said money from the regional fund could provide financing for the first phase of research and innovation projects with regional focus. Then, as projects advance and regional researchers build up capacity and excellence, the commission could provide additional funding for the researchers directly through Horizon Europe. "We also need to look at how we can work more closely with the member states and regions to provide funding," said Gabriel.
The commission is also working on a plan for the European Institute for Innovation and Technology and the European Innovation Council to work in tandem, but more work needs to be done to clarify how that would work in practice. "I do see them working in synergy. But how do we transform the nice word synergy into something operational?" said Gabriel.
Next on the horizon: partnerships and missions
The commission has a total of 40 candidates for public-private research partnerships, of which 30 are slated to begin in the first two years of Horizon Europe. "We are currently finalising our offer so that we can provide funds by the end of the year," Gabriel said.
But if a budget is not agreed by the end of 2020, the commission would need to find a workaround so that partnerships can start on time.
Gabriel is also intending to develop a new partnership on pandemic preparedness, but that would require more time to prepare and is unlikely to start along with the other 30. 
As for its planned research missions, an initiative by the commission to harness broader citizen support for 'moonshot' research projects, Gabriel said the panels in charge of drafting the missions will present their final recommendations in September, during the commission's flagship R&D conference, the Research and Innovation Days.
A boost for hydrogen research
Gabriel also announced a plan to boost research and development of hydrogen fuels. The plan would fall under the commission's broader strategy, spearheaded by commission executive vice-president Frans Timmermans, to significantly reduce the carbon footprint of the EU's economy in the coming decades.
Gabriel said she is working with Timmermans his team and other commissioners on a hydrogen strategy that includes R&D currently being done in Horizon 2020 via a public-private partnership on fuel cells and hydrogen. "We're going to be proposing a hydrogen hub and Horizon Europe has a role to play," she said.
The new strategy is to be published in July. It will build on the research done so far, and add investment in infrastructure and to make sure the new technology could be sold at affordable prices in Europe.
New ERC president
Before ending her tour de force in the parliament, Gabriel also announced progress on finding a suitable candidate for president of the European Research Council (ERC), to replace Mauro Ferrari who resigned in April after three months in office. Ferrari had disagreements with the scientific council of the ERC over his job performance and the role of the research funder in the coronavirus pandemic.
An independent search committee will be looking for suitable candidates and will soon provide the scientific council with a shortlist of names.
According to Gabriel, the next ERC president could be appointed by the end of the year. But, before that, the commission will name an interim president "soon" so that the search committee could "do its work serenely," Gabriel said.
Editor's note: This article was updated 18 June 2020 to clarify the search process for a new ERC president.