On his last day in one of the most powerful research seats in Europe, Robert-Jan Smits talks about his legacy and the future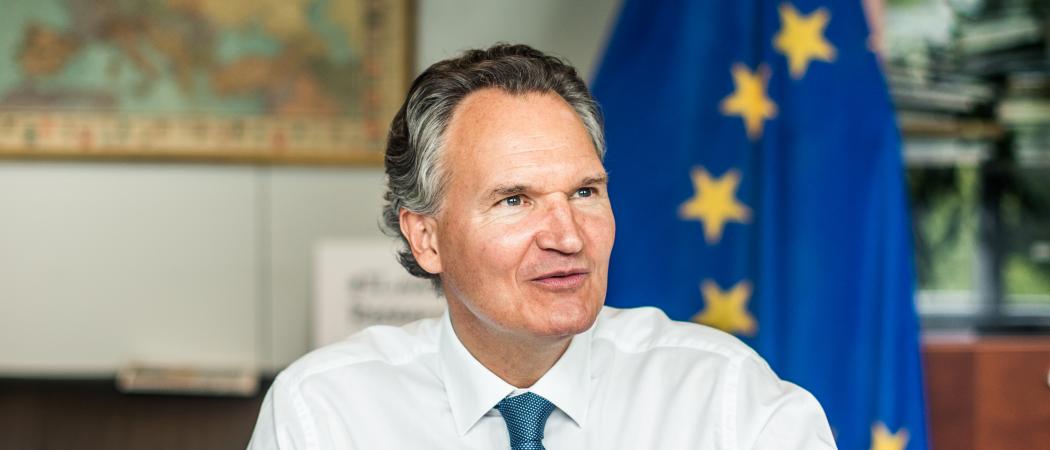 Robert-Jan Smits, one of Europe's most powerful figures in research, has been appointed as a special envoy on open science at the European Commission, to help push efforts to make all publicly funded research in Europe freely available by 2020.
Commission president Jean-Claude Juncker proposed Smits, the outgoing director-general of research and innovation, for the role on Wednesday.
"I will be the ice-breaker for open access publications," Smits said in an interview to mark his last day in his current post, which he has held for eight years.
Clutching a letter sent in the morning by Juncker informing him of his new position, Smits explained how he would be working alongside member states and research funders to change the world of academic publishing. His official title will be senior advisor on open access within the European Political Strategy Centre, the Commission's in-house think tank.
"I'm very happy with the mission I've been given because it's extremely focused," said Smits, who last week discovered it was his time to be rotated out of DG Research. "I didn't want something general. I need something concrete, with deliverables; something I can deliver on."
His task will be to help accelerate momentum towards making publicly funded scientific papers and data freely available by 2020 – a target set by the Dutch government, and agreed upon by the other 27 member states, back in 2016.
Academic institutions pay millions for subscriptions to publishers' products, and in recent years, the skyrocketing cost of journal subscriptions has severely strained library budgets around Europe. The most recent flashpoint in the open access dispute is in Germany, where more than 150 German libraries, universities, and research institutes have banded together to pressure publishers to change their business models.
The current model sees libraries pay between €3,800 and €5,000 per paper, according to an estimate by the Max Planck Society. Many German universities say they won't renew their subscriptions to Elsevier, the world's biggest scientific publisher.
Smits sees an "inherent resistance" within the academic world to switch to open access. Progress is either elusive or extremely slow, he said, and comes with "a lot of lip service." Publishers erect barriers, but there's also ingrained ideas around the source of science to fight against. There are well-respected open-access journals, like those under the umbrella of the Public Library of Science, with standards as high as traditional ones, but still the dream for most scientists is to publish in a high-impact journal like Nature or The Lancet, Smits added.
His job will be to draw up an open access roadmap for action before the summer, outlining steps to demolish scholarly journals' paywalls. By the end of the year, he will set down policy recommendations.
As a Dutchman, does he feel uneasy about a possible clash with his country's leading publisher, Elsevier? "I don't work for the Dutch, I work for European science," he said.
Be a leader
By coincidence, Smits' last official act as director-general Wednesday was to sign a letter to coordinators of Horizon 2020 projects, warning them that a financial penalty may be levied in the future if EU-funded research is not published in an open access format.
Right now, compliance with the EU open access demand is 67 per cent across all Horizon 2020 projects, Smits said.
"But it needs to go to 100 per cent; this is serious stuff," he said. "We want all funders to be like the Bill and Melinda Gates Foundation and the Wellcome Trust. Europeans have to lead on open access too." The organisations he mentions have begun making grants contingent on open access, as well as possibly to the underlying data.
"Researchers should not see the act of going open access as playing the good Boy Scout. It's more than that," Smits said.
He also believes that, once the EU-funded data is made open, it should be stored on European servers – to prevent the possibility of European scientific data getting stored abroad with access arbitrarily limited by non-EU governments.
Smits says he likes "open access rebels" and cites some linguist editors who left Elsevier to form a new open access journal in 2015. The most difficult phase for rebels is the beginning, he said, when they could benefit from a finance bridge.
Having too many rebels is not without complications, however. "You risk creating a lot of fragmentation," he said. "You could end up with 20,000 journals." 
Succession plans
Taking the reins from Smits is a French civil servant, Jean-Eric Paquet, currently a deputy in the Commission secretariat-general.
The timing of his arrival was a surprise to many, including Smits himself. He had been expected to remain in his post until after the summer. Smits only learned about the move last Tuesday about 6PM, before the official announcement Wednesday morning. The change was part of a broad re-shuffling of top Commission civil servants, orchestrated by President Juncker's powerful – and increasingly controversial – chief of staff, Martin Selmayr.
Paquet will land in the role on April 1. The first thing he will notice, said Smits, is the extent to which research policy has grown inside the Commission (Paquet was deputy head of cabinet of research commissioner Philippe Busquin, from 2002-2004). Smits' deputy, Wolfgang Burtscher, will run the directorate-general as acting head in the meantime.
Joining Paquet as a new deputy will be Estonian Signe Ratso, who is coming into DG Research from DG Trade. She is to replace another top manager in the directorate, Jack Metthey (Smits proposed that Metthey stay on until the summer to aid the transition).
Taking over FP9
Smits will be handing Paquet a proposal for Horizon 2020's successor, Framework Programme 9, that he says is "80 per cent ready". The priorities and instruments are mostly in place, although the remaining work involves forging agreement on the size of the budget and allocation of the funds.
Being Brussels, this is expected to be a complicated and lengthy affair, but Smits says he's confident that the end result will be "a big increase in research spending" – a popular target floated by the European Parliament is €120 billion, up from €77 billion for the current seven-year plan. Spending for regional and agricultural projects today soaks up almost 70 per cent of money from the EU common pot.
Smits is placing a lot of faith in the persuasion powers of EU budget commissioner Günther Oettinger, who has made enthusiastic appeals for more research spending. "If there's one person who can do deliver, it's him," Smits said.
FP9 will see a lot of continuity, Smits said, although there will be a new European Innovation Council and a new focus on mission-driven innovation. Efforts to "spread excellence" – or as Smits prefers to call it, funding to "strengthen the European Research Area" – will get more money than in Horizon 2020, Smits believes.
The Commission currently spends about one per cent of the Horizon 2020 on initiatives such as 'teaming' and 'twinning', which aim at enhancing the science capacity of Europe's poorest regions.
Lingering questions
With the EU research budget swelling to never-seen-before heights during his watch, the verdict on Smits' legacy is likely to be a positive one. But does he feel there is any unfinished business?
He says he would have liked to have discovered more about how the new EU defence programme will work, and to be around to see the next round of budget negotiations with the Parliament begin to play out. His advice to Oettinger, who wants a legislative agreement before the end of the current Parliament next year, is to get buy-in from MEPs as soon as he can, or risk seeing talks slide into 18-20 months again.
It's not yet clear where a proposal by Emmanuel Macron to create a Europe-wide innovation agency will lead, but Smits says he's hopeful the French President will back Moedas' plan to create the European Innovation Council. Last September Macron proposed creating a new European Agency for Disruptive Innovation – but as an inter-governmental, non-Commission agency. In response, Moedas argued to keep it inside the Commission.
"We can't have an intergovernmental innovation agency – it needs to be a community initiative," agreed Smits. "Let's hope President Macron will accept what we've been offering."
How the Brexit talks will pan out is another uncertainty, but Smits says that he can't imagine a future where the UK and EU don't work closely together. The country will remain highly influential on all things science, he said: "You always listen to and work with the ones that are good."
Elixir of life
Smits pictures himself eventually going to work in a research organisation or foundation – and he is open about his intention, after he finishes the open-access work, to look for new job opportunities possibly outside the Commission. But for now, there's little sense that he can ever fully check out of EU research.
On the table beside him, as he speaks with Science|Business, is the latest copy of China Daily, which leads with a story on the country's $279 billion investment in research and development in 2017. "We need to keep up with the rest of the world," Smits implored.
The Dutchman's final days in office have seen a flurry of phone calls and emails from current and former science leaders to wish him well, and a handful of media appearances. "At the end of it all, it's about the people I got to meet," he said, listing science luminaries like Rolf-Dieter Heuer, former CERN Director-General, and Sir Paul Nurse, President of the Royal Society: people he now counts as good friends.
During his tenure, Smits says he has kept a close eye on several research projects in particular. The European Holocaust Research Infrastructure, a collection of archival research, is an extremely important initiative, he said. He also closely followed research on Alzheimer's disease. "You see, I wasn't just one of these faceless bureaucrats," he said.
One of his final tasks, before a planned dinner with Paquet, will be to empty a cabinet in his office containing numerous gifts and awards received over the past eight years.
One item in particular catches the eye: a mace adorned with spikes, mounted on a plaque. Smits was presented this scary-looking gift during a visit to Moldova. "My first thought was: how am I going to get this back through customs?" he said.
With a happy nostalgia, Smits recalls how, on the same trip, he was invited into a lab to taste a mysterious elixir, which a scientist promised would grant eternal life. After some encouragement, he took two bitter-tasting gulps.
Does he feel the potion worked? "Well, I'm still here!" Smits replied.