Jean-Eric Paquet expects a close science deal with the UK as part of a post-Brexit trade agreement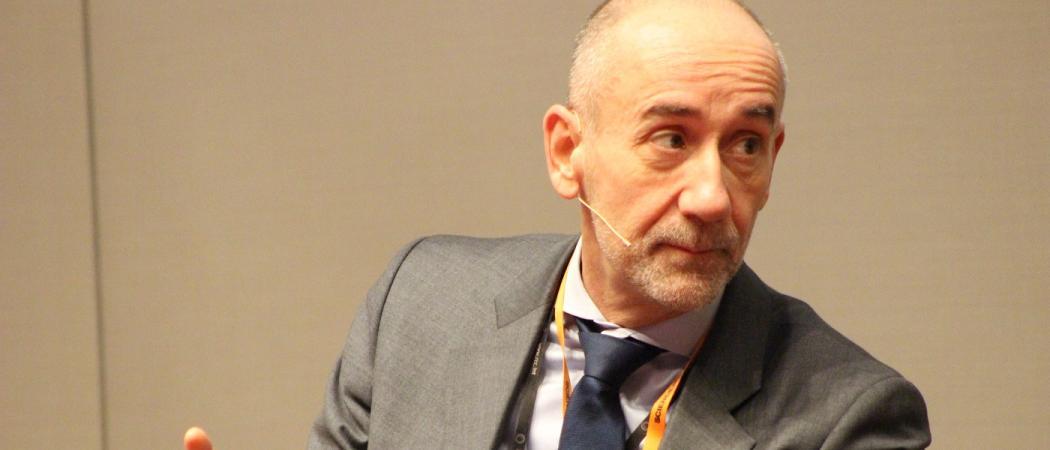 The EU's next research programme will be "more impactful and more powerful" if the UK joins as an associate member, the EU's research chief said on Tuesday.
Jean-Eric Paquet, the European Commission's director general for research and innovation, said he expects Brussels will strike a close science deal with the UK, so long as both sides find agreement on the trickier aspects of a post-Brexit trade deal. "I would very much expect association to Horizon is a component of [the trade deal]," Paquet said.
His comments to a Politico virtual event on 'European research and innovation beyond 2020' suggest he thinks both sides can resolve a tricky conversation around money. The UK government is uneasy about how much it would be asked to pay for a high status membership to the next research programme, Horizon Europe that is due to run to 2027, versus how much UK-based researchers will get out in grants.
Brussels has proposed making the UK pay a proportion of the research budget based on its gross domestic product as a share of EU GDP, which currently stands at 18 per cent. The UK wants a "downward correction mechanism" to compensate the government if its researchers come away with less than it puts in.
Paquet sounded confident about the UK's continued involvement, but he dismissed the idea that distant non-EU countries like Canada and Japan might choose not to participate in the seven-year programme if the UK isn't a part of it.
"We are absolutely attractive with 27 member states and associated countries, there should be no doubt," Paquet said. Non-EU countries like Israel and Switzerland are already associated members of Horizon 2020, giving them essentially the same status as EU members when applying for grants.
There isn't long to wait to discover the UK's fate either way, with the clock rapidly running down to the end of the Brexit transition period on 31 December. "We need to be patient a few more days," Paquet said.
An interesting conversation to have
Paquet wants to open Horizon Europe up for other strong science countries, such as Canada, Japan and perhaps Australia to join as associate partners.
But with Horizon Europe due to get off the ground in just a few months from now, these countries are still awaiting details of membership terms from the commission. EU sources close to talks now say that detailed negotiations with foreign countries are unlikely to see results before the second half of 2021. The wait has already dragged on for two and a half years, as the EU has held back from putting any specifics on the table in case they affected the Brexit trade talks.
Asked if the incoming administration of the new US president Joe Biden could get interested in joining Horizon Europe, Paquet initially laughed, but then added, "That would be an interesting conversation to have."
The EU has made attempts in the past to open its research programme to the US, but has frequently met objections from Washington over grantee contract agreements, with officials complaining they compromise intellectual property rights and raise legal problems for US researchers. As a result, many US universities have avoided the programme.
The issue was a complete non-starter under president Donald Trump, who openly disliked the EU. In February, the State Department's Office of Science and Technology said that EU-US cooperation in research "is not where we would like it to be" and that the terms the commission has offered for joining its programme "give us pause."
Now though, Paquet suggested the EU would be making a fresh approach to an administration that "wants to put science to the forefront again".
"We will be keen to explore it [but] you need to leave the commission and the new administration a few months to look into that," he said. The research chief said he also expects "more-joined up" work with the US on COVID-19 vaccines and climate change.
Horizon Europe warning
Plenty remains up for grabs with Horizon Europe, including its overall shape, budget and when it officially gets going.
The latest agreement on the programme is that it will get around €85 billion – a dispiriting drop, researchers say, from the €100 billion promised some years ago.
Hit hard by the COVID-19 crisis this year, the EU's appetite for spending so much on science has fallen slightly, with funds urgently needed instead for an EU-wide pandemic recovery scheme.
The bloc has rustled up a huge €1.82 trillion budget and stimulus package, but Hungary and Poland are preventing it from being finalised because of their opposition to a new mechanism that would allow the EU to cut off funds to countries found in violation of the rule-of-law.
Asked if EU leaders had failed researchers by not securing more money for science during negotiations, Paquet responded, "I don't think one should put it in these terms."
Horizon Europe will have a "very significant budget" and while the headline amount matters to people, what matters more is achieving "maximum impact" from the investment, Paquet said.
Paquet also sent a warning that as long as the budget fight between member states goes on, research funding won't be locked down. "If there is no budget agreement, there is no [research] programme," he said.