Commission hopes a new funding formula can generate big advances, capture more imaginations and boost the profile of its work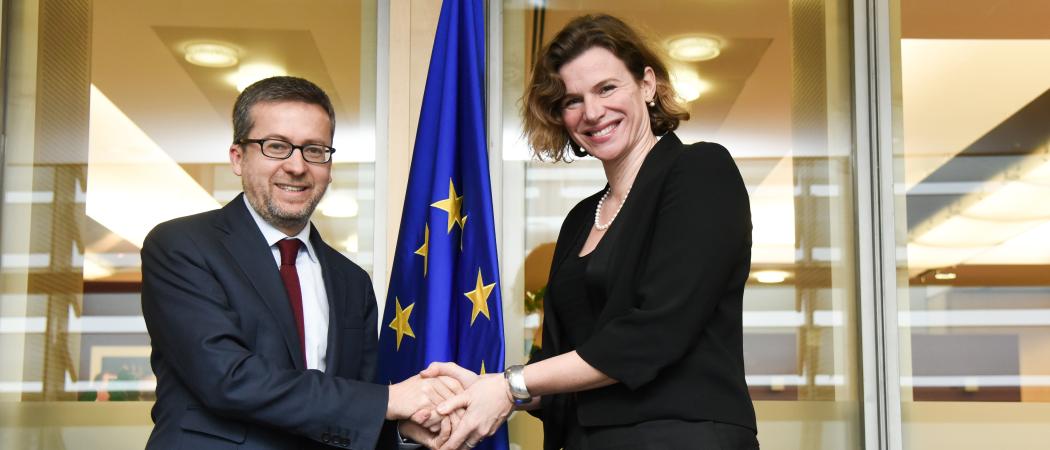 The EU Commission sharpened its pitch to researchers on the merits of a new funding formula that it says can solve ambitious, far-off science problems, laying out new details of a plan to include 10 research 'moonshots' in the next EU science programme.
"Missions would give us a new way to tackle challenges so that, at the end of the game, you're able to say whether we achieved something or not," Mariana Mazzucato, director of University College London's Institute for Innovation and Public Purpose, told the European Parliament in Brussels.
Mazzucato has been recruited by the Commission to help convince EU countries of the merit of a missions-based funding, an approach originally inspired US president John F. Kennedy in 1961, when he promised to send a man to the moon and return him safely, a goal that was achieved eight years later.
For Mazzucato, whose work involves investigating the underappreciated role of the government in creating technologies like the Internet, the power of the mission is that it provides a verifiable result.
As an example of an EU mission, the Commission's director of policy development and coordination in DG Research, Kurt Vandenberghe, suggested building the first quantum computer in the world by 2030.
A European equivalent to the Apollo mission would be another worthwhile goal, said Jerzy Buzek, chair of the European Parliament's research committee.
Other, less glitzy suggestions included producing zero-carbon steel.
New technology may not be neccessary
It is not always the case that missions are associated with the most cutting-edge new technology, Mazzucato said. There are mundane, but no less worthy, hurdles that missions could help clear with solutions that are already available.
"One risk is that we think that missions are all about promoting new technology," Mazzucato said. "Many of these missions might be an opportunity to apply existing technology in new ways."
Manchester University's vice president for research and innovation, Luke Georghiou, described US president Richard Nixon's war on cancer in 1971 as the "archetypal" research mission. Although the fight against the disease continues 46 years later, he suggested the Commission could set a cancer-related mission, provided the goal posts are kept in sight.
"We could have a mission based on prevention and early diagnosis of a certain cancer, which could involve rolling out a new promotional campaign to take tests, for example," Georghiou said. In 2016, the US announced a renewed 'moonshot' effort to beat cancer, with a budget close to $1 billion.
Other examples of big research missions that the EU could take on in the 2020s were presented last year in a report by former EU trade Commissioner and former head of the World Trade Organization, Pascal Lamy.
These include achieving a plastic litter-free Europe by 2030; understanding the brain by 2030; producing steel with zero carbon in Europe by 2030; and ensuring the long-term survival of three out of four cancer patients by 2034.
The price tag for the 10 promised missions has not been set, but German MEP Christian Ehler suggested they should receive in the region of €2 billion each. 
Give research a story
The Commission believes mission could boost its brand too, motivating researchers to take big new strides and create "positive narratives" in the process, said Vandenberghe.
EU research is obviously important but "not really relevant for society," he said. "We create lots of impact but we cannot demonstrate it; it's diffuse. We have lots of incremental benefits, but few breakthrough ones. We have lots of instruments – maybe too many," he said.
"Bibliometrics will always remain important for measuring impact, but researchers need a new story as well," Vandenberghe said.  
Research commissioner Carlos Moedas believes missions should be eye-catching and capture the imagination. "We don't feel the same sense of purpose as we did in the past. We say we will invest more in materials or in renewables but people in the street don't understand much of that," the commissioner said in a speech last year.
"If I talked to my mother or my grandmother about mapping the brain, they will wonder why. People will connect more with a goal, such as creating an all-electric plane."
What is in a mission?
Deciding which missions take priority is the next step, and lawmakers must now scramble ahead of a budget decision in May to come up with some worthy choices.
This will be difficult if researchers continue having trouble defining 'missions' precisely. The distinction between the term 'mission' and the more familiar 'challenges' was not obvious to everyone in the room. Indeed, some view the terms as interchangeable.
The choice of terminology is not especially important, suggested William Phillips, a Nobel laureate in physics.
The distinction meant little to him, as a person more familiar with a world of "wrenches and pliers" than policy. Then again, Phillips said, "There's an obvious advantage to setting different funding approaches; this is the great strength of US science."
Sweden's research agency is applying a new, mission-led approach to funding and finds it "extremely successful", said deputy vice-chancellor of Lund University, Sylvia Schwaag Serger.
"I think it puts very different requirements on agencies," she said. "You need a different mandate; you need to take more risks. To make the missions work we got users, such as municipalities, involved from the outset."
Short on practical detail
Researchers and lobbyists at the meeting on Wednesday said it was hard to evaluate a proposal that was still short on practical detail.
It is not clear, for instance, whether the EU intends to discontinue its big 'flagship' funding model in favour of missions.
In 2013, the EU launched two €1 billion flagships, the graphene flagship, which is developing commercial applications of this material, and the human brain project, which aims to develop a computer model of all the processes in the brain.
A third €1-billion flagship in quantum research is promised and, "Parliament is ready to pay the bill," said Ehler.
It is also unclear whether missions will intersect with or replace research work carried out by another EU funding instrument, the European Institute of Innovation and Technology.
The interim head of the institute, Martin Kern, told the meeting that the EIT has survived a difficult birth and now has plans mapped out for years to come. "If we do not align efforts, we risk duplication," Kern said.