European Commission puts more flesh on the bones of Horizon Europe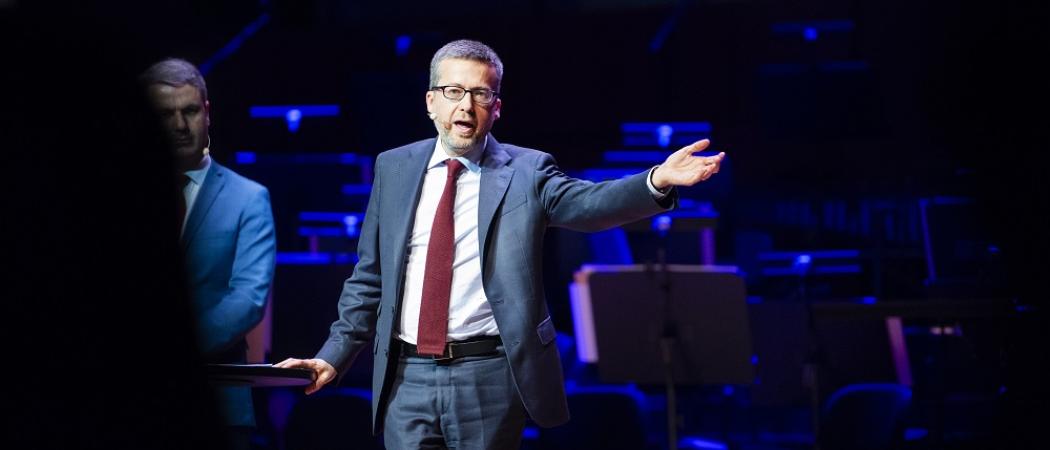 Editor's note: This article has been updated and corrected. It was based on a draft Commission document circulating in Brussels, which has since been updated. For the latest version, see here.
EU Research Commissioner Carlos Moedas met science ministers Monday to make a strengthened case for his strategy for missions and industrial partnerships in the next research programme, Horizon Europe.
The European Commission has drawn up a longlist of 12 themes for missions – a new form of objective-focused research – and for 13 industry partnerships, as it seeks to persuade ministers of the attractions of its plans for the €94.1 billion programme, set to begin in 2021.
In a briefing paper circulated to ministers, the Commission identifies the following fields as potential mission topics:
paediatric cancer;

health in the digital age;

reducing inequalities with skills and competences;

carbon neutral industry;

smart liveable cities;

roads without victims;

seasonal energy storage;

healthy sustainable and resilient agri-food systems;

land management for biodiversity and carbon storage;

zero-waste society;

healthy oceans;

quantum computing.
The Commission proposes to establish mission boards, which would begin work as soon as the first quarter of 2019. The brief for these boards will be, "to validate (or invalidate) the mission with stakeholders, and to advise on the objectives, the research and innovation tasks and specific requirements."
Mission boards would then have a continuing role throughout the life of the missions, to advise the Commission on implementation, and report to member states, the European Parliament and the public on their progress.
"Many ministers pointed out the importance of the role of member states in both the selection and implementation of missions and partnerships. Furthermore they emphasised that missions must be relevant and meaningful for citizens," said Annette Weber, spokeswoman for the Austrian Presidency, which is the lead on Horizon Europe talks. 
Missions are conceived as a way for the EU to better promote the research it funds. The public submitted 2,074 mission ideas to the Commission in all, according to the brief. The most frequent mission proposals were in the areas of digitisation and artificial intelligence, 16 per cent of submissions, health and well-being, 10 per cent, socio-economic transformation, 10 per cent, and sustainable production, 7 per cent. 
New partnerships
Commission officials also set out 13 options for future industry partnerships, many of which are conceived as successors to existing groups.
The partnerships tie together companies, universities, laboratories, SMEs and other groups and organisations around big research and innovation challenges. For each partnership, the EU puts up cash, typically billions. Member states might chip in money too, depending on the particular arrangement.
EU-funded partnerships in action today include Clean Sky, which funds research into cleaner, quieter aircraft; the European Green Vehicles Initiative, which aims to develop technologies such as longer-life batteries; and largest of them all, the Innovative Medicines Initiative (IMI). 
The proposal for Horizon Europe, published in June, calls for current partnerships - the Commission counts almost 100 funded through the framework programme - to be rationalised, but as yet there has been no detail of where the axe might fall. Existing partnerships are expected to audition anew for funding. 
The Commission is giving ministers the option of prolonging the life of many of the partnerships funded through Horizon 2020, under broad new names:
Faster and safer use of health innovations (a possible successor to IMI);

Global health partnerships (successor to European & Developing Countries Clinical Trials Partnership);

Key digital technologies (successor to Electronic Components and Systems for European Leadership);

Metrology (successor to European Metrology Programme for Innovation and Research);

Air traffic management (successor to Single European Sky ATM Research);

Aviation (successor to Clean Sky);

Rail (successor to Shift2Rail);

Fuel-cell and hydrogen technologies (successor to Fuel Cells and Hydrogen Joint Undertaking);

Bio-based solutions (successor to Bio-based industries).
This selection emerged from "more than 50 ideas" collected by Commission officials.
Four brand new industry topics were also be presented to ministers, including: connectivity beyond 5G; innovative space systems; connected, autonomous mobility; and industrial batteries.
In addition, the Commission paper presents four "tentative themes" for new innovation hubs, or Knowledge and Innovation Communities, to be managed by the European Institute of Innovation and Technology. These are: cultural and creative sectors; security and resilience; inclusion, integration and migration; space; and water marine and maritime.
According to the Commission's briefing paper, partnerships should have "stronger EU added value, substantial modernisation, changes in membership, and clear termination dates." Draft "impact assessments" will be prepared "towards the end of 2018".
The Commission proposes to send governments the "main envisaged features" of future industry groups. Member states, and countries associated to Horizon Europe, will be invited to provide feedback.
Not everyone is backing this approach to deciding the fate of partnerships. Said one member state official involved in the Monday lunch with Moedas: "I was looking for more information – it still seems fairly open to me."
Talks evolve
Missions are expected to gain some 10 per cent of the budget in the first years of Horizon Europe, with each mission earmarked around €1-2 billion in total. Meanwhile, partnerships would account for 30-40 per cent of the budget, the Commission says.
On Wednesday, Austrian officials will host a "technical seminar" to figure out how the whole planning process between now and the end of Horizon Europe could look like. 
"The decision-making is now fully in the hands of ministers who will adopt a list of mission areas at one of the next Competitiveness Councils," said Christian Naczinsky, head of EU research policy and coordination at the Austrian Ministry for Science, Research and Economy. 
The original Commission proposal for Horizon Europe contained a vague statement of intent on both missions and partnerships. However, ministers said they were not ready to sign off on the Commission's proposals without more details.
Ahead of the meeting, Austria's Minister of Education, Science and Research Heinz Fassmann said the Commission and member states were divided on who gets to choose topics for the new research missions. Governments want more say in selecting these missions, Fassman said.
Privately, EU officials express concern that governments will seek to replace discontinued partnerships with missions on similar topics.
Horizon Europe talks are now a game of two halves: first the outline agreement on content and then a settlement on the legal basis, which will not be negotiated until next year.
"The longer it takes for us in Council to decide on the basics [of missions and partnerships], the shorter will be the subsequent time for careful planning," said Naczinsky. 
Ministers have pencilled in November 30 to formalise a first, rough agreement on the programme.