Šefčović backs renewal of €1.33B fuel cells project and predicts more funding for the technology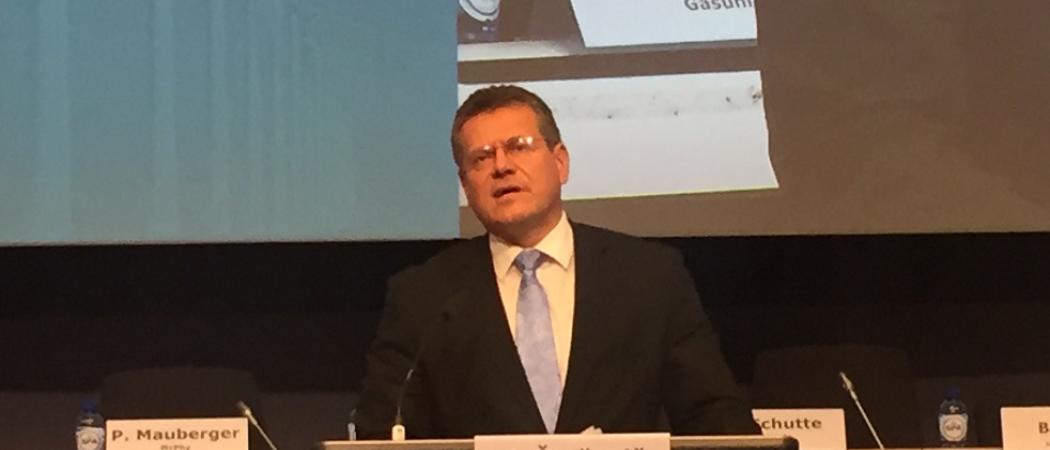 The European Commission's energy chief said he expects to see the EU put more money into hydrogen fuel cell research in the forthcoming Horizon Europe R&D programme.  
Maroš Šefčović, vice president for energy union, said, "What I am 100 percent sure is that hydrogen will be very high on our agenda (for Horizon Europe). It will secure, I believe, bigger funding than until today." Šefčović made the remarks November 16th at a Brussels conference on the Fuel Cell and Hydrogen (FCH) joint undertaking.
FCH is a €1.33 billion public-private partnership among the Commission, businesses and research organisations. There are six other such partnerships in the current EU R&D programme, Horizon 2020, plus scores of other types of partnership agreements in various technology sectors. Which, if any of them, will continue to be funded in the new programme remains undecided. But Šefčović's comments would come as welcome news to companies involved in the project. They include Michelin, Daimler, Toyota, St. Gobain and Engie.
Addressing the audience as "friends and allies of hydrogen industry," Šefčović confirmed his expectation that the partnership would be renewed. "We are also preparing the next list of public-private partnerships," he said, "and we have proposed that fuel cells and hydrogen would be one of them."
Not everyone convinced
Despite the Commissioner's enthusiasm, some energy experts aren't convinced that the technology warrants such a big public investment. Hydrogen is the most flammable element known to exist, making it a highly potent and clean combustible fuel. But that quality also makes it extremely difficult to distribute safely. Liquid hydrogen is more stable than hydrogen gas, but it boils at extremely low temperatures. As a result, liquid hydrogen is expensive to distribute, and all other forms of hydrogen are extremely dangerous.
Nevertheless, Šefčović was optimistic about the future of hydrogen fuel, citing the technology as potentially the "perfect complement to batteries" and describing efficient energy storage as "the holy grail" of the green economy.
Šefčović also said that the Commission hoped to make applications for researching funding less bureaucratic. "We are looking at Horizon Europe from a new perspective: how to make it more agile, less cumbersome, and less administratively difficult, because this is what we hear from our scientific community—that 'your programme is good, the money is very important, (but) sometimes it's very cumbersome to fill out the application forms.'"