Varjo is one of 1,270 companies funded by the European Innovation Council since the pilot scheme launched in 2017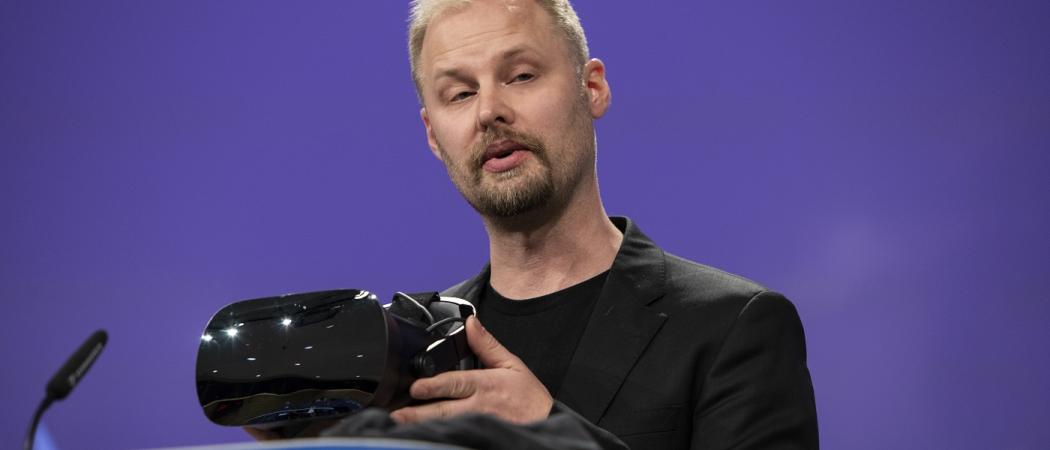 EU research commissioner Carlos Moedas picked Finnish virtual reality start-up Varjo to highlight how European companies can turn knowledge into products with money from the European Innovation Council (EIC), as he gave details of how the new funding scheme will help young companies to transform scientific discoveries and intellectual property into profitable businesses.
With the EIC pilot, the Commission wants to shift its research and innovation approach from funding projects, to funding people, said Moedas. "We are centred on the innovators, not the innovations," he said. "We pick the people who are willing to do things."
Varjo fits that bill perfectly. The company was founded in 2016 by Urho Konttori, a former software engineer at Microsoft and Nokia, and Niko Eiden, a virtual reality expert who helped develop HoloLens, Microsoft's virtual reality (VR) headset. Both left their jobs to start Varjo without any clear idea of what products they would try to make, but were quickly able to raise €1 million in seed money based on their track records.
The team they assembled focused on developing a high-end VR headset for industrial product designers and simulators, which recently went on sale with a hefty price tag of $5,995. The company believes it can command that price because it offers a display resolution 20 times greater than any other headset. That will, for instance, enable a car designer to simulate in high resolution how a vehicle would drive on the road three years before it's built, and to tweak the design in real time to improve performance.
After the seed round, last November Varjo raised $31 million from a London-based venture capital firm, Atomico – essential to "polishing" the headset product in the final stages of development. That round and €2.36 million from the EIC pilot, was also necessary to prepare for the launch of a sister-product, a "mixed reality" headset that merges real-world images and computer simulations.
The global market for this is $11 billion, Konttori said. If the company had turned to Silicon Valley VCs – with whom they discussed possible deals – the existing shareholders would have seen their shares diluted. The EIC pilot money helped the firm avoid further dilution and keep control of the company in Europe.
Konttori said the company considered applying for a grant from the Eureka Eurostars SME funding programme, run jointly by the Commission and the inter-governmental Eureka programme, but it would have required partners that he didn't need. In contrast, the EIC pilot programme permitted the company to apply on its own. It was "fast, very clear", said Konttori. "The EIC funding was a game changer."
Here are some other EIC-funded start-ups that caught our eye:
Orbex is an UK-based company developing a high-performance launch vehicle which can send small satellites into low earth orbits. In 2017, the company received a €50,000 grant from the EIC pilot to test a prototype. It also secured backing from two large VC funds, Sunstone Technology Ventures and Germany's High-Tech Gründerfonds, and the UK Space Agency and the European Space Agency.
Equipment developed by Orbex team members has flown on more than 50 deep space missions, and collectively they have developed more than 50 rocket engines and a wide range of orbital and suborbital launch vehicles.
The company has recently revealed the world's largest 3D printed rocket engine, designed to deliver small satellites into Earth orbit from the company's new headquarters in Forres, Scotland. 
Teraloop is a spin out from the innovation hub of Finland's Aalto University. In 2018, it received €50,000 from the EIC pilot to develop a novel energy storage technology based on kinetic energy.  That followed the completion in 2017 of an industrial prototype built in partnership with Yaskawa Electric Corporation in Japan. Teraloop is now using the EIC money to test the market potential of its invention.
RAID is a decision support system enabling vets to detect bacterial infections in poultry farms much faster than current methods. The software was developed by Hungarian company Martin and Co Kft, with an EIC pilot grant helping the company perform a feasibility study to scope the technological challenges and the economic viability of its product.
Cadel Deinking is a Spanish company working on a unique recycling technology that can remove printed ink from plastic surfaces before recycling. The resulting product has a quality similar to that of new plastic and can be used in the same applications as new material.
The company owns a pilot plant in San Vicente de Raspeig where it has started the industrial use of the technology.
Mimetis Biomaterials is biomedical spin-off company from the Polytechnic University of Catalonia. With the help of an EIC grant, the company has developed a synthetic biomimetic material MimetikOss, for bone grafts that support natural bone regeneration.
TF Technologies is a Dutch company that provides systems for monitoring road construction machinery. The company has just won a €1 million grant from the EIC to further develop and bring to market its MatManager system for keeping control of key parameters when laying asphalt paving.