'Keep collaborating,' EU commissioner tells UK grantees rattled by legal uncertainties over Brexit, while UK science minister argues that government pledge to underwrite funding has steadied UK involvement in EU science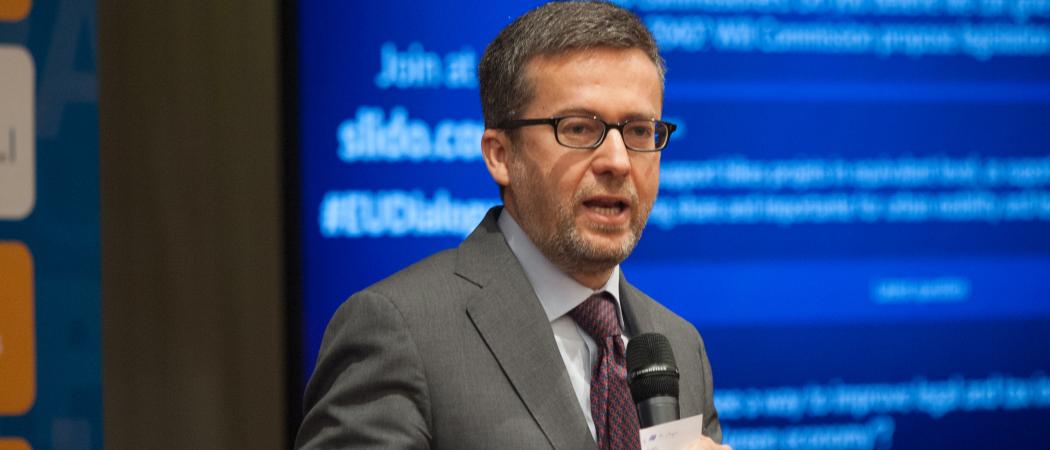 As uncertainty mounted over the terms of Britain's exit from the European Union, a flurry of official statements from Brussels and London tried to reassure participants in the EU's Horizon 2020 research programme that current projects won't be interrupted.
In a speech October 16th in Edinburgh, EU Research Commissioner Carlos Moedas told UK researchers that "while you remain part of the European Union, the Horizon 2020 programme is fully open to you. Please keep taking part. Keep collaborating with your European partners. Keep welcoming researchers from other EU countries into your universities and research teams."
He added that UK opinions are also welcome on what the next EU research programme should look like – even though its start would be two years after the planned Brexit date of March 2019. "I have made every effort to reduce the uncertainty caused by Brexit," he said.
The British Department for Business, Energy and Industrial Strategy also issued a statement reiterating that the UK has pledged to pay British grantees directly after March 2019, so that their projects don't get interrupted by Brexit. 
Earlier that day in Brussels, however, news from the official Brexit talks was unencouraging. The latest round of negotiations saw the two sides reach "deadlock", according to the EU's chief negotiator Michel Barnier. A joint statement Monday from the UK prime minister and the president of the European Commission, following a dinner, said talks needed to "accelerate in the months to come". This Friday, October 20th, EU leaders – minus the UK - are due to discuss next steps.
Unsettling statements
A rash of statements in the past week have unsettled some Horizon 2020 grantees. Already, several UK universities had reported being dropped from prospective bidding consortia since the Brexit vote last year. Then on October 6th, a short statement on the Commission's website raised – in the minds of at least some programme observers – new questions about the status of existing projects. After seeing that statement, one UK biotech CEO told Science|Business that he felt "very uncomfortable" about the legal situation, and "we would definitely not apply for any further EU grants."
In the notice, the EU issued a warning to the UK that, unless a Brexit deal is struck that ensures researchers remain eligible, British participants on some EU collaborations may have to leave come March 2019, after the UK officially departs the bloc.
The issues revolve around the fine print inside the Horizon 2020 grant agreements, which provoked confusion by stating that eligibility criteria "must be complied with for the entire duration of the grant".

Commission advice for UK researchers Oct. 6
In response, a spokesperson for the government said, "This update from the Commission does not change the eligibility of UK participants while the UK is a member of the EU.
"The UK Government has already committed to underwrite successful grant bids submitted before the UK's departure from the EU, and we would welcome the opportunity to discuss an ambitious science and innovation agreement with the EU."
Last year the government said it would be able to put up any remaining cash themselves for British participants if the UK leaves the EU while a project is ongoing.
But some researchers express concern that this might not be enough to remain a part of all EU-funded projects.
Analysts point out that the right to study and work abroad, a basic EU principle referred to as free movement, and oversight from the European Court of Justice, could be additional sticking points when it came to UK involvement in collaborations after 2019, because they are part of the eligibility requirements for many EU grants. The government has said Brexit would eventually see the UK make a clear break from EU jurisdiction and terminate free movement.
Jo Johnson: underwrite pledge is working
At a hearing before the Science and Technology Select Committee on Tuesday, UK universities and science minister Jo Johnson said, "The EU announcement was really a statement of the current policy."
Johnson said that UK participation in Horizon 2020 remains strong, providing proof that the government's pledge to put up funding for UK researchers in Horizon 2020 projects after Brexit has put many applicants' minds at ease. "The underwrite is working; doing the job it needs to do," the minister said. 
Pressed by MP and committee member Vicky Ford on whether the government would consider extending its pledge, so that even those UK applicants who applied to Horizon 2020 after their country left the bloc could still avail of the underwrite, Johnson didn't rule it out. "We will keep this under careful review," he said. 
UK could become 'a third country'
Elaborating on the Commission notice in an interview with the Scotsman on Monday, Moedas said, "It was important to be transparent and inform UK-based applicants now that if the UK withdraws from the EU without concluding a withdrawal agreement they may be required to leave the project and no longer receive funding."
For projects for which the grant agreement is signed after the UK withdrawal takes effect, UK participants will be treated as entities established in a 'third country', the Commissioner added, meaning a non-EU member without an "association agreement."  Some EU neighbours, such as Switzerland, Norway and Egypt, have previously negotiated this special association status which makes their researchers eligible for EU funding. By contrast, researchers from third countries such as Canada and the US may participate as part of Horizon 2020 consortia, but have to find their own funding sources for the work. The UK's future status is part of the stymied Brexit negotiations.
"Under Horizon 2020 rules, projects are open to participants from third countries, but only in addition to the minimum number of EU partners, and such third country participants would not normally receive funding," Moedas said in the Scotsman interview.
In a position paper published in September, the UK government said that it wants to have a "more ambitious and close partnership" with EU science programmes after Brexit than any that has previously been agreed with non-members, including Switzerland and Norway. The UK also said it is prepared to contribute money into Framework Programme 9.
'Affected thousands of lives'
Moedas did not directly refer to the notice in his Edinburgh speech; instead, he acknowledged that Brexit had affected "the lives of thousands of researchers. In Scotland, in the UK and across Europe."
Researchers in the 27 other member states want to see the UK continue to participate in EU research projects, Moedas added, but "I cannot speculate what the final outcome of Brexit will be".
This article was updated on October 19 to incorporate MP Jo Johnson's comments