As Dutch prime minister Mark Rutte calls the spending proposal 'unacceptable', the EU's budget chief warns MEPs, 'If the member states cut funding again, they are closing down our common future'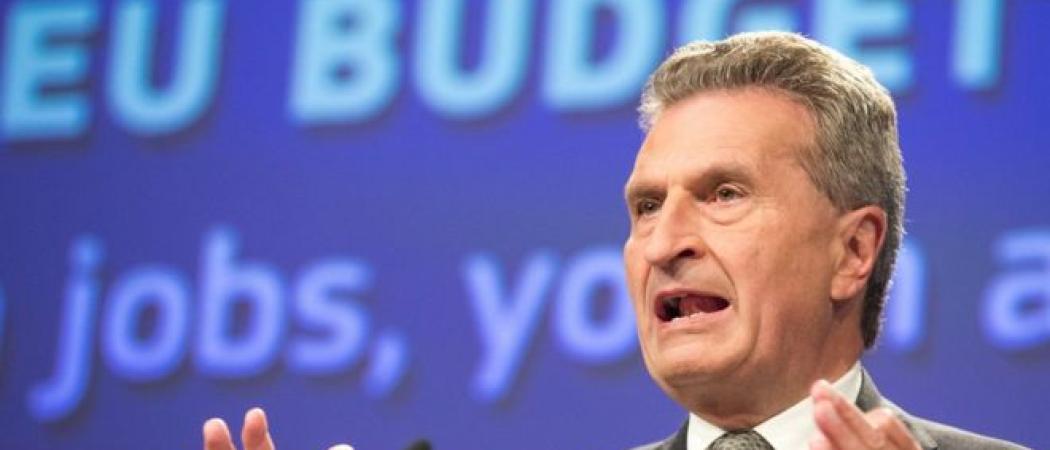 Blocking the European Commission's proposed spending increase for research and innovation would leave Europe on "the loser's path" in fields such as artificial intelligence and high performance computing, the EU budget commissioner Günther Oettinger warned MEPs on Thursday, after some member states complained the increase is too high.
The draft EU budget for 2021 – 2027, announced by Oettinger on Wednesday, included hundreds of billions of euros for research and digital infrastructure, but leaders from wealthier European countries including the Netherlands, Denmark, Sweden and Austria have already complained that the proposal is too high, with Dutch prime minister Mark Rutte, saying the draft budget "unacceptable".
Oettinger reminded MEPs - who will have an equal say with member state governments on the final budget - that during negotiations for the 2014 - 2020 period, pressure from the UK and some other countries saw the Commission's original spending proposal rolled back from €1 trillion to €960 billion.
Addressing members of the Parliament's budget committee, Oettinger spoke of the danger of history repeating itself. "If member states cut [the budget] back down again, they are closing down our common future," the German commissioner said. 
To make space to increase research spending to €100 billion, the Commission's blueprint cuts the two biggest items in the budget, agriculture and cohesion funding, by about 5 per cent each compared with the previous seven-year budget. The plan also proposes to tie access to funding to greater respect for the rule of law in member states, including adherence to democratic values such as judicial independence.
Countries in the south and east of Europe that are among the biggest net recipients of agriculture and regional aid were left deeply unhappy about the proposed cuts. Some western European leaders, meanwhile, are concerned that planned overall spending is up, despite the departure of the UK, a big net contributor.
Oettinger called on MEPs to resist pressure to even out, or reduce, the post-Brexit budget proposal. He also defended the doubling of the Erasmus student exchange programme. "One answer to Euroscepticism is to get young people into contact with other young Europeans during their studies," he said.
A long, highly contentious approval process lies ahead to persuade net contributor countries that hit out against the proposed budget, to back the increase. "I need every one of their votes," Oettinger said. But he was also critical of the messages politicians deliver when they are in Brussels, compared to the ones they give to their voters at home. "Austria [for example] is always wearing two hats – a good hat in the European Parliament, and a bad hat back home. Check to see if your parties are asking for the same things here and in Vienna," he told MEPs.
MEPs raised concerns about cuts to cohesion funding and spending increases for defence, but Oettinger said these concerns were misplaced, suggesting MEPs "haven't had a chance to read everything yet." 
"You've only had the proposal for 26 hours, and a lot of that time you've spent eating and sleeping," he said.