Research commercialisation body sees proposed funding cut in favour of R&D aid for eastern member states. 'We don't want the research programme to reflect Trump-like policies,' says Christian Ehler, rapporteur, as door is left open to UK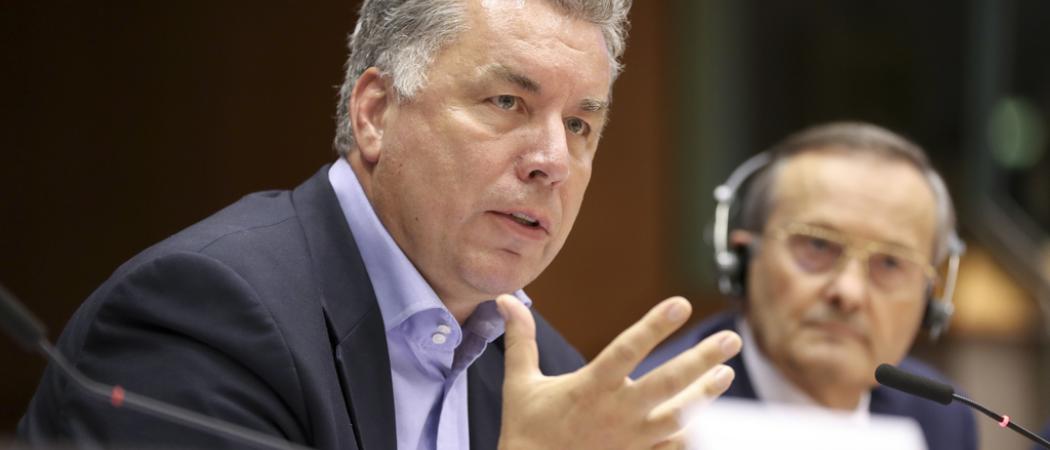 MEPs on Wednesday gave swift approval to a plan to re-distribute money in the EU's 2021-2027 Horizon Europe science programme, following a fight that pitted the interests of rich, R&D-heavy member states in the west against poorer, eastern states.
The European Parliament's Committee on Industry, Research and Energy voted in favour of compromise amendments hammered out over three months by the two lead rapporteurs, Dan Nica of Romania and Christian Ehler of Germany. The quick path to agreement – by EU standards – boosts hopes in Brussels of clearing the major preparation work on the €94.1 billion Horizon Europe before EU legislative elections next May.  
At the same time, Parliament repeated its call for a bigger Horizon budget of €120 billion and voted for improved terms for third countries, including the UK, to take part in the research programme.
In the biggest change to the Commission's original proposal, MEPs voted to pare back the budget share of the new European Innovation Council (EIC), from 11.6 per cent to 8.7 per cent of the total proposed programme.
This money would instead go to poorer member states via the "spreading excellence and widening" programme, as the special research aid for poorer countries is being called. MEPs called for this part of Horizon Europe to go up from 1.8 per cent to 4 per cent of the budget.
The committee's position still needs to pass a vote in the European Parliament's plenary session, expected in December. The proposal can then go to three-way negotiations with the European Commission and the Council of the EU.
Wednesday's result was "close to being a miracle" for the speed of its adoption, and range of MEPs who backed it, said Ehler. "It sends a very strong message to the Council. We want to have a result before the end of the term," said the MEP who has now shepherded legislation on three EU research programmes. Across town, in the EU Council building, government officials were on Wednesday locked in parallel talks on the science programme. Governments are aiming to stake ground on the file by the end of the year, amid disputes over control of industry-led partnerships, research missions and the EIC.  
"A very good result," agreed Nica, while researchers expressed relief that some of the centre-left MEP's original proposals did not make it into the compromise text.
In a report outlining his position in July, Nica called for the EU to, "Give priority to excellent projects that plan to first commercialise their research and innovation results across the union." The MEP was keen on tight restrictions on foreign access to the programme, telling colleagues last month that, "We don't have enough money to send around the world." Another of his proposals scrubbed from the report voted on this week was to set a specific target of reducing the "innovation gap" between east and west by 50 per cent.
Nica's proposals faced resistance from European Commission officials, universities, and other MEPs, who believe that the way to reduce research inequalities is through increasing national R&D budgets.
In the end, the advantage tipped in this camp's favour. "Things have obviously improved," said Kurt Deketelaere, secretary-general of the League of European Research Universities. "A lot of the crazy suggestions for 'Europe First' and geographic balance has been pushed back or watered down."
Concern over the amendments was strong enough to see the UK's science minister, Sam Gyimah, travel to Brussels to meet Nica and outline reservations about a strongly EU-focused programme. Britain wants access to Horizon Europe as an associate country after Brexit, and was worried about terms that could limit its entry.
UK gets better terms
In the end, however, MEPs voted for improved entry conditions for the UK and other large industrial countries.
A new addition to the text specifies that third countries – the imminent status of the Brexiting UK –should, "Have the right to coordinate an action of the programme provided that it benefits the union and the protection of EU's financial interest." Third countries are already allowed to lead EU research projects.
"We want the programme to be open to the world, and not reflect Trump-like policies such as 'America first'," said Ehler. "So we made it even more open."
After Brexit, there is an onus on the EU to make a bigger statement on research, the MEP said. "Russia will try to divide us. We're being challenged strongly by China [in science]. We had to show we can move fast and be ambitious."
MEPs however retained the option to keep these countries out of giant "mono-beneficiary" programmes such as the European Research Council and the European Innovation Council.
This was a mistake, said Deketelaere. "If you can't get into the flagship parts of the programme, such as the ERC, the programme as a whole will be less appealing and attractive to the UK and others," he said.
Concern over budget shift
In dividing up the spoils, the most dramatic shift of money in the amendments is away from the EIC, a pet project of EU Research Commissioner Carlos Moedas. A rival body, the Budapest-based European Institute of Innovation and Technology, would see a small budget increase – from 3.2 per cent to 4 per cent of the programme. Science programmes like the European Research Council were spared any reductions.
MEPs backed one of the Ehler's main proposals of €300 million for a "European Cultural Heritage Cloud" to complement an existing Commission plan for an "open science cloud" to federate existing cloud services used by universities and public labs across Europe. "The idea was to create a collaborative workspace, but also to make our heritage more accessible. We've spent €700 million on humanities and the results of this don't always come into public knowledge," he said. 
Amid concerns in some member states that ordinary SMEs may not benefit from funding, the Parliament also backs a proposal of €2.5 billion for "an SME specific instrument for incremental innovation". This is an attempt to save an EU programme that is popular with SMEs in countries such as Italy and Spain, but is due to be swallowed by the EIC.
Additionally, MEPs called for wider representation for the board that will run EIC, and for a number of research and innovation projects to apply a "fast-track" logic where "time-to-grant should not exceed six months". This should allow a faster, bottom-up access to funds for small collaborative teams.
Inevitably, the budget shifts stirred debate, with different verdicts on which parts had won and lost.  
"Very mixed bag, but generally not bad," said Gosse Vuijk, EU policy adviser with TNO, the Netherlands Organisation for applied scientific research.
"Not only Pillar III but also Pillar II got a smaller [budget] share while topics were added to Pillar II, including at least €1 billion for quantum technology, so there's effectively less money per topic in Pillar II," he said.
On the other hand, "Good that the text now clarifies that contributions to partnerships can be in-kind rather than only financial," Vuijk said.
Others argued that MEPs had now tipped the programme more in the favour of applied research and innovation.
"To us it's clear that this version is more focused on applied research and innovation than a balanced programme for research and innovation should be. We oppose earmarking funding for SMEs in the Second Pillar as this goes against its collaborative nature," said Jan Palmowski, secretary-general of the Guild of European Research Universities.
Palmowski says he is supportive of policies that allow more researchers to take part in the programme but is wary of central and eastern European countries "being treated as add-ons within consortia. Instead, what we need to foster is a recognition of the excellence of researchers and innovators, irrespective of where they are from," he said.
Editor's note: This article was updated on December 17 to clarify rules of third country participation in Horizon 2020.