Municipalities turn to artificial intelligence to understand what is happening in their cities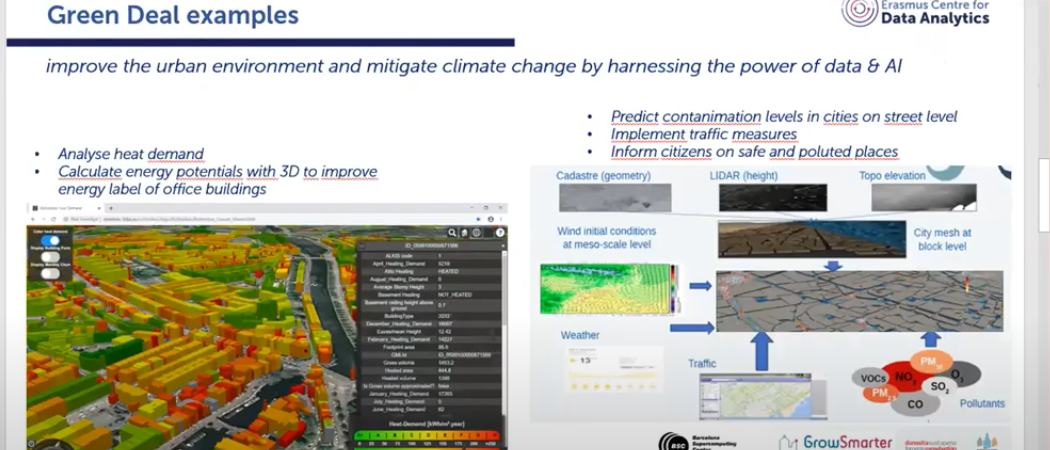 The pandemic has dealt a body blow to many of the world's cities. As they seek to recover from the economic and social fall-out from COVID-19, municipalities are stepping up efforts to deploy big data and artificial intelligence (AI) to improve urban life.
Equipped with a real-time view of what is happening across a city, municipalities hope to be able to make timely interventions, while spurring the development of innovative services. "We are using AI to become the eyes of the city," Maarten Sukel, AI lead at the City of Amsterdam, told a recent Science|Business webinar entitled: How will real-time data reshape our cities?
Although municipalities generally lack the granular behavioural data available to the major Internet platforms, advances in AI are making it easier to analyse the growing volume of data being captured by street level cameras and other sensors.  "We do not control the digital world as cities, but we do control, to a level, the physical world, so we are really using AI to bridge the gap and collect data from traffic cameras, which are all round the city," Sukel explained. "We can see what cars are driving where and at what speed …we can see if people are keeping a distance, if people are wearing their face masks and we can act on that and ask them to do it differently." 
Amsterdam is now mounting smartphones on waste collection vehicles and citizens' bikes (where they agree) to capture and stream images of the conditions on the streets to a server, which can use AI to detect abnormalities. That could allow the municipality to quickly detect hazardous situations, such as construction debris blocking a road or a spill from a goods vehicle.
Aware that such solutions could compromise privacy, Sukel stressed that Amsterdam isn't using computer vision for facial recognition. Each year, the municipality takes photographs of the entire city and then uses computer vision systems to detect decay. For example, the deterioration of bicycle symbols painted on the tarmac can provide an indication of the state of a road. "We're seeing for each neighbourhood how well maintained it is," Sukel said, noting the municipality can now allocate resources more equitably than in the past when it relied on individual citizens to report issues.  
The City of Montreal is also using cameras and sensors to collect data that can be used to improve urban services. During the webinar, Francois William Croteau, a member of the city's executive committee, described how cameras on street corners can track how people are moving around the city, while sensors on soil pipes can monitor their condition. If and when the municipality needs to replace and repair some infrastructure in a specific locality, it uses the data from the traffic cameras to guide improvements to the road layout and street furniture.
Montreal is also mounting sensors on public vehicles, such as buses, fire engines and snow ploughs, to collect the data needed to figure out how it can streamline routes and utilise these assets as effectively as possible. As a result, roads can be cleared faster, travel times reduced and lives saved, while also cutting fuel costs and greenhouse gas emissions. The city administration also asks cyclists for data about the journeys they make, to help decide where to deploy cycle lanes.
Croteau said his city doesn't want to rely on the major Internet platforms for data. "We collect data and put it on the server of Montreal city… we don't want to depend on big companies," he added. "And we want to be sure that the privacy of the data is secure for the citizens."
How to make public-private partnerships work
Indeed, it's very important that "the city authorities remain in the driver's seat," Ann Aerts, head of the Novartis Foundation, told the webinar. But cities may need to find new business models. Aerts noted that new ways to incentivize innovation or innovative ways of monetizing data could help city administrations to fund much-needed solutions. 
Aerts described how the Novartis Foundation, from the global healthcare company Novartis, is working with cities in low and middle-income countries to use data analytics to help citizens lead more healthy and active lives. Together with partners in the sports, food, education and digital sectors and urban planners, the Novartis Foundation has rolled out its Better Hearts Better Cities initiative in São Paulo in Brazil, Dakar in Senegal and Ulaanbaatar in Mongolia. The partners are working with the city authorities to use real-time data to improve interventions, better allocate healthcare resources and run targeted community campaigns. City data is now allowing the development of AI tools that can support decision makers in their approach to population health, and the net result could be a shift from reactive healthcare to predictive and preventative healthcare.
The initial results have been promising, Aerts said: "We improved blood pressure control massively, so that we could reduce the number of people with strokes by 20% in less than two years." The Novartis Foundation is now looking to bring more advanced tools to bear. In partnership with Microsoft and Apollo Hospitals in India, it is exploring further how AI technology can be used to improve the cardiovascular population health of millions of people around the world
Other speakers also stressed the importance of harnessing data from both the public and private sectors. Daniel Serra, director of the Innovation Hub South, EIT Urban Mobility, referred to the lack of collaboration between the private and public sectors as "the main issue that we are facing today" preventing further progress on improving urban transport systems.
In order to develop AI services, tools and products, cities will "need to have enormous amount of data," Serra stressed. "That's very important and for that reason we are still in an early phase," he added, noting that many of the major Internet platforms are run as walled gardens that don't share key datasets with the outside world.
Harnessing more commercial data for the greater good may require a mixture of carrots and sticks. Although cities can make data sharing a licence condition for providers of urban mobility services, Serra said municipalities often don't have the necessary skills in-house to make full use of this data. One way to address this challenge would be to create public-private partnerships with business models that offer clear benefits to the companies involved, while also fulfilling policy objectives. 
Serra also called for cities to take a "long-term perspective in terms of creating […] open innovation areas or sandboxes" where companies can test new ideas without being impeded by regulations. At the same time, he suggested that cities share more of the data collected by their cameras and sensors with third parties looking to develop innovative services. There aren't that many examples of this kind of co-operation up and running, he added. 
Still early days for urban data platforms
Although the concept of a data-driven 'smart city' has been around for decades, many municipalities have yet to deploy the fundamental infrastructure required to harness the full potential of data analytics and AI. Only 31 per cent of the 85 European cities studied by the Erasmus Centre for Data Analytics at the Erasmus University Rotterdam have an operational "urban data platform" – a solution for collecting, organising and combining data from different sources, such as municipal services and the private sector. For "the majority it is still early days," said Marcel van Oosterhout an associate executive director of the centre. "The majority is still either exploring or planning or are working on a platform within the municipality" that tries to tackle the silos between different local government departments.
The leading use cases for these platforms today revolve around mobility, logistics, the built environment and energy usage, the study found. One of the most promising applications is to create a "digital twin" of specific neighbourhoods (a very detailed computer model), according to van Oosterhout. He explained how digital twins can be used to track the heat being generated by different buildings in the city and then intervene to reduce energy usage, where appropriate. He also outlined how Barcelona is using detailed models to track air pollution at street level and then use the resulting insights to predict how the volume of contaminants might change over time, and, if necessary, take preventative action.
The European Commission also regards digital twins as a key tool to help municipalities manage their cities better, according to Dusan Chrenek, principal advisor, DG CLIMA, European Commission. Pointing to digital twin initiatives in Rotterdam and Gothenburg, he said: "We would like to support cities to have these digital twins to better model their situation and to help them find new solutions, smart solutions on a city level." 
The COVID-19 crisis has prompted the European Commission to place even greater focus on the Green Deal, its flagship environmental initiative, and the development of digital technologies and solutions, according to Chrenek. He told the webinar that 37% of the EU's €750 billion "next-generation EU" budget will be used for green deal investment and 20% for digital investment. "There will be open calls for projects in the coming years … so really I would recommend to watch two programmes: the Digital Europe programme and Horizon Europe: in both programmes there will be specific activities related to cities and using digital technologies." 
He suggested the Digital Europe programme could provide funds to support the development of a basic model for creating a digital twin of a city, which could be used by municipalities across the region. But this won't be an one-size-fits-all approach. "Of course, afterwards, every city will have to adapt and to find their model and focus on their main problems," Chrenek cautioned. 
At the same time, cities will also need to ensure their citizens are on board with the widespread usage of data analytics and AI.  Aerts stressed that AI systems have to be built around the needs of users to succeed, noting that this is one of six key success factors identified by the working group for AI and health with the Broadband Commission For Sustainable Development, which she chairs. Although there is a widespread consensus around the need to engage citizens in the development of high-tech solutions, van Oosterhout said that, in practice, cities don't tend to do that much in this regard.  
The Erasmus Centre for Data Analytics also believes there is a need for more collaboration between the private sector, the public sector and academia to help start-ups create innovative new services that can improve urban living. Some cities are looking to build these kinds of ecosystems. Amsterdam and Helsinki have jointly published an "algorithm register," which shows all the projects the two cities are working on and the kind of data these projects are using to train machine learning systems.
"We want to be completely transparent because we know using these algorithms will change society and change systems," said Sukel. "I think it's really very important to be open about how you use these technologies especially because it's new and there might be some things that are not correct." In time, Sukel hopes companies will also publish algorithm registers, but he accepted that commercial constraints might make this "tricky".
Even so, a science-style peer review system for algorithms could yield many benefits for all users of AI. It is also important for cities to make their AI systems open source, Sukel added, so "the private sector can pick up all this technologies and expand them globally.  I think that's really the way to go here."