The EU has mobilised fairly quickly, with a good mix of funding for research on the coronavirus pandemic, says Matthias Kleiner, president of the Leibniz Association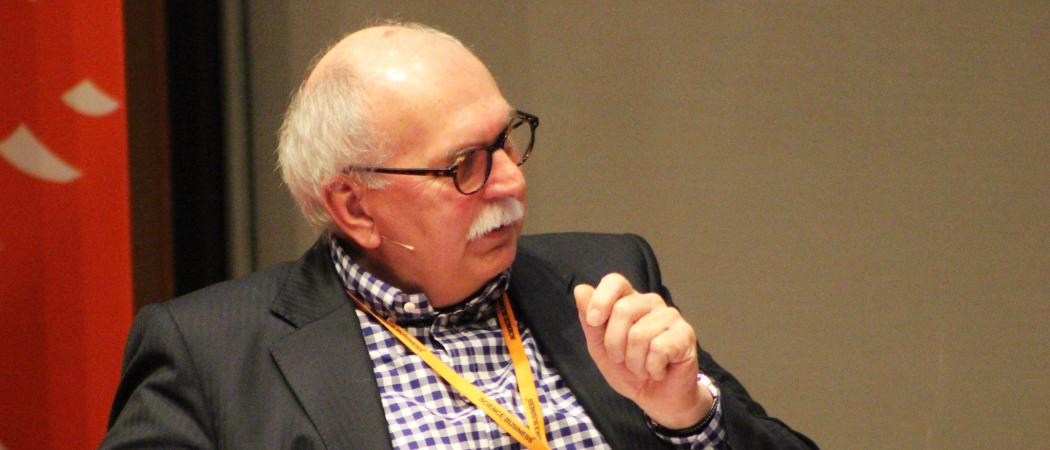 Europe's research community has hit out at claims by the European Research Council (ERC) president Mauro Ferrari that the EU's R&D response to the COVID-19 crisis lacks ambition and coordination.
A growing chorus of politicians, lobbyists and representatives of national research funding agencies say Ferrari's resignation letter reflects more his personal frustrations than the European Commission's response to the health crisis.
Ferrari publicised his decision to quit in a statement released via the Financial Times on Tuesday, two weeks after the ERC Scientific Council had asked for his resignation. Ferrari said the EU has come forward with "a largely uncoordinated cluster of initiatives" to drum up research on COVID-19, the deadly viral infection that is now quickly spreading all over the world. "I have lost faith in the system itself," Ferrari said.
His claims were quickly rebuffed throughout Europe.
Matthias Kleiner, president of the Leibniz Association and former member of the ERC scientific council told Science|Business that Ferrari had little knowledge of European science funding mechanisms. "He was not really well informed about the ERC and its role in [European science]," Kleiner said.
According to Kleiner, the commission has come up fairly quickly with a good mix between topical, top-down funding from Horizon 2020 and the bottom-up ERC funding. "There is so much freedom within funding of ERC so that every project could easily adjust research to [the] corona crisis," said Kleiner.
As it turns out, 50 current ERC-funded projects have direct and indirect relevance to the crisis.
Ferrari did not respond to a request for comment.
When the ERC was working with other EU research bodies and the European Commission to put together an emergency R&D response to COVID-19 in February, Ferrari  "was simply not present, he was in the US," said German MEP and Horizon Europe rapporteur Christian Ehler.
"What we are doing is fairly unconventional and is beyond all we had been doing in terms of reaction time, reallocation of funding and open[ing] up to anyone willing to contribute," Ehler told a Science|Business webcast examining the effect of the COVID-19 crisis on research on Wednesday. "[Ferrari's] accusations are really not true," Ehler said.
Helga Nowotny, professor emerita at ETH Zurich and a former ERC president also defended the work of her former colleagues and of the commission, noting the ERC could not be turned overnight into a top-down, mission-driven agency.
Nowotny also noted there are legal procedures to setting up research funding calls and agencies need to follow guidelines to get them started. "Fundamental research is not something where you can press a button and you get the results immediately," she said.
"The ERC's purpose is not to do what Ferrari wanted it to do, to solve a specific problem, no matter what the problem is," Thomas Jørgensen, senior policy coordinator at the European University Association told Science|Business.
According to Jørgensen, the commission did mobilise funding and already selected projects that are spread across many different areas. "It's fairly interdisciplinary, it was not a random bunch of projects. They are well spread out and seem very coherent," he said.
For many national research funding agencies, the ERC has also become a model for designing calls and organising evaluation panels, and some received the news of Ferrari's resignation with dismay. "We are surprised about what happened," József Györkös, acting director of the Slovenian Research Agency told Science|Business.
Others said the ERC does not need to adjust its mission to fund research on demand. "There are existing and much better suited mechanisms in the EU for challenge-based research in the framework programme," Gergely Böhm, head of international relations at the Hungarian Academy of Sciences told Science|Business.
In a joint statement by the Guild of European Research-Intensive Universities, the leaders of universities of Glasgow, Louvain, Oslo and Uppsala also defended the mission of the ERC and the commission's efforts in switching funding into research against COVID-19. The EU has "mobilised resources quickly and unbureaucratically," the Guild said.
EU funding
In a matter of a few weeks, the European Commission has mobilised €47.5 million from the Horizon 2020 programme for research on the coronavirus. It has already selected 18 research consortia with partners scattered across the EU.
The commission has also stepped in with €80 million loan guarantee from the European Investment Bank for Curevac, to support manufacturing of a COVID-19 vaccine the German biotech is developing. The move followed rumours – denied by the company - that US president Donald Trump was seeking to acquire the company or its vaccine.
Meanwhile, the Innovative Medicines Initiative redirected €45 million of its budget in new public-private projects for drug development relevant to COVID-19. That will be matched by in kind contributions of €45 million from pharma companies.
Another €164 million is being channelled through the European Innovation Council in an urgent call for start-ups and small companies to develop products and services that will help control the pandemic.
But money is not all it takes to develop new drugs and vaccines against COVID-19. Finding the right people and ideas and coming up with appropriate processes for discovery and manufacturing is more important at the moment, said Kleiner. "At this point you cannot push it with more money."
What next?
The vacant post will be occupied temporarily by one of the vice presidents of the ERC scientific council, until the commission finds a replacement.
Whoever the next person is, she or he should be committed to the bottom-up nature of the programme, said Jørgensen. The next ERC president should be "somebody who is very protective of the open nature of the programme, who will not be using [the position] as a political instrument."