---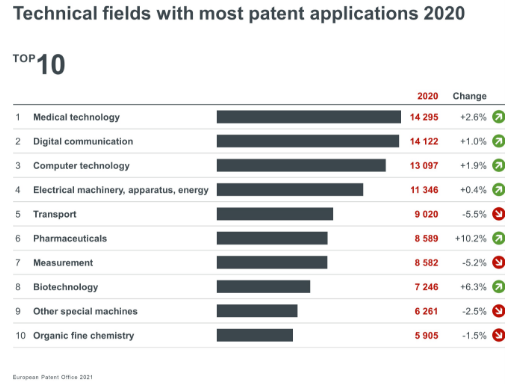 In 2020, patent applications in biotech and pharmaceuticals grew by 6.3% and 10.2% respectively, due to a pandemic-induced increase in research in these fields, according to a new report by the European Patent Office. 
While pharma and biotech were the fastest growing, medical technology was the leading field for inventions in terms of volume. The number of patents in medtech surpassed digital communication to become the technical field with the most patents filed in 2020.
With world travel brought to a near standstill, patents in transport-related technologies fell by 5.5% compared to 2019.
Overall, the number of patent applications filed at EPO in 2020 fell by 0.7%, but China and South Korea filed 9.9% and 9.2% more applications than in 2019.
EPO president António Campinos said the data collected so far does not give a definitive picture of the impact the pandemic is having on patenting and innovation. "While this is a conclusive set of results for the year, it is far from presenting a complete picture of the longer-term effects," he said. "It is innovation, research and science that will lead to a healthier world, and to stronger and more sustainable economies."