EU-Africa clinical research programme has helped prepare a continent that is only too familiar with the ravages of infectious disease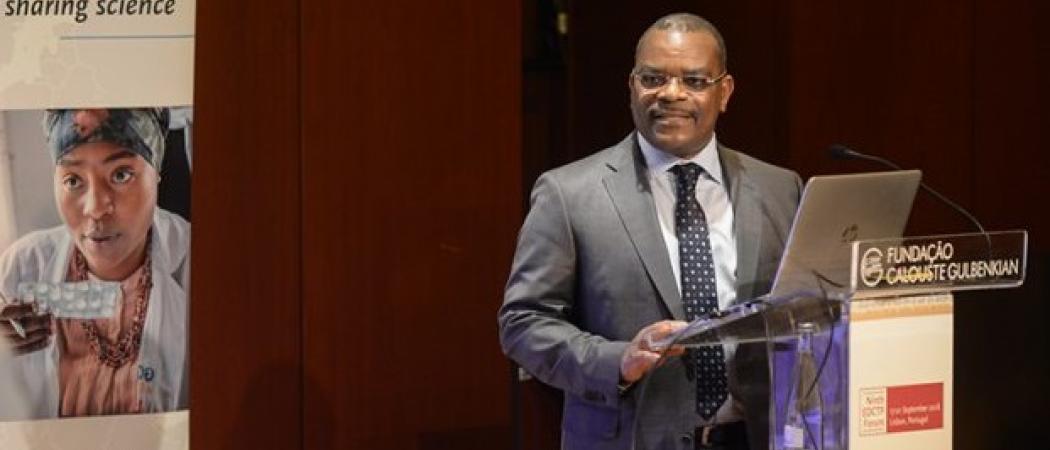 The EU-backed global health partnership, supporting the development of new or improved drugs against HIV, tuberculosis, malaria and other neglected diseases, has to some extent prepared the continent to face COVID-19, says Michael Makanga, director of the programme.
To date, the European and Developing Countries Clinical Trials Partnership (EDCTP) has issued grants to medical researchers in 37 countries in sub-Saharan Africa. Now, the pandemic highlights the importance of the scheme, which has invested over €600 million since 2014.
"When you have a programme that has been systematically developing research capacity across Africa, it can easily be translated into the fight against COVID-19," Makanga said. "Research and clinical trials can build on platforms that have been developed for other diseases, such as HIV, tuberculosis and malaria."
In 54 countries in Africa, there have been important moves to try and contain the virus. In the face of funding constraints, policies have been coordinated and as things stand, effective, with the continent drawing on experience of previous epidemics.
Most recently there is the Ebola outbreak in the Democratic Republic of Congo, which is not quite extinguished. Before that, there was the Ebola epidemic in west Africa, which killed over 11,000 people from 2013 to 2016. These have imparted hard lessons, both in the cost of epidemics and the strategies required to defeat them. 
"Following Ebola, we've invested in a number of research consortia for epidemic preparedness," Makanga told Science|Business. "We didn't anticipate COVID-19, but the investments we've made are now bearing fruit."
Some of the approved drugs being tested against COVID-19 are in use for other diseases, such as malaria, Makanga noted. Previous experiences of infectious diseases has promoted cooperation and trust among clinics and research centres, which now recognise a need to share data and expertise to battle COVID-19.
"Now, when the WHO (World Health Organisation) contacts research centres and asks for help, these contacts are [in place]. You already have a level of confidence and trust existing," he said.
Project disruption
EDCTP mandate covers 17 neglected tropical diseases, lower respiratory tract infections, diarrhoeal diseases and infectious diseases of epidemic potential, such as Ebola, yellow fever, and now, COVID-19.
The programme has 211 projects in progress, including 130 clinical trials, with recruitment in 32 countries in Africa.
As a result of the COVID-19 pandemic, the programme's two offices in the Hague and Cape Town have been forced to shut, though they continue to operate remotely. A research forum planned for October has been postponed to next year. "Our activities have inevitably been disrupted," Makanga said.
Clinical trials currently underway will be followed-up remotely, said Makanga. "There's an ethical and moral obligation to ensure studies are completed properly, and all individuals are looked after well up to the end of these studies," he said.
Clinical trial protocols have been adjusted, allowing doctors and nurses to pick up the phone or use telemedicine services to follow up with patients.
"The disruption may have a cost element. Inevitably, many projects will have to run longer, maybe for six months," Makanga said. This delay, which falls into a grey area in EU research contracts, still has to be resolved.
The programme launched an emergency COVID-19 funding call, targeting sub-Saharan Africa, in April. Almost 150 applications were received from researchers in Africa, Europe, and North America. The European Commission, Sweden, France and the UK are providing the funding.
"We're targeting three areas: therapeutics, diagnostics and studies involving more research into the disease itself. The idea is not to duplicate the vaccine work that is heavily supported by other partners, but to make contributions where we can be effective," Makanga said. "And if we get additional funds, we can fund more."
EDCTP is also working with the Africa Centres for Disease Control and Prevention, to develop relevant skills, providing €5 million to train up to 100 epidemiologists and biostatisticians. The Africa CDC, which only came into being in early 2017, has played a leading role in halting the spread of the virus, and is now working with the WHO and governments to pull together a continent-wide effort to test, trace and treat the virus.
The funding competition in April included other calls, several disease areas and activities besides COVID-19. "We have to make sure attention is not completely lost [for other areas]," said Makanga.
The fear is that COVID-19 overwhelms African healthcare systems, creating a secondary crisis in untreated, non-COVID-19, preventable illnesses.
As resources are switched to fire-fighting the pandemic, there's the very real danger that malaria, TB and HIV infections could rise again, Makanga said. The WHO has warned polio vaccinations for up to 12 million children in Africa will be delayed.
Makanga is worried that the pandemic will expose the lack of resources and imperil millions of Africans who live their lives on the edge. "There is limited capacity in health systems to deal with severe disease. Where capacity exists, it is more focused in urban areas," he said.
"I am less worried about rural areas with limited population movement, and more concerned about the urban poor. These are people living in slum areas; they're in overcrowded environments; their livelihoods are very dependent on day to day earning," he said.
Despite these concerns, Makanga is encouraged that African countries have so far largely escaped the high levels of COVID-19 infection seen in western Europe, Iran, China and the US. It seems things may get worse, with the WHO estimating that 10 million Africans could contract COVID-19 in the next six months.
The future horizon
Makanga, who has been director of EDCTP since 2016, would like to see the programme expanded under the next EU research programme, Horizon Europe, due to start next year.
But for now, talk about the future of EDCTP, currently due to end in 2024, is on hold. "At the moment, focus is completely on the crisis," Makanga said.
EDCTP is in line to get up to €683 million from Horizon 2020, the ongoing EU research programme, but that has to be matched by an equivalent contribution, in cash or in kind, from EU participating states. The majority of funding to date, over two-thirds, has gone to 264 institutions in Africa.
Deutsche Stiftung Weltbevoelkerung, a health advocacy group, has called for the EU contribution to the programme's budget to rise to €1 billion after 2021. Meanwhile, Makanga has called on the European Commission to make it easier for EDCTP to tap diverse funding sources.
Securing matched funding is a big challenge that could become more difficult after Brexit, given the UK is the biggest contributor to the programme.
"But this should be a moment for reflection on how to really strengthen investments the union has made, and that will go on making a valuable contribution," Makanga said.
COVID-19 is an eye-opener for everyone. "It's time to think about increasing research and innovation spend in Africa," said Makanga. "As current events show us, we should consider it an investment rather than an expense."