Prof. Carl-Eric Aubin and his team at TransMedTech Institute rushed to adapt technologies for healthcare workers in as little as three weeks – collaborating internationally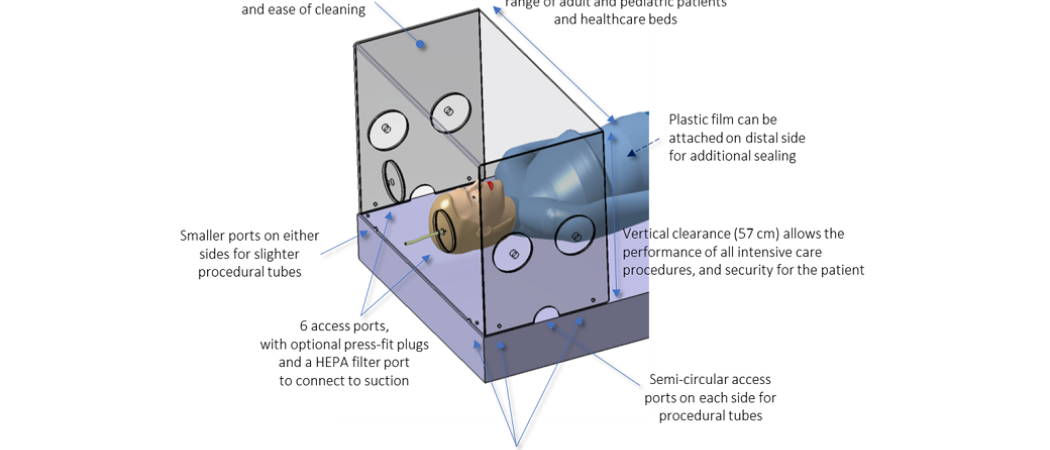 At the Polytechnique Montreal, Carl-Eric Aubin leads an institute on medical technologies – which, since COVID-19 hit, has quickly pivoted to developing personal protective equipment and other tools urgently needed in health centres.
In an edited email exchange with Diane M. Fresquez of Science|Business, he describes some of his TransMedTech Institute's work, and how R&D is a collaborative endeavour, building with and on the work of others to get the best, fastest results possible.
Q. Tell us about some of your COVID-19 medtech projects?
I contributed to the design of a device to protect hospital caregivers from potential viral particles exhaled by COVID-19 patients. For the treatment of severely ill patients with COVID-19, medical procedures, such as non-invasive ventilation, contribute to the risk of infection among caregivers via aerosols - tiny airborne particles that may contain pathogens, such as viruses.  
When the crisis hit, to minimise the exposure of healthcare workers as quickly as possible, we built on the work of an anaesthesiologist in Taiwan's Mennonite Christian Hospital, Hsien Yung Lai. He had developed a containment box to be placed over the patient's head, with circular access ports on the front.  This invention has been used by hospitals around the world for airway management of patients with COVID-19. 

Name/Title:  Carl-Eric Aubin, professor and institute CEO and CSO
Institution: Montreal TransMedTech Institute at Polytechnique Montreal and Sainte-Justine University Hospital Center, Canada
Area of COVID-19 research: medical technologies
Key funders: Canada First Research Excellence Funds, Fonds de Recherche du Québec, Natural Sciences and Engineering Research Council of Canada
Links: www.polymtl.ca/transmedtech/en 
www.linkedin.com/in/carlericaubin/?locale=en_US 
In Montreal, our interdisciplinary team developed an improved version called SplashGuard-CG. It contains many features suitable for most procedures in intensive care, emergency rooms and operating rooms. From the need for such a device, as expressed by intensive care physician Philippe Jouvet, to the first prototype used in a hospital setting (including design, disinfection modalities, biomedical engineering endorsements, and training material), it took us less than three weeks with the close collaboration of a dedicated interdisciplinary team at Sainte-Justine University Hospital Center. SplashGuard-CG has been made open access and is so far being used in hospitals in Canada and Japan. Additional clinical and experimental studies are ongoing to further validate it.
This is one of about 15 projects we, at TransMedTech Institute, have quickly launched and catalysed since the beginning of the pandemic. Other projects supported by TransMedTech Institute include implementing different technological solutions to disinfect and reuse N95 masks – for instance, looking at treating them with ultraviolet light or a vapor of oxygen peroxide, in close collaboration with the Quebec National Institute of Public Health and other partnering institutions.  We developed a tool to adjust the metal straps that hold the mask on – a surprisingly common problem. We are also developing new technologies for screening saliva samples for COVID-19.
Q. Explain the broader programme at your centre
Our COVID-19 work is representative of how we operate: all of those ideas came from our regular contacts with health workers and others who actually use the equipment, and pin-pointed for us a range of seemingly narrow but, in reality, urgent and important problems.
Generally, Montreal TransMedTech Institute's mission is to support, facilitate, and accelerate the development of next-generation medical technologies for important complex diseases such as cardiovascular, neuro-musculoskeletal, cancers and now COVID-19, as well as transfer and implement them efficiently in the health system and industry. Our strategy is based on an open-innovation "Living Lab" approach, focused on users and their needs. 
The institute was established at the end of 2016 after a C$35.6 million (€23 million) grant from the Canada First Research Excellence Funds and C$60 million contributions from the Government of Quebec (Ministry of Economy and Innovation, and Fonds de Recherche du Québec), as well as from the supporting institutions and their foundations such as the Polytechnique Montréal. There are 160 scientists and students, seven new chairs, 36 highly qualified professionals and some 60 key partners. Now, we are developing business models to make our institute permanent at the end of the major eight-year grant in which we were established. We are open to opportunities for structuring partnerships.
Q. What is it like for you to work under lockdown?
Several administrative procedures have been relaxed to facilitate COVID-19 projects. Some institutions have opened their funding competitions to others. The majority agreed to make their methods and results openly available, without claiming intellectual property rights. Also, as everyone mobilised around the cause, it was easier to access platforms and expertise, and there were consistent approaches towards the same goal. This is unprecedented. I hope we can use these experiences to reshape the future.
Q. What has happened to the research you were working on before COVID-19?
I also lead two research chairs, in spine biomechanics and orthopaedic engineering. Since the beginning of the pandemic, graduate students and research staff have organized themselves quickly and nimbly to work remotely. We have been able to maintain our focus on our research objectives, and have even increased the number of publications.
Q. What do you advise governments do, to prepare for future emergencies?
A health system that can rely on a well-structured, dynamic and established network of universities, hospitals, entrepreneurs, and industrial partners, who are collaborating together, is essential to innovate, meet the needs and address future challenges of the health system.