Medical biotech start-ups are thriving in Poland thanks to abundant EU funding, but structural weaknesses are making it difficult for them to grow and mature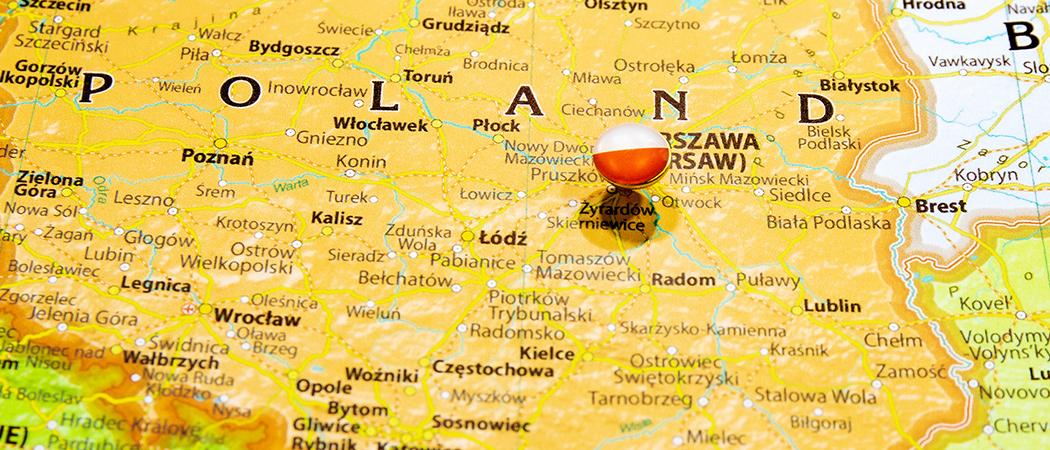 Medical biotech in Poland is having a Goldilocks moment. Its companies are hot enough to drive a significant local ecosystem, but not so numerous that competition for public cash or talent is cut-throat.
Yet there is also room for improvement, with the coverage and management of public funding seen as flawed, smart private investment scarce, academic researchers often out of synch with commercial needs and a shortage of the clinical development and regulatory skills that are needed to take drugs through to the market.
"Despite making considerable progress, the challenges we face are often the same as they were a decade ago," said Krzysztof Brzozka, chief scientific officer of Ryvu Therapeutics. "First of all there is funding, not only private funding but funding from the public agencies. Then, being able to hire people who see themselves in the business sector, and who have a business track record beyond their academic experience."
Marcin Szumowski, chief executive of Molecure agreed. "We are not yet close to reaching critical mass in terms of the sector in Poland, but it is growing quite dynamically," he said "The companies are getting bigger, and there has been more revenue generation than in the past, both in terms of the number of deals and their value. That shows companies now know better how to sell their research."
Ryvu and Molecure are both veterans of the Polish biotech scene. Molecure was founded in 2012 as OncoArendi Therapeutics, while Ryvu has its roots in Selvita, a company formed in 2007 to carry out contract research and drug development. In 2019 the company split, with contract research continuing under the Selvita banner, while Ryvu took forward the drug development.
Flawed public funding
The engine of the biotech ecosystem in Poland is EU funding, distributed through national agencies including the National Centre for Research and Development (NCBR), the Polish Agency for Enterprise Development (PARP), and the Medical Research Agency (ABM). While this public finance is relatively abundant, there is dissatisfaction with how it is managed.
"New agencies have been created that have little experience, and they are making things extremely bureaucratic," Szumowski said. "There are a lot of barriers for small companies [which] want to benefit from that kind of financing, and we are not able to have a scientific and business-critical review, because of a lack of competent reviewers."
This is partly because of aggressive measures to rule out conflicts of interest. "In the past, people from industry and who have done research in specific areas were allowed to evaluate projects, but now they are generally ruled out," said Szumowski. Those experts who are eligible are then offered scant remuneration, which weakens the system even further.
An additional criticism is that this public money is inflexible, setting not only the goals for projects but how they should be achieved. This gives companies little room to respond to developments. "So, this is the bad side of the good side; there is a lot of money, but it is not easy to use, and it is not always used for projects that make sense," Szumowski said.
There is also a significant gap in public funding when it comes to translational research, between basic science and clinical development. "There is a gap where creative work needs to take place on target identification, first hit identification, and new technology development," said Brzozka. "This funding is limited, or anchored to the other stages. It is not specific funding that allows us to reach certain value inflection points, scientifically, medically and from the business perspective."
Academic disconnect
This translational research gap is exacerbated by a disconnect between academia and industry. Elsewhere in Europe there are good examples to show what such partnerships can achieve, but these are lacking in Poland. "The work required to change attitudes on both sides, to really encourage collaboration and get the resulting synergies, is much bigger in Poland," Brzozka said.
For Joanna Lipner, managing director of Pikralida, a biotech founded in 2019, "The level of understanding of drug discovery and development processes in academia has improved, but it is changing very slowly." Problems range from a general lack of appreciation that good ideas should be commercialised, to practical problems with documentation, and study designs that lack the outputs required to move research from the lab to the clinic.
That said, one of the advantages of the Polish ecosystem is that university labs are now very well equipped, thanks to EU funds. "Now you can have almost any chemistry analysis done rapidly and to a high quality by a university, and that was not the case ten years ago," Lipner said.
What is needed, Brzozka thinks, is an initiative that brings the two sides together. "Such an initiative would combine the existing capabilities of academic institutions and the biotech sector, it would bring them together around a joint goal, and in the process give them an opportunity to get to know each other better."
Passive private funding
Another drawback of Poland's public funding system is that the grants typically cover only 60-80% of project costs, with companies required to come up with the rest from private sources. In return for topping up a grant in this way, local investors demand a share of the company. With little expertise of their own to evaluate biotech companies, private funds effectively defer to the granting agencies. "Private funds or investors will take a look at how many grants you have, and their value, and that is how they value your company," said Stanislaw Pikul, president of Pikralida.
A more serious consequence of this dependent relationship is that any uncertainty in public funding is mirrored in private investment. This is the case at present, with most public programmes set to end in 2023. "The whole market is essentially shutting down at the end of 2023," Pikul says. "Everybody is waiting for proposal calls within 2021-27 EU perspective, but nothing significant has been announced. And that, together with the war next door and the general biotech market downturn, adds another reason for investors to hesitate."
While some Polish funds invest in biotech, the country lacks specialist venture capital happy to invest over the timescales needed in medical biotech. "I think there should be some sector-specific incentives through the government, otherwise investors will shy away from biotech right now." Szumowski said.
Brzozka agreed. "What needs to emerge in Poland is an understanding that the basic research required to establish a biotech company requires substantially more effort and more R&D input than in other industries."
As for international investors, the geopolitical situation is a disincentive. "We are seen as too close to the conflict zone, and the zloty has been very weak. The valuation of Polish companies has fallen so low that the larger western funds don't consider investing," said Szumowski.
Polish companies can attract international backing, but may have to step out of Poland to do so. In 2016, Selvita did a deal with the Anglo-American venture capital firm Edinburgh-based Epidarex Capital to spin out inflammation research into a separate company, Nodthera. Epidarex put in £3 million in seed funding at that point. Nodthera has since raised $95 million in two funding rounds and is now headquartered in Lexington, Massachusetts, with research labs in Cambridge, UK.
"If we had spun this out in Poland, I don't think the company would be as successful as it is now," Brzozka said. "That's down to the amount of funding we could raise, and the experience of employees and of management that such an Anglo-American company could attract." The situation would likely be the same today.
Finding experience and space
When it comes to the biotech workforce, Poland again has pros and cons. "We benefit from access to a qualified and motivated workforce, in early stage discovery and scientific research," said Szumowski. "This is clearly an advantage compared to more advanced ecosystems where there are thousands of companies."
These people come from academia directly, or with some industry experience, most of the time from Poland, but increasingly after working abroad. There are, however, shortages in some roles. "It is difficult to recruit experts in later stage drug development, such as regulatory, safety, and people with experience of clinical development of new drugs," Szumowski said.
Lipner agreed. "You can find good chemists and biologists in Poland, although it's harder to find people with real experience in drug discovery and development. But the group of experts and leaders is also enlarging, so you can quite easily build a group dedicated to drug discovery and development."
Hybrid solutions are becoming more common. Molecure's chief medical officer, for example, spends a third of his time in Warsaw, and two thirds working remotely from Germany. And at Ryvu, the remote working required during the pandemic has been adopted as permanent. "Moving our working practice to a more virtual, remote style has allowed us to tap into a completely different pool of experienced scientists and managers that otherwise we would not have had access to," Brzozka said.
The final persistent problem is the lack of high-quality laboratory space for biotech start-ups, particularly in Warsaw. "Companies are fighting for every inch of lab space and office space," said Szumowski. Universities can sometimes sub-let space, but they often have restrictions on hosting commercial activities, which covers much biotech research. "Some companies have built their own facilities, but if you want to focus on research rather than getting involved in a three-year building project, you have nowhere to go."
This has been a problem for more than a decade, with none of the possible answers proposed ever bearing fruit. "Although there are many biotech companies in Warsaw, the city has never developed its own biotech hub or dedicated incubator," said Pikul. New lab space occasionally opens up at the city's universities, but is hotly contested by academics as well as companies.
Space is less scarce in other Polish cities. Pikralida has two sites, one in Poznan and one in Warsaw, and at the end of 2021 was able to move its headquarters and some R&D to the Adam Mickiewicz University in Poznan. But it would still like to expand in Warsaw. "We are having a hard time finding anything," said Pikul. "We would like to hire more people, but we cannot do so at the moment for lack of space."
Ryvu solved the infrastructure issue by building a new facility in Kraków, which it moved into two years ago. "We hope to build a Polish Kendall Square here," Brzozka said, referring to the biotech cluster in Cambridge, Massachusetts. "We have Ryvu and Selvita, there is the Jagiellonian University, the Solaris synchrotron, and a number of other participants, so the prospects are good."
Elsewhere in the Ecosystem…
ETH spin out Planted has raised CHF70 million (€72 million) in series B funding to advance development of its vegan 'meat' products. The company uses a combination of protein structuring and fermentation to produce meat from vegetable proteins, such as peas, oats and sunflower seeds.
The EU has opened an office in San Francisco, with the aim of reinforcing its digital diplomacy and outreach on technological cooperation. The office will seek to promote EU standards and technologies, along with its digital policies, regulations and governance models, and to strengthen cooperation with US stakeholders. Initially sharing space with the Irish Consulate, the office is headed by Gerard de Graaf, a Commission veteran most recently involved with the digital services and digital markets acts.
The European Investment Fund has put €25 million into the Berlin-based Green Generation fund, which invests in start-ups that reduce carbon emissions from the agricultural and food sectors. The fund is particularly interested in plant-based protein production to replace factory farming, CO2 avoidance, resource protection and health.