The EU wants to become an innovation powerhouse. The heads of 33 'unicorn' tech companies have drawn up an eight step plan for getting there and called for funding to put it into action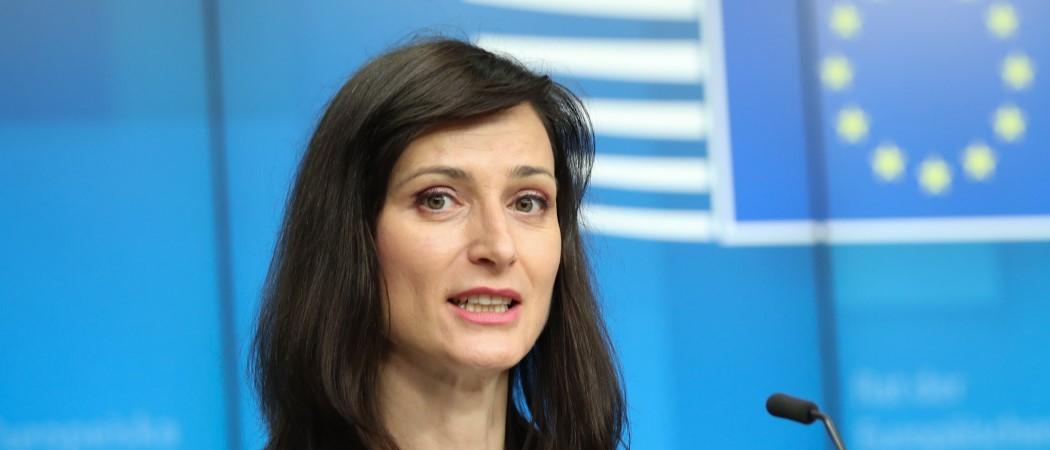 Leaders of EU unicorns, start-ups worth over €1 billion, have compiled an eight step to-do list for the European Commission on how to get Europe to the forefront of innovation.
The list, 'Next Innovation EU', handed to research commissioner Mariya Gabriel yesterday, includes a proposal for a €100 billion technology sovereignty fund, scaling up of public procurement and a pact for all EU start-ups to become carbon neutral by 2030.
"Historically, it was US and China leading the way, but we strongly believe that the EU can become an innovation leader on a global scale," said Anastasija Oleinika, CEO of Latvian fintech Twino.
The CEOs are not the first to call for drastic measures to boost innovation in the EU. Back in 2015, former EU research commission Carlos Moedas proposed an EU-run venture fund for start-ups to enable Europe to grow its own independent tech companies. The idea eventually materialised as the European Innovation Council (EIC), a €10 billion fund formally launched last month that offers grants and equity investments to promising start-ups.
Last month, French President Emmanuel Macron invited more than 150 entrepreneurs, researchers, investors, companies and politicians to drum up ideas for forming more high-growth companies in Europe. The group hopes to produce a series of policy recommendation for European leaders, to be presented during the French presidency of the EU in 2022.
Last year, venture capital investor and vice chair of the EIC advisory board, Hermann Hauser, also called for a €100 billion technology sovereignty fund to give Europe the firepower to keep pace with China and the US in the technology race. "Unless we do this, we will become even more dependent on [those] two countries than before," he told Science|Business in November.
Awkward timing
Gabriel shares the hopes of turning Europe into an innovation powerhouse and has been more and more vocal about innovation, reviving the idea of creating a European Innovation Area, a single market for innovation in the EU.
But the calls and recommendations come at an awkward time, given the EU is embarking on delivering its next seven-year research and innovation programme, Horizon Europe. The programme is now set in stone and there is no cash to spare for ambitious new instruments.
This does not mean the unicorn CEOs' report will be ignored, Gabriel assured them. The first job will be deciding what is achievable and then "building on synergies with existing instruments."
The commissioner did not rule out any proposals, including the €100 billion technology sovereignty fund. "Every proposal will be analysed by my services with the greatest care and the greatest ambition because […] we have to change the way we see and support innovation if we are to succeed," Gabriel told the CEOs.
The report is only the first step in what Gabriel hopes will be 'a continuous process'. Next, while the Commission mulls over the proposal, she wants the CEOs of Europe's leading unicorns to map out existing initiatives and see how synergies between the instruments could be exploited.
Proposals
Sovereign EU Tech Fund - The fund should use EU funding to leverage at least €100 billion in public and private funding, according to the proposal. It should have a long-term, equity-based focus with a commercial, profit-oriented model. "We as Europeans should care about the upwards scalability of our companies, lest our crown jewels be bought by American or Asian money before they have the chance to evolve into global players," Gianpiero Lotito, CEO of FacilityLive, a European search platform, told the Commissioner.
Scaled up public procurement - Europe is strong in research and development but there are few commercialisation opportunities for new technologies. The unicorns want the public sector, which makes up 14% of the EU market, to drive more innovation procurement. To do this, they propose  the Commission and member states should set up a platform and provide substantial funding for the procurement of innovative technologies. "The public sector needs to work as a catalyst," said Taavi Madiberk, the CEO of ultracapacitor developer and manufacturer, Skeleton Technologies. "Innovation needs to be in the DNA of public procurement."
Sovereign EU Green Tech Fund - Another €10 billion fund should support green start-ups and scale-ups. The fund should offer diverse and tailored funding, matching a company's life stage and the technology readiness level of its products, and provide equity investments, grants, convertible loans, subsidised loans, and revenue sharing models.
Climate pact - European start-ups that have more than 50 employees should commit to becoming fully carbon neutral by 2030, to lead Europe in its green transition. This can be done by developing products and services in a more sustainable way by design, or at least by compensating for carbon footprints in the European carbon voluntary market, said Martin Vilig, CEO of Bolt, an Estonian mobility platform.
Scaled up IPCEI framework for deep tech - The framework for Important Projects of Common European Interest (IPCEIs) enables large cross-border European projects by allowing member states to co-invest under the state aid rules. The unicorn leaders want to use the IPCEI blueprint for batteries that are needed to scale up technologies including quantum computing, 6G wireless networks and green hydrogen.
EU Blue Card 2.0 - To have a vibrant innovation ecosystem, the EU needs to attract more talent from abroad. Today, applying for a visa for talent though the EU Blue Card programme takes up the 90 days. The unicorn CEOs want applications to be processed within a week. For this, the EU should earmark money for member states to upgrade their immigration processes. While they are at it, the Commission should also review some of the criteria for securing the Blue Card, such as the requirement to have a university degree, the proposal suggests.
Small Valleys - Europe cannot recreate Silicon Valley, but it has numerous smaller valleys of excellence. The EU should take advantage of places where universities, start-up clusters and local authorities are within walking distance from one another. Here, the CEOs hope member states can exploit the €750 billion EU recovery fund, to channel investment and resources to pockets of excellence that are able to produce leading innovations.
Pan-EU sandboxes - The CEOs want innovators to have a frictionless way to access the EU market. Right now, it can take over a year for a company to get approval from various regulators in different EU countries to test prototypes. "Often, this means a death sentence for your ideas," said Martins Valters, co-founder and chief financial officer at Mintos, a marketplace for investing in loans. A Pan-EU sandbox would be a one stop-shop where a company would apply for approval and would be automatically eligible to offer products and services throughout the EU market.