The EU wants its first defence R&D project to strengthen its strategic autonomy and says military research will spur civilian innovation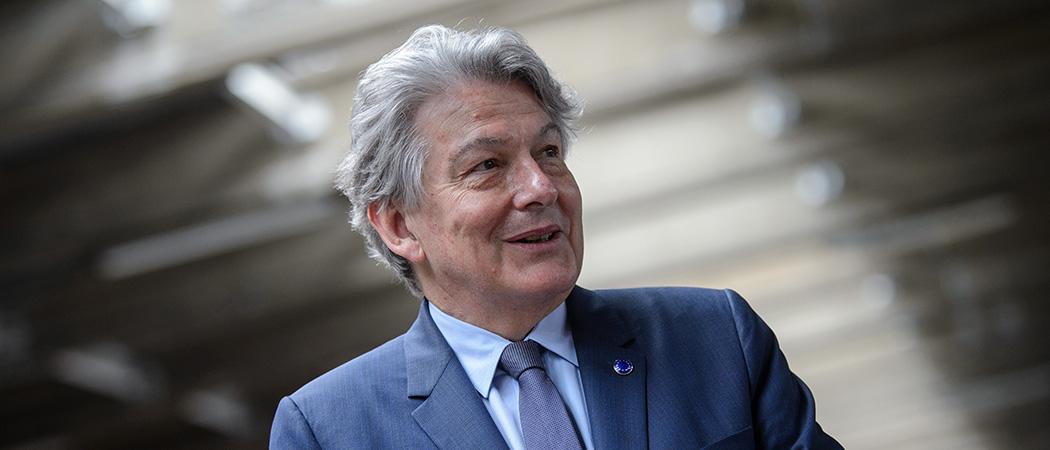 The European Commission kicked off its €7.9 billion European Defence Fund (EDF) on Wednesday, opening 23 calls worth €1.2 billion for collaborative defence R&D projects.
The Commission and member states hope the programme will reduce EU dependence on technologies from outside the bloc, a wish that is rippling through all of EU's policies, especially research and innovation.
"I think [the defence fund] has been well designed to reinforce the move towards EU strategic autonomy, by fostering competitiveness and innovation," said Portugal's defence minister João Gomes Cravinho.
Policy makers and lobbyists in Brussels want to explicitly limit access for scientists in countries that flout academic freedom and intellectual property rights, while the Commission says in future it will base its rules for international scientific cooperation on the principle of "open strategic autonomy."
Researchers remain largely in favour of international R&D cooperation, but they do want limitations to be applied to countries that could take advantage of open access to EU programmes to spy on sensitive technologies for economic and military gains.
The EDF is the first EU programme to finance common defence-related R&D projects. It builds on previous work by the preparatory action on Defence Research programme launched in 2017 with a budget of €90 million for two years, followed by the European Defence Industry Development programme (EDIDP) which had a budget of €500 million for 2019 and 2020.
"In 2021 alone, the EDF will finance up to EUR €1.2billion in high-end defence capability projects such as the next generation of aircraft fighters, tanks or ships, as well as critical defence technologies such as military cloud, AI, semiconductors, space, cyber or medical counter measures," said Thierry Breton, commissioner for Internal Market.
The Commission has also announced 26 winning projects worth €158 million out of a call for applications organised under the umbrella the EDF's precursor fund.
Flexing geopolitical muscles
The new defence fund is part of a broader strategy by the EU to flex its geopolitical influence in the world and to cover gaps in EU's defence system left exposed by the US during the administration of Donald Trump after he put pressure on EU member states to increase their defence budgets to 2% of their GDP. With Joe Biden in the White House, the US is taking up once again its leading role in the North Atlantic Treaty Organisation (NATO).
"Without putting into question historic alliances, Europe can no longer be constrained by choices and decisions made by others," said Breton. "With the European Defence Fund, Europe is definitely taking its destiny in its own hands."
The programme will finance the development of high-risk, disruptive technologies, without which the cannot aspire to be a major player in a strategic domain that can also have a very big impact on the civilian economy.
Of the total budget, 8% will be allocated to the development of disruptive technologies with both military and civilian applications. "These disruptive technologies and innovative equipment will be extremely important for our competitivity in the coming years and decades," said Romanian MEP Cristian Bușoi, the chair of the European Parliament's research and industry committee.
According to Bușoi, the European defence industry is among the most technologically advanced in the world and it accounts for about 20% of the global defence revenue. But Europe is a lagging in the global share of equipment exports, while industrial cooperation remains, and member states often unnecessarily duplicate their work. "Despite recent efforts initiatives and collaboration, despite recent increases in defence overheads, defence research spending was declining," he said.
The Commission says the EDF budget represents only 13.5% of the entire defence R&D in the US. EU policymakers had planned to allocate €13 billion euro to the fund, but the proposal had to be trimmed to only €7.9 billion after tense budget negotiations last year
However, the Commission and member states say the budget is enough to help the EU leverage from industry partners and member states up to €40 billion in investments. They hope the programme will prove its worth for both military and civilian applications and it will secure a higher budget in the next budgetary cycle.
"If one looks at where we were some years ago and where we are now, this is an extraordinary change, and it is a signal that Europe is taking its defence and its strategic interests, seriously," said Carvinho.
What's in the programme?
In its first year, the EDF will co-finance projects worth €1.2 billion, thanks to a top-up of €290 million from the 2022 budget. The Commission says the boost will kick-start large-scale and projects for developing the EU's defence capability.
The EDF will allocate €700 million to complex defence systems such as next generation fighter systems or ground vehicles fleet, digital and modular ships, and ballistic missile defence.
Around €100 million will be dedicated to artificial intelligence and cloud for military operations, semiconductors in the field of infrared and radiofrequency components.
The EDF will also increase synergies with other civilian EU policies and programmes. It will allocate €50 million for space projects, €70 million for medical response, and €100 million for cybersecurity.
More than €120 million will be allocated to disruptive technologies and specific open calls for SMEs, to foster innovations in quantum technologies, additive manufacturing and over the horizon radar.