Efforts to boost European science and technology have taken on a new, geopolitical tone. What are these new policies? How do they affect global R&D? And will they help or hinder progress in Europe – and beyond?
A special Science|Business news report, with guest opinions, explains it all – for companies, universities, and other research organisations across the globe
---
Buy the PDF report - €35.00
(Belgian VAT non incl.)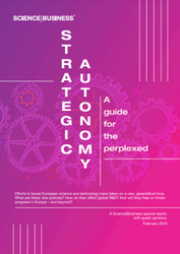 €35.00
Across the globe, geopolitical walls are going up. There are many reasons: war, pandemic, supply chain disruption, resource shortages, immigration curbs and, in many countries, rising xenophobia and nationalism. It affects nearly every country, nearly every economic sector.
But science and technology have been hit particularly hard. Longstanding university ties, between Russia and Sweden, Japan and China, have been sundered. Chinese student enrolments in the US are down, and the US has banned export of its chip technologies to China. Even old friends and allies – Europe and the US – are eyeing each other suspiciously. Both have massive domestic chip projects. Both have even bigger green tech programmes. And both are keeping the other at arm's length, as they work to develop what the Europeans have come to call "strategic autonomy."
That term, strategic autonomy, is the policy meme of our age. It's referenced in hundreds of official documents and speeches across Europe. But what does it mean? Whom does it affect? Can it work?
This guide from Science|Business is intended to explain and analyse this policy trend, so important for science and technology today. The first part is a factual overview, provided by Science|Business international editor David Matthews in Berlin, who has been reporting on this trend for our regular news service (www.sciencebusiness.net). The second part goes a step further, offering six opinions on the trend from various experts around the world.
Table of Contents – 36 pages
What is strategic autonomy, anyway? A journalist's view

A news timeline

Strategic autonomy: feasible, desirable or affordable? A sampling of expert opinion

Maria da Graça Carvalho, Member, European Parliament

Yuko Harayama, Co-chair, Japanese Association for the Advancement of Science

Chris M. Haenen, Executive Government Relations, GE Aerospace

Charles Wessner, adjunct professor for science, technology and international affairs, Georgetown University

Luc Soete, emeritus professor of international economics, and former rector magnificus, Maastricht University

Bruce Guile, leader of Applied Research Consortia (ARC) Project, an initiative of Fraunhofer USA
/system/files/reports/STRATEGIC%20AUTONOMY-WEB.pdf