The final conference report sponsored by the CAROTS Project
---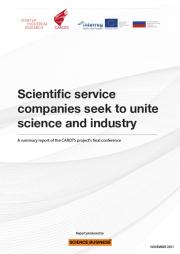 Supported by Carots

Europe boasts some of the world's most important scientific infrastructures. As well as putting Europe at the forefront of scientific research, these resources could enhance the competitiveness of European industries, such as petrochemicals and pharmaceuticals.
In recent decades, specialised businesses have grown up around these facilities, providing highlytargeted scientific services to industry. Scientific service companies (SSCs) aim to provide a bridge between the precise measurements and rigorous analysis of the scientific world and the product and service innovation of the industrial world. SSCs tend to be located in the immediate vicinity of the scientific infrastructures they focus on, forming part of a local economy with groundbreaking science at the centre. At the same time, they help solve industrial problems by transferring knowledge to less innovative regions in Europe and beyond and getting new ideas onto the market faster, as well as creating revenue for advanced scientific infrastructure.
As SSCs are little-known, Europe may not be realising their potential to quickly transfer basic science research into the market. And because of SSCs' strong link to scientific infrastructures, businesses in some regions of Europe enjoy better access to SSCs than in others.
Funded by the EU's regional development fund (Interreg Baltic Sea Region) and the Russian government, the CAROTS project aims to build support networks for SSCs, while helping new SSCs get off the ground and reach new industrial clients throughout Europe.
On 21 September, CAROTS participants presented the results of their work in an online conference organised with Science|Business. The event showcased examples of how SSCs have helped industrial clients make breakthroughs: turning waste products into synthetic fuel, and solving errors in pharmaceutical production. CAROTS also presented the success stories of its start-up school, which coaches scientific entrepreneurs in how to found their own SSCs. Guests from the European Commission and from industry also contributed to a discussion of how SSCs could fill gaps in Europe's innovation ecosystem and help make the European Research Area a reality, especially in underserved regions.
/system/files/reports/SCIENCE_AND_INDUSTRY.pdf