Guiding the path to innovation
---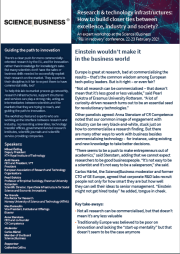 There's a clear push for more commercially-oriented research by the EU, and for innovation rather than knowledge for knowledge's sake. But many scientists don't have the sales or business skills needed to successfully exploit their research on the market. They experts in their discipline; is it fair to expect them to have commercial skills, too?
To help this lab-to-market process go smoothly, research infrastructures, support structures and services can play a strong role, acting as intermediaries between scientists and the markets that they are trying to reach, and guiding the path to innovation.
The workshop featured experts who are working at the interface between research and industry, representing universities, technology transfer offices, government-funded research institutes, scientific journals and scientific service-providing companies.
/system/files/reports/010-R%26T%20INFRASTRUCTURE.pdf