In October 2016, the Science|Network of universities, companies and innovation organisations gathered in Brussels to debate the future of EU R&D programmes. The result: A profusion of ideas, recommendations and warnings for the future of EU research and innovation.
---
Buy the PDF report - € (unset)
(Belgian VAT non incl.)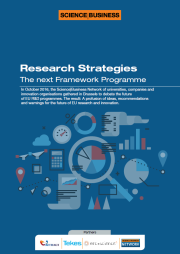 Should military and cleantech R&D get higher priority than before? (The start of FP9 may coincide with the second half of a Donald Trump presidency, after all). What's more important: Getting more breakthroughs from top (and usually rich) universities or developing more research and engineering talent in poorer regions? What about fighting the creeping danger of antimicrobial resistance, or other global health problems? And where will the cutting edge tech of the future – such as geneediting, big data and artificial intelligence – fit in the agenda?

These were just some of the issues being discussed now by members of the Science|Business Network, uniting more than 50 universities, companies and innovation organisations across the EU. The kick-off for these ongoing reflections was at a Science|Business conference, Research Strategies: Europe 2030 and the next Framework Programme', on 12 October 2016. At that conference, a series of foresight experts for the Commission presented their vision – utopia or dystopia – of the challenges for research and innovation for the decades ahead. And in a series of workshops, attendees debated these scenarios and the best possible policy responses. The 250 participants were, in themselves, experts from every possible field and sector across Europe. At the plenary sessions, they were joined by more than 2,000 online viewers.

This report distills that day's work into a set of suggestions for the next Framework Programme. They do not represent official policy in any way: They are simply a summary of frequently heard ideas from participants at the conference. A more formal, considered view of the Science|Business Network will come during 2017. But for now, these suggestions are offered as a kind of instant public consultation at this very early stage of Framework planning.
/system/files/reports/Research-Strategies-The-next-Framework-Programme.pdf