The EU is now planning its biggest-ever R&D programme. Science|Business, drawing on its independent news coverage, takes you through what it's all about, so you can start preparing  
---
Buy the PDF report - € (unset)
(Belgian VAT non incl.)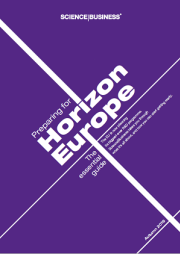 This report has 116 pages. 
Print copies
This report is also available in print for €75+VAT in Europe, €85+VAT rest of world. Print copies will be delivered within 10 days.
You can place your order at [email protected]
About the report
Around the world, research and development matter more than ever. In the past 15 years, global R&D spending has more than doubled, past $1.85 trillion, according to UNESCO. The number of full-time researchers has tripled, to 14.5 million. The results are in our faces every day: social media, new medicines, wind turbines and much more. So too are the social and economic impacts, from destabilising Twitter tirades to longer life expectancies.
With all this money and effort has come a massive change in the way we do science and technology – and the European Union's huge R&D programmes are an important part of that. They have taken a policy idea – that Europe will be stronger and more peaceful if its people trade and work together – and turned it into a financial engine that drives labs in thousands of universities, multinationals and start-up companies across Europe. Today, we worry that these ties may be fraying for a host of political reasons. But if they hold firm, no small reason will be the fact that a tech job in Munich now depends on continued good relations with a lab in Barcelona and a customer in Manchester. And this geopolitical impact of Horizon will soon expand internationally, with the EU planning new R&D deals with Canada, Japan and other tech powers far from Brussels.
That's the big picture of Horizon. The daily reality is more basic: universities, companies and public labs across Europe now depend on this programme. As a result, even though legislation for the next edition, Horizon Europe, isn't yet finished, thousands of research committees and strategy meetings across the continent have already begun poring over the programme's likely details: who can join, under what terms, on what topics, with what return. Many are already planning new R&D projects and partnerships.
Science|Business, a Brussels-based media and communications company specialised in R&D policy, has been following all these developments in its highly regarded online news service.  In this 116-page  publication, we combine our analysis and coverage of Horizon Europe to help you prepare for the start of the programme on 1 January 2021.
Table of contents
1. What's in Horizon Europe?
An overview of the content of the programme

The structure of horizon Europe

Pillar I: Excellent science

Pillar II: Global challenges and European industrial competitiveness

Pillar III: Innovative Europe

Part 4: Widening participation and strengthening the European research area
2. Missions and partnerships
What's a mission?

News: How the missions should be run

News: Who's who on the mission boards

Focus: Imagining a mission on cancer

What's a partnership?

What will the partnership topics be?

News: EU member states put 9 new partnership ideas on the table

Focus: Semiconductor industry seeks greater horizon support

Focus: Above us only (a single European) sky

Preliminary list of candidates for European partnerships
3. Horizon Europe's funding agencies
The European Innovation Council

News: Ireland's chief scientist: 'we need to be brave'

News: Can the EU become a hot-shot tech investor?

News: A look at some of the EIC pilot grantees

The European Research Council

News: Top ERC official retires, citing 'controversial' changes

News: Angela Merkel made private appeal to support ERC

News: Commission appoints nanoscientist as new ERC president

News: EU research funds disappear into a black hole

News: ERC makes move to promote commercialisation

The European institute of innovation and technology

News: Barcelona, Greek university to lead new EIT network
4. East vs. west and Horizon politics
'It's about the respect'

News: Croatia wants EU to take brain drain 'more seriously'

Focus: Time to narrow the performance gap in EU

Focus: East favours cohesion over research in next budget
5. Open to the world?
News: EU promises 'flexible' deals for foreign partners

Focus: What the world wants from Horizon Europe

News: 'A loss for both sides' if swiss excluded

News: Canada circles Horizon Europe

News: Paquet pitches Horizon Europe to Australia

News: Japan and the EU: to the moon together?

Focus: A brief reminder of how Brexit will affect EU and UK science

News: Delay in talks for non-EU countries wanting to join
6. The practical details: How to join
Who can participate?

How to apply

How are grants awarded?

What's covered?
7. Who will steer Horizon Europe into port?
News: Friend to bees and techies: the EU's new horizon chief

News: EU research department aims to break bureaucratic silos

Meet the new faces of the European parliament's research committee

Viewpoint: 'We are afraid of our own champions'
/system/files/reports/HORIZON_EUROPE-WEB.pdf