This is the first in a series of special reports from a series of R&I policy workshops organised by Science|Business at its annual Network conference February 22 and 23. More reports coming soon.
---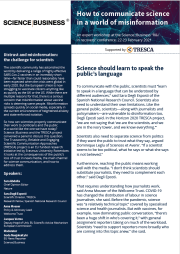 Distrust and misinformation: The challenge for scientists

The scientific community has astonished the world by delivering a range of highly effective SARS-Cov-2 vaccines in an incredibly short time—far faster than could reasonably have been expected when the crisis went global in early 2020. But the European Union is now struggling to vaccinate citizens anything like as quickly as the UK or the US. While there are multiple reasons for that, there is a serious concern that misinformation about vaccine risks is deterring some people. Misinformation spreads quickly on social media, especially in the current environment of heightened anxiety and state-enforced isolation.

So how can scientists properly communicate their work to politicians and the public in a world like the one we have today? Science|Business and the TRESCA project convened a panel to discuss this question.  The Trustworthy, Reliable and Engaging Scientific Communication Approaches (TRESCA) project is an EU funded research initiative led by Erasmus University Rotterdam. It looks at the consequences of the public's loss of trust in news media, the main channel for science communication, and how to address them.
To share your thoughts on the TRESCA policy brief: https://survey.zsi.at/index.php/289265?lang=en
/system/files/reports/TRESCA_REPORT.pdf