The Science|Business road map to Europe's next big R&D programme. Independent, informed and comprehensive reporting from inside the Brussels beast.
This publication is free for Science|Business members. 
---
Buy the PDF report - €20.00
(Belgian VAT non incl.)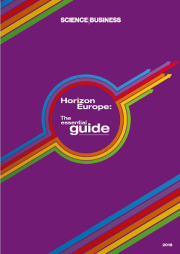 €20.00
EU research funding matters to a lot of people, in a lot of ways. That fact will become ever-more obvious in coming months, as an epic political contest over Horizon Europe, the 2021-2027 programme, progresses over the initiative's future in Brussels.
As legislation slowly moves ahead, the battle-lines are being drawn – between the research community and other recipients of EU largesse, such as farmers and regional officials; between universities and companies; between eastern and western Europe; between hard science and social sciences. This fight may go right down to the wire, to Autumn 2020 (the latest programme, Horizon 2020, was in debate almost up to its starting date.)
To cut a path through all of this, you need a good road map. This unofficial 'insider's guide', based on months of reporting in our online news service, is our effort to gather some of the knowledge of our  staff of journalists and our Network members scattered across Europe.
We've tried to provide insight into several key questions:
What are the major changes in Horizon Europe from Horizon 2020?

Who wins and loses in the budget breakdown?

What is the EU plan for funding research in energy, health, security and digital fields?

Is it going to be easier or harder for companies to get funding?

Who are the main players to watch during negotiations?
This report is intended for:
Public and private researchers and research administrators who want an early look at what the EU will be funding in the future
Corporate technology managers, business development experts and researchers who want to understand how EU programmes may shape their markets
Technology entrepreneurs who need to see what EU subsidies may be in the pipeline for them
EU member-state officials who want to track the politics and policy of this hugely influential European programme, and see how it could affect their own policies
US, Canadian, South African, Russian, Chinese, Australian and other non-EU researchers who want to collaborate in Europe
We will follow it with later editions, at critical junctures in the debate. And in the interim, we will publish latest developments daily in our free news service at www.sciencebusiness.net.
Whether you're planning a grant application, a departmental budget or a corporate development project, it helps to have intelligence as early as possible on where the EU is going. Our aim, with this report, is to help you get ahead.
A glimpse inside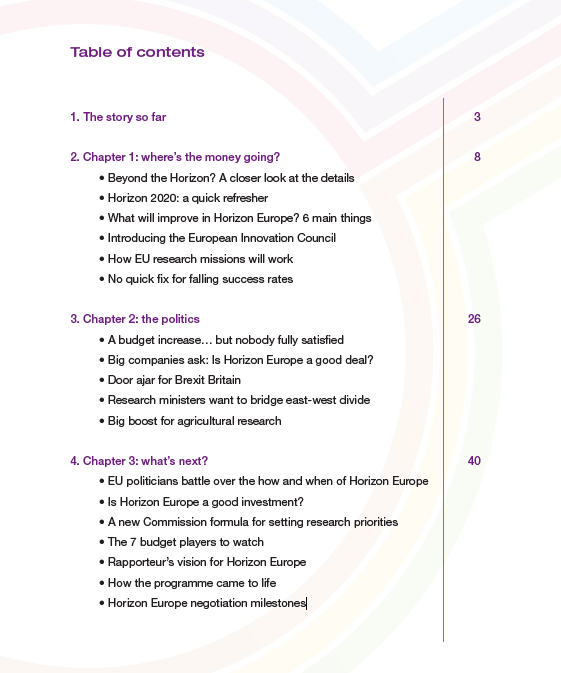 /system/files/reports/HORIZON_EUROPE-WEB_0.PDF