At a Science|Business meeting in Trondheim, clinical specialists, tech  experts, patients and policymakers debated how to use health registry data to achieve better patient outcomes
---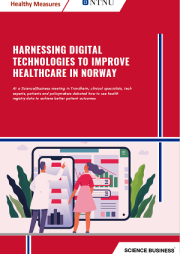 Since November 2016, Science|Business and its institutional members have been organising conferences and news coverage across Europe on how better use of health data can improve outcomes for patients, and increase the effectiveness of European health systems.
This report summarizes the debates at a SB high level roundtable in Trondheim, Norway on 17 June, 2019.
Science|Business is a Brussels-based media and networking company focused on research and innovation, with more than 60 university,  industry, and public sector members. This report is a statement of Science|Business, and does not necessarily reflect the views of its individual members.
For its Healthy Measures working group, focused on innovation in healthcare systems, those members are:
Aalto University
Amgen
Barcelona Supercomputing Center
Business Finland
ESADE
Hospital Sant Joan de Déu
Novartis
NTNU – Norwegian University of Science and Technology
Politecnico di Milano
Simmons & Simmons LLP
Sorbonne University
University of Eastern Finland
Warwick Medical School
In addition, representatives of the European Commission's Directorate-General for Health & Food Safety, and of the Organisation for Economic Cooperation and Development, serve as observers on the group's steering committee.
Coordinator: Simon Pickard
Author: Éanna Kelly
Photos/Art: Lysiane Pons
/system/files/reports/Scibus-Report-Digital-Tech-Improve-Healthcare-Norway.pdf