In this report, for presentation to the Commissioner at the annual Science|Business Horizon 2020 conference on 16 February 2016 in Brussels, we suggest that an EIC focus on two fundamental problems: encouraging more breakthrough innovations, and scaling them up quickly within Europe and beyond. This requires tackling many sub-issues: market barriers, funding shortfalls, skills gaps, poor visibility, uncoordinated policies. But if we are to go through the political effort of creating a new agency – or deciding not to do so – there should be a clear, simple objective. In just four words: scale up breakthrough innovations.
---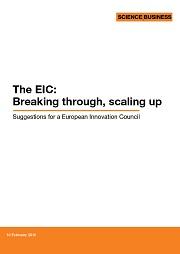 Innovation is a complex process, on which Europe has a spotty record. Where big institutions are needed for success – aerospace, autos, finance – Europe is a leader. Where fast-moving, disruptive organisations are needed – IT, online commerce, biopharma – it lags. This isn't just a question of competitiveness in global markets; rather, it's a fundamental issue for Europe internally: How good are Europe's economy and society at absorbing and profiting from new technologies? The answer, many economists say: Not so good. Europe's productivity growth lags that of many of its trading partners – in no small part because of the slow uptake of technologies. Boosting innovation and our capacity to absorb it, then, should matter to every European, not just to a few researchers or entrepreneurs.

What should be done about this? In June 2015, EU Research, Innovation and Science Commissioner Carlos Moedas opened a debate about it. Specifically, he raised the possibility of creating a new European Innovation Council, modeling the success of the much-praised European Research Council but focused on practical, market- or challenge-oriented innovation.
/system/files/reports/The%20EIC%3A%20%20Breaking%20through%2C%20scaling%20up.pdf