A report of a Healthy Measures High-Level Roundtable, Vienna, 25 May, 2018
---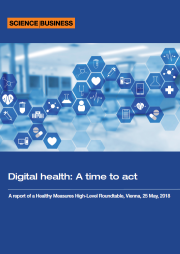 A high-level roundtable was convened in Vienna on 25 May 2018 to consider how to take forward the EU's digital health agenda.
Patient advocates, medical doctors, scientists, industry representatives and policymakers discussed how - after years of pilots - digital health technologies have reached the stage of maturity where they are ready to be applied at scale, with trailblazers such as Austria's national Electronic Health Record system lighting the way.
To achieve the benefits, it will not be enough to plug digital tools into the existing framework. Systems must be restructured, not only in terms of administrative process and care pathways, but to put patients at the centre.
A lot has been achieved in the past 150 years in promoting longer and healthier lives, said Markus Müller, Rector of the Medical University, Vienna. "But even so, I'm intrigued about the heterogeneity in outcomes in the EU and nationally."
Now, it is essential to deliver the potential digitisation holds to improve patient outcomes and build resilience into Europe's healthcare systems.
The conclusions below, and the body of this report, were drawn up by Science|Business and are not intended to represent the views of the current Austrian Presidency of the EU.
Establish a robust, dedicated and sustainable EU-level IT infrastructure and set standards to assist member states in implementing national digital health programmes, support cross-border healthcare and enable the safe and ethical re-use of pseudonymised patient data for research.

Put a focus on applying digital health tools and methods to modernise primary care, integrate health and social care and provide channels for

information to flow between healthcare providers, to ensure continuity of care.

Promote sharing of data among care professionals and biomedical researchers, to ensure the benefits of digital health infrastructures are delivered.

Devise a strategy for fostering health literacy at a national and EU level and establish an EU level survey of progress to promote positive competition.

Re-orientate medical education, moving away from the sole on focus specialisms, to foster development of healthcare  professionals  with  a holistic view of physiology and disease - and the potential to become flexible, empathetic generalists.

Capitalise on patients' involvement in medical education and medical research and in the care cycle.

Consider an EU-backed programme of research to demonstrate the added value of training patients.

Prove, and then communicate the benefits - to win citizens' trust in the use of their health data for research.

Involve patients from the preliminary stages of every clinical research project.

Use digital health tools to support patients in self-care.
/system/files/reports/HM%20Vienna%20Report20180717-v3.pdf