The invasion of Ukraine has prompted a wave of measures to isolate Russia's scientific establishment. As geopolitical tensions mount, we must seek global agreement on how researchers can continue to operate, without aiding an aggressor or hampering science.
A Science|Business discussion paper
---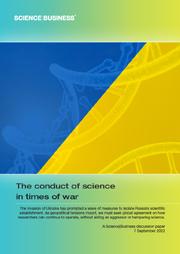 In the wake of Russia's 24 February 2022 invasion of Ukraine, allied governments rushed out a series of "science sanctions", restricting scientific collaboration as part of a broad campaign of economic and trade penalties designed to deter Russia. While there are some historical antecedents, the nature and breadth of these measures were unprecedented in the scientific community. Now, many ask: how have they affected Russia and Belarus? What impact might they have on current or future science, globally? With geopolitical tensions rising on many fronts, does the world now need some standard, guiding principles for the conduct of science in future conflicts?
This paper, based on reporting by the Science|Business news service, proposes a global effort to answer these questions. Amidst the chaotic launch of the Ukraine war measures, clear divisions of opinion within the European research community emerged over the design and scope of policy for the scientific community. Eventually, a kind of consensus gradually emerged – at least among developed-world governments: focus penalties on Russia's scientific institutions, rather than individual researchers. But in parts of the developing world, attitudes differed: What good, to poorer nations or humanity generally, would come from what some call  a scientific "iron curtain"? Now, with the prospect of conflict rising elsewhere, between China and the US or Iran and Israel, we must think through these issues carefully and systematically. We propose a few simple steps to develop some guiding principles on the proper conduct of science in wartime:
Allied governments should mobilise the international research community to monitor – publicly – the impact of measures to isolate the Russian and Belarussian science establishments, as well the impact on science around the world. This could begin with a call for research proposals by the European Commission, preferably in a co-funding initiative with like-minded governments.

Leading academic and scientific associations should collaborate in a broad, open and visible effort to solicit opinions on these measures from thousands of researchers in all disciplines, public and private. Though governmental organisations will make the ultimate decisions, these public consultations would help inform them and increase the odds that the scientific community accepts whatever science policies emerge.

These activities should feed into an international effort to develop standard, evidence-based policies for the conduct of science in future conflicts. The ongoing effort by G7 science ministers is a good start, but it should be conducted publicly, involve more countries, and work towards the ultimate goal: a global protocol for the conduct of science in wartime. 
Action on these points is made more urgent by the historic growth of open science, which has transformed the conduct of research across the globe. In just the past few years, we have seen the dramatic benefits of openness for the development of COVID-19 vaccines, the understanding of climate and biodiversity change, and the spread of green, equitable environmental and social policies. War can halt or reverse such progress. Together, we must find a way to keep the benefits of scientific collaboration and openness, without condoning or aiding aggression.
Contributors to this paper:
Richard L. Hudson, Science|Business

Yuko Harayama, Japanese Association for the Advancement of Science

Luc Soete, University of Maastricht

Sara Crepaldi, Science|Business
/system/files/reports/WAR_SCIENCE%20WHITE%20PAPER-WEB.pdf