In Horizon Europe, how to ensure that the entire chain of discovery and innovation gets adequately funded?
---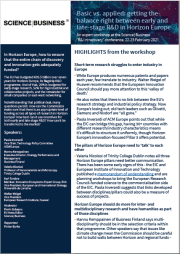 The EU has budgeted €95.5 billion over seven years for Horizon Europe, its flagship R&D programme. And of that, 26% is budgeted for early-stage research, 52% for big industrial and collaborative projects, and the remainder for small companies or east-west networking.
Notwithstanding that political deal, many questions persist. How can the Commission make sure that there is an appropriate level of funding across all types of research in Horizon Europe? How best can it use incentives for both early and late-stage R&D? How can it be transferred to the market?
/system/files/reports/04-BASICvAPPLIED.pdf