Small companies fulfil R&D needs in the EU space sector but have a hard time scaling up. They're calling on policymakers to improve support – and say without it, the EU risks losing talent to the US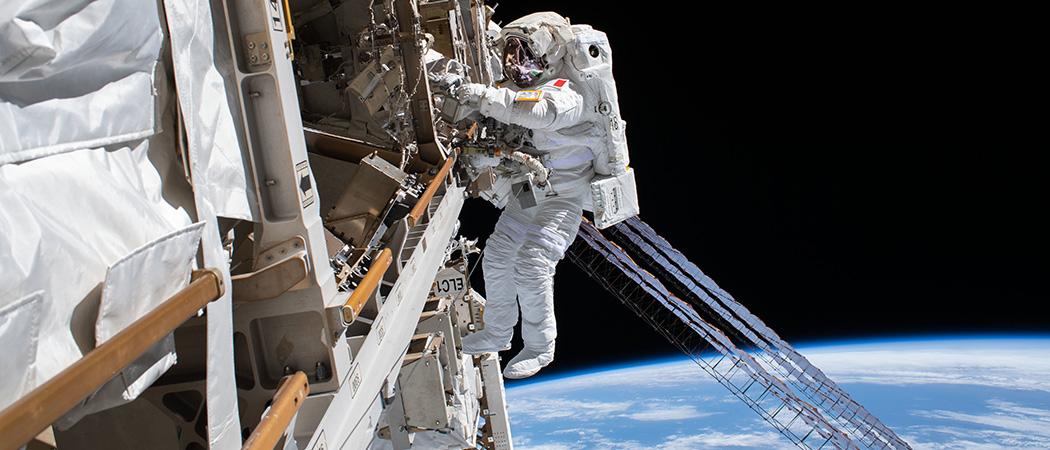 Small and medium sized companies in the space sector want better tailored support for scale up of research and are calling on the European Space Agency (ESA) and the Commission to help them in closing the gap between innovation and the large multibillion euro projects around which the industry has traditionally been structured.
In particular, SMEs want to raise awareness of their capabilities to provide advanced products and services, and changes to procurement practices to enable them to compete with large established companies like Airbus that currently dominate the market.
"Our goal is to work and propose ways to [ESA and the Commission] to make this competition between new companies happen in a managed way, to fulfil this step between innovation and extremely big projects," said Nicolas Capet, CEO of Anywaves, a manufacturer of antennae for satellites and a co-founder of Young European Space Enterprises, a lobby group of space SMEs.
The space industry has been transformed in the last few decades, with downsizing of technology and lower barriers to entry opening up the market. As a result, smaller companies can take a leading role in a sector traditionally dominated by well-financed giants, such as Airbus. "Our role is increasing; not in turnover but [in] that we can deliver fully-fledged space-based products and services," said Hans Bracquené, chair of SME4Space, an association of European space SMEs.
While the market is more open, smaller players are still finding it difficult to operate in an environment that for historical reasons is structured to support large billion euro projects. "Our problems are not the problems of Airbus. We are the new generation. We have our own ways to perform," said Capet.
EU support for the sector is currently at crossroads. Earlier this year, member states grounded the proposal to launch a public private partnership under the EU research programme, Horizon Europe, to boost the space industry's competitiveness.
It was due to start in June, but member states did not approve its current shape. Later this month, they are expected to decide whether the partnership will kick off at all. But even if it sees the light of day, the industry fears its budget and ambition will be far smaller than expected.
Capital needs
Meanwhile, the Commission's current instrument for addressing these problems is Cassini, a €1 billion seed and growth fund. In addition to financing start-ups and SMEs along the entire space value chain, it funds hackathons, prizes, mentoring and business accelerator services, matchmaking and in-orbit demonstrations.
Cassini builds on what the Commission and EU Agency for the Space Programme (EUSPA), have been doing for years. "It is the follow-up of our successes […] as EUSPA already contributed to building an ecosystem of around 1,000 start-ups and innovators that are venturing into the use of EU space technologies to create new businesses and jobs in Europe," said EUSPA's spokeswoman.
In its latest initiative Cassini has set up the MyEUSpace challenge, which offers €1 million prizes to develop and commercialise innovations that leverage EU space data and services. "It will fuse and test new technologies in location-based services, smart mobility, smart agriculture, geomatics, and for the first time, quantum technologies," said the spokeswoman.
Bracquené said Cassini is only the first step. "There is a need for more. Not just from the EU and the public sector. If you look at North America and the UK, private investment is much higher," he said.
This links back to the EU's venture capital issue, which sees its world-leading science consistently failing to translate through to commercial success, because of the lack of private funding for start-ups and scale-ups. That was the spur for the Commission to launch its own venture capital fund as part of the European Innovation Council earlier this year.
While the extra financial support is good news, it fails to meet the high capital needs of space SMEs. It's easier and cheaper to develop a new app than a new satellite system, even though today satellite systems can be developed for one tenth of the price of a few years ago, Bracquené noted.
Changing procurement
Historically, SMEs have been relegated to supporting roles in big space projects.
In the future, Bracquené hopes to see independent SMEs developing competitive services and products for big systems themselves. "This is our main point next to financial issues we are stressing with the ESA and the EU," he told Science|Business. "Next to these flagships that require millions and millions to develop a new launcher system, there should be money available for SMEs that develop not only technologies to be used in the supply chain for these programmes but also to develop these new products and services."
Such 'small programming' is already officially accepted by the ESA. Next step is the EU. "We hope to achieve the same in the coming years. We are not talking about a decade here," said Bracquené.
Programmes allowing smaller companies to transition from innovation to the market already exist in the US. They enable SMEs to become competitive, moving from R&D to product delivery. "This phase is extremely important in the development of a company," said Capet. "It's the time to deliver products you have developed and fulfil your commitments. This is an extremely important phase when you are in a transformation between R&D and real industrial company making business," he said.
Capet stresses European companies have all the ingredients needed to move from research to commercial success. The financing system is the reason they are stuck doing R&D for billion euro projects run by big companies. "We are all convinced that we have everything. It's just we need to make this bridge between innovation and tradition," he told Science| Business.
Empowering SMEs is critical to the survival for the European space industry. The US is giving technologies developed by small companies more prominence, which dictates how the rest of the global market moves.
"The US leads the way. The mere figures, the budgets. It's the biggest space market on earth. Whatever they do, the impact is there," said Bracquené.
As a result, the EU could lose talent and companies to competitors, such as China, the US and the United Arab Emirates, with all that implies for Europe's technology sovereignty.
"One main risk is that companies will move outside of Europe. Places where such programmes have been developed to fill that gap are the places where there are extremely good opportunities," said Capet.
Europe is one of the best places for space in terms of knowledge and there is great support for research and development, Capet said. "But the risk is that there is no place for us to answer European needs." He hopes more SMEs will join Young European Space Enterprises in the coming months, making the syndicate's voice louder in the European policy landscape.